The FIDE World Championship 2023 is due to take place in Astana, Kazakhstan, from April 7th to May 1st. A new World Champion will be crowned, as Ian Nepomniachtchi and Ding Liren will battle to seize the throne left vacant by Magnus Carlsen's withdrawal.
The General Partner of the event, which boasts a sensational prize fund of 2 million euros, will be NASDAQ-listed firm Freedom Holding Corp, a US-based corporation with Kazakh roots that provides financial services.
Since almost five centuries ago, the question of who the best chess player in the world is has been resolved over a match, a face-off between two players competing over the course of several weeks, usually with a large purse at stake. In the case of Astana 2023, the prize fund will be 2 million, with 60% going to the winner and 40% to the runner-up. But more importantly: whatever happens in Astana, history will be made, as a new World Champion will be crowned. 
On October 31, 2022, the reigning World Champion Magnus Carlsen officially confirmed that he would not defend his title as Classical World Champion against his challenger, the world's number three Ian Nepomniachtchi. The Chinese Grandmaster Ding Liren, the runner-up in the Candidates Tournament and current #2 in the world ranking, received the unexpected opportunity to play for the highest recognition in the chess world. 
With no defending champion and two challengers, the event promises to be one of the most thrilling and open championships of recent times, as none of them is a clear favourite.
Ding Liren is the higher-rated player, with an Elo rating of 2811. However, Ian Nepomniachtchi, who is currently rated 2793, has the head-to-head slightly in his favour: of 13 classical chess games played between them, 'Nepo' has won 3, lost 2, and they drew 8. Nepomniachtchi's lead increases to 13-9, with 17 draws, if we include rapid and exhibition games.
More importantly, Nepomniachtchi came ahead of his rival in the super competitive Candidates tournament, held in Madrid in June-July 2022, with an impressive score of 9,5 points in 14 games. There, Ding could only score 8 points – a result good enough, though, to secure him this golden opportunity.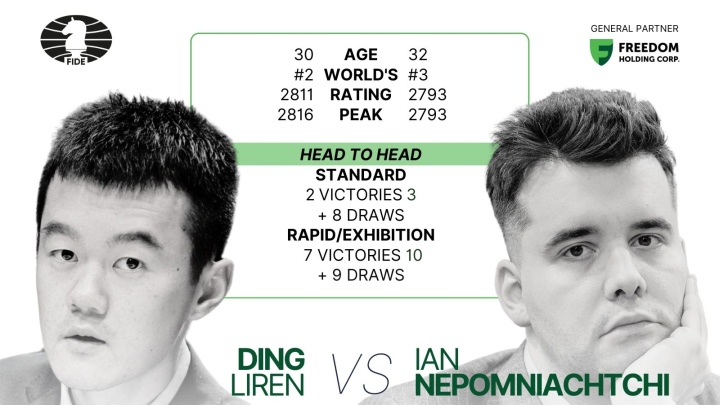 The Candidates Tournament was the last event where the two contenders crossed swords, reaching a draw in the 8th round. Previously, Nepomniachtchi had defeated Ding in the first round of this tournament, which allowed him to grab an early lead. 'Nepo' would go on to become the outright winner, achieving the rare feature of winning the Candidates Tournament twice a row, following his victory in Yekaterinburg 2021.
The two finalists first met in a China VS Russia exhibition match held in Sochi in August 2009, when Nepomniachtchi was 19 years old and Ding just 16. 'Nepo' won all four games in their match, which consisted of two rapid games and two blitz games.
The World Championship match in Astana will once again be played to the distance of 14 games, with a time control of 120 minutes for the first 40 moves, followed by 60 minutes for the next 20 moves, and then 15 minutes for the rest of the game with an increment of 30 seconds per move starting from move 61. In case of a tie, the Champion would be determined in a rapid chess playoff.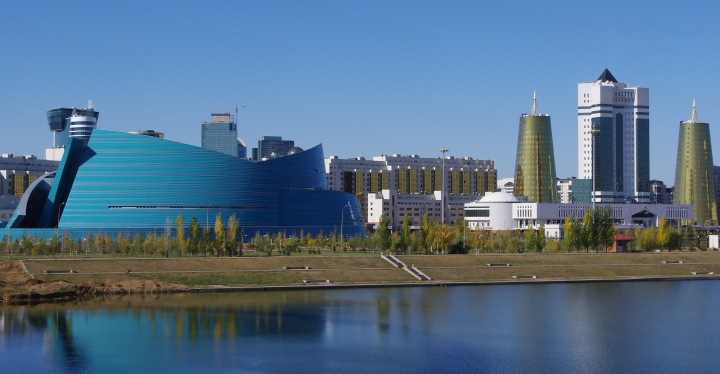 Kazakhstan, geographical pivot of Central Asia
Argentina was the other main contender to host the FIDE World Chess Championship match, while Mexico and China also expressed an interest. However, given the nationality of the contenders, the bid received from Kazakhstan's capital had obvious advantages due to its geographical situation and its track record of hosting world chess events, and was the option preferred by the FIDE Council.

"It is the first time in history that a Chinese Grandmaster reaches the final and fights for the World Championship title. We anticipate an enormous interest from China in this event, and that's an opportunity we must capitalise on to promote chess in Asia", said the FIDE president, Arkady Dvorkovich. "As much as we would have loved to hold a world event in the American continent, the time difference would have seriously impacted the audience in this particular case. Kazakhstan is a thriving country with a flourishing economy and a privileged geographical situation, which made it perfect for hosting this match".
A decisive figure in bringing the World Championship match to Astana is Timur Turlov, a former trader who, in 2008, founded Freedom Finance, the foundation stone over which he would build a financial empire. Turlov is now the CEO of Freedom Holding Corp., a US-based group whose affiliated companies operate in all of Central Asia, Europe and the US, trading on the NASDAQ (FRHC) since 2019. 
More information about Freedom Holding Corp: freedomholdingcorp.com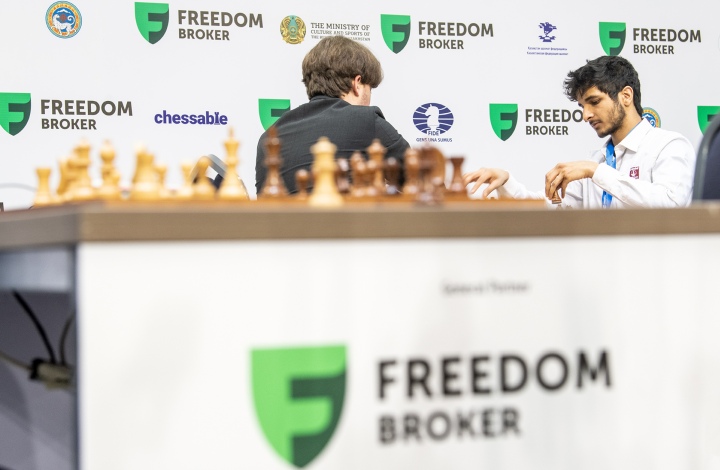 One of the companies in the group, Freedom Broker, was the main sponsor of the recently concluded FIDE World Rapid and Blitz Chess Championship that was held in Kazakhstan's largest city, Almaty, where it has its headquarters. Shortly after its conclusion, Turlov expressed his interest in giving continuation to this successful cooperation with FIDE. Besides being the main driving force behind this bid, he also decided to run for President of the Kazakh Chess Federation, being elected this very same week, on January 18.

Astana has a long tradition of hosting chess events. In September 2022, it held the first leg of the FIDE Women's Grand Prix, won by Kateryna Lagno, and in March 2019, it also hosted the FIDE World Team Chess Championship. With just over one million inhabitants, the city has received different names during its history: Akmolinsk, Tselinograd, Akmola, and until recent times, Nur-Sultan. The city became the capital of Kazakhstan in 1997. Since then, it has grown and developed economically, dramatically changing its shape and turning into one of the most modern cities in Central Asia, home to a range of futuristic buildings and skyscrapers. On 16 July 1999, Astana was awarded the medal and title of the City of Peace by UNESCO.