FIDE officials met the inmates of the Penitentiary Home in Belgrade (Padinska Skela) during their visit to Serbia this week. Deputy Chair of the FIDE Management Board Dana Reizniece-Ozola and FIDE Legal Director Aleksandr Martynov played a simul against the prisoners and talked to prison administration about the positive impact of the Chess for Freedom programme on the re-socialization and behaviour of the inmates. According to the project supervisors, the game plays a very important role in prison, teaching its players valuable life lessons, developing critical thinking and reducing violent behaviour. 
In October 2022, at the second Intercontinental Online Chess Championship for Prisoners, Serbia was the only country that managed to get two medals in the event – winning gold in the youth tournament and silver in the women's section.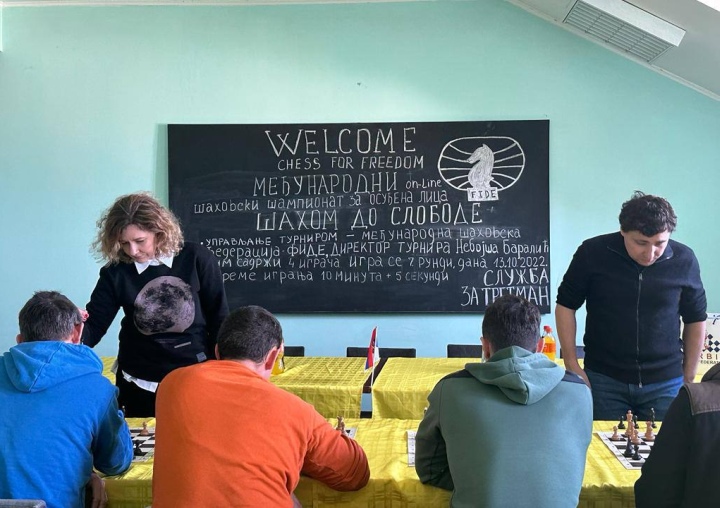 Nebojsa Baralic, Chief Advisor to the President of the Serbian Chess Federation and Director of the 2nd FIDE Intercontinental Online Chess Championship for Prisoners, told the attendees about all the activities that have been carried out since chess was introduced to Serbian prisons. The Serbian Chess Federation, together with the Administration for the Execution of Criminal Sanctions, organize chess lessons for inmates, master classes and simuls with professional players, and conducts inter-jail chess competitions. Men's, women's and youth teams have extended their training and practice to prepare them for the 3rd Intercontinental Online Chess Championship for Prisoners in October 2023.
Currently, prison inmates are engaged in making an outdoor chess board inside the prison's garden. The DIY chess set will be used during the tournaments inside the prison. 
To learn more about the implementation of the Chess for Freedom project in different countries, visit the official website of the initiative: https://chessforfreedom.fide.com/ 
It can also be done by attending the first in-person Chess for Freedom Conference that will take place May 17th – May 20th, 2023, in Chicago, USA. Details and registration link here: https://chessforfreedom.fide.com