Five-time World Champion and Indian chess superstar Vishy Anand opened the first round of the 44th Chess Olympiad at 3 pm sharp this afternoon in the main hall of the Four Points by Sheraton Mahabalipuram Resort & Convention Center. Anand played the first move for GM Anna Muzychuk on board one of the Ukraine-South Africa match in the women's section, while on the other boards, Sports Minister Mr Anurag Thakur led the dance on board one of India's A-team.

After a few last-minute withdrawals, a total of 188 teams began the round in the open section of the event – at four players per team, 752 players, including thirteen women – broke all the previously existing participation records.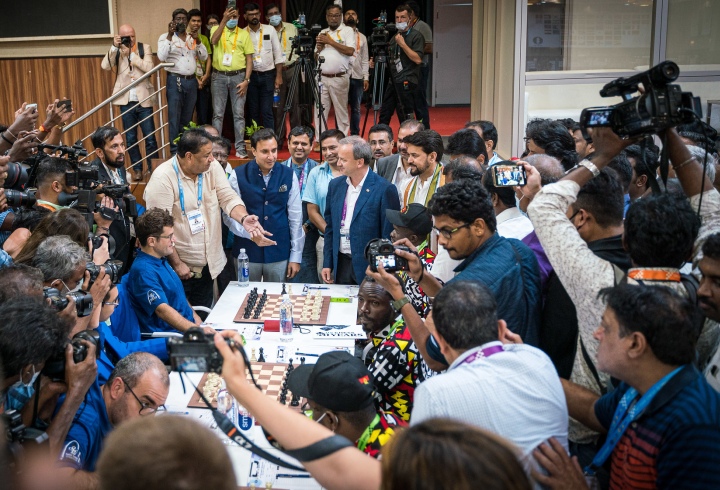 FIDE President Arkady Dvorkovich, All India Chess Federation President Dr Sanjay Kapoor and Tournament Director Bharat Singh Chauhan were also present on the occasion, heading a massive entourage of security, press and chess enthusiasts. As usual in the first round of the Chess Olympiad, most of the favourites had an excellent start – the top three teams, the United States, India and Norway, scored solid victories. 

Top seed USA defeated Angola by a clear 3.5-0.5 to start their campaign on a positive note. As has long been the norm for most of the top teams in the first round, where there is often a big disparity in the strengths of teams, the number one USA player, GM Fabiana Caruana, decided to save energy and gave up his seat to GM Sam Shankland, the team's reserve player.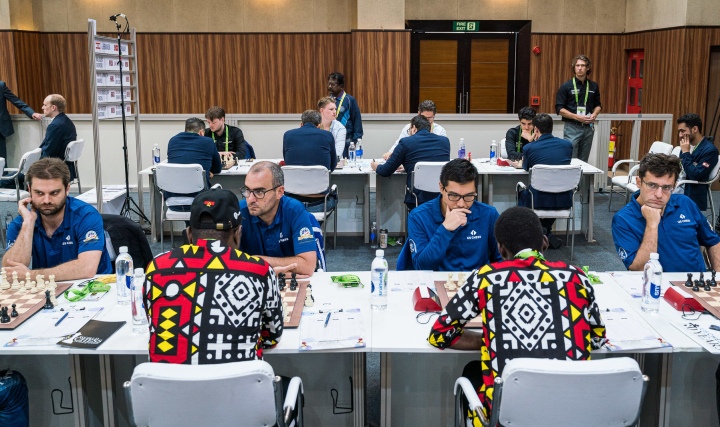 GM Levon Aronian, therefore, moved up to the first board, but the three-time Olympian for Armenia quickly drifted into trouble with some over-enterprising opening play. However, luck was on his side when his opponent, Angola's board one IM David Silva, accepted a draw in an arguably won position. Read more: Levon Aronian saves the losing position against Angola's IM David Silva

The rest of the top teams defeated their opponents effortlessly, with India A crushing Zimbabwe by 4-0, the same result as Spain – Wales, Azerbaijan – Algeria and  Poland – Syria, arguably three other favourites for the medals.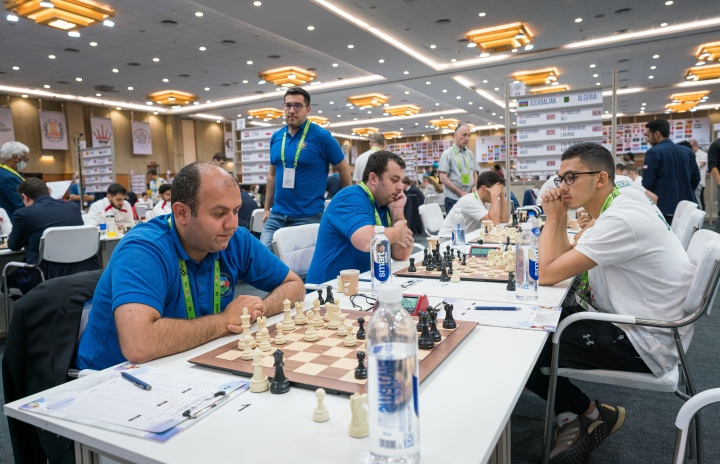 Although Ukraine isn't fielding their best players this year – Vassily Ivanchuk is a classic that will be dearly missed – they still started off strongly whitewashing Thailand. A glimpse over the results panel shows a startling statistic: no underdog was able to score a tie in any match: that is quite unbelievable in Swiss System events, in which most favourites usually win, but there are always a few surprises. Round 1 results – Open section / Round 1 results – Women's section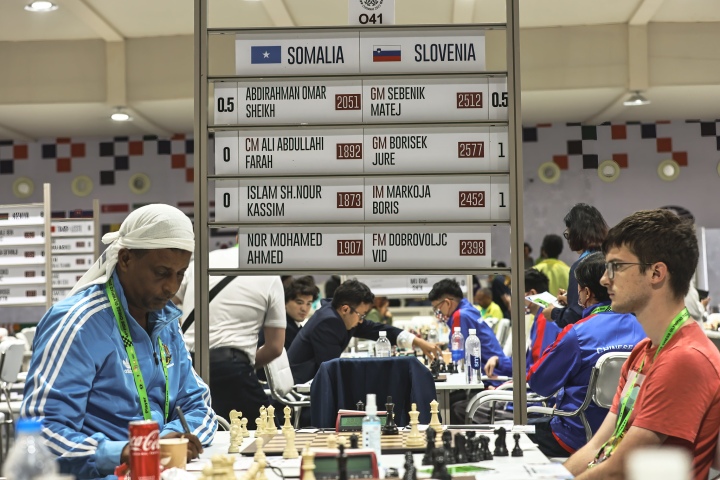 Tomorrow's second round will feature some exciting clashes: USA vs Paraguay and Moldova vs India will put the two top teams to the test, while there is a very good chance that World Champion Magnus Carlsen – who was spotted playing soccer this afternoon near the venue – will make his debut against Uruguay's lucky first board. Read more: Grand reception for Magnus Carlsen in Chennai Olympiad

Chess Olympiad 2022 | Open section LIVE / Chess Olympiad 2022 | Women's section LIVE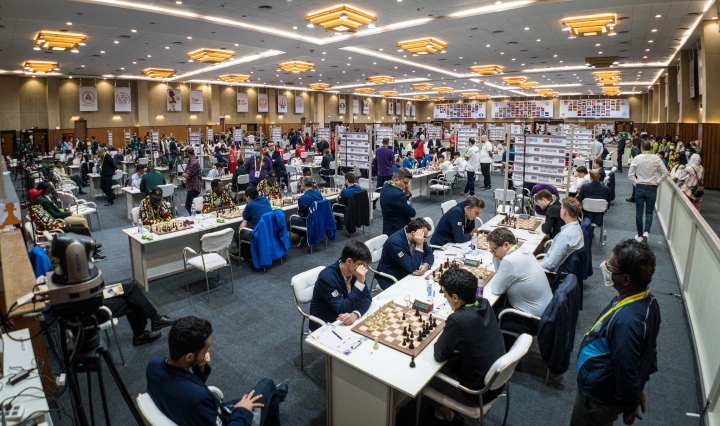 Text: IM Michael Rahal, FIDE Press Officer, Chennai
Photo: Lennart Ootes, Mark Livshitz and Stev Bonhage