The fourth round of the 2022 Chennai Chess Olympiad began this afternoon with the traditional first-move, performed on this occasion on board one of the Women's India-Hungary match by the managing director of Microsense, Mr. S. Kailasanathan.

After some action-packed days with regard to media coverage – "India is crazy for chess" was my observation on social media – players are now much more relaxed when the entourage comes along for the opening ceremony. Read more: Journalists unhappy after changes in the Media protocols at the 2022 Chess Olympiad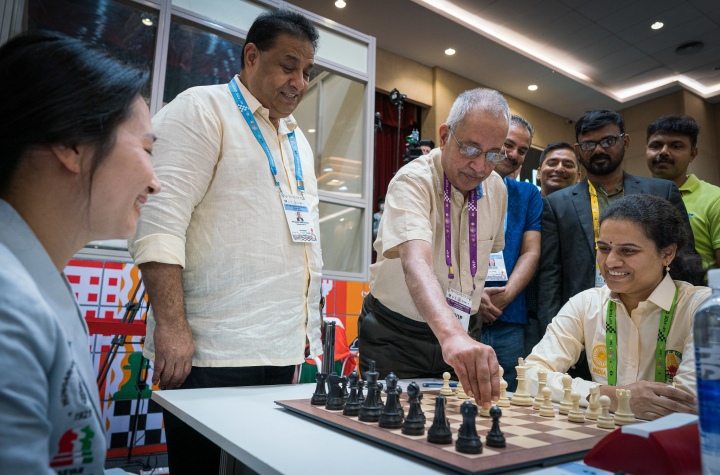 Four of the scheduled eleven rounds of intense play are in the books, and fewer and fewer teams have 100% of the points. The equality between the leading teams is maximum, and many encounters ended in 2-2 draws this afternoon. France vs India A was a solid match. All four games ended in draws, and at least from what we witnessed in the venue, there didn't seem to be any clear chances of victory for either side. Replay the games here

However, USA vs Uzbekistan was a completely different matter. The Americans pulled ahead early when Wesley So, playing on board three, captured a Benko pawn and held it to the end. A solid draw between  Nodirbek Yakubboev  and Levon Aronian on board two left everything to be decided on the outer boards. Replay the match here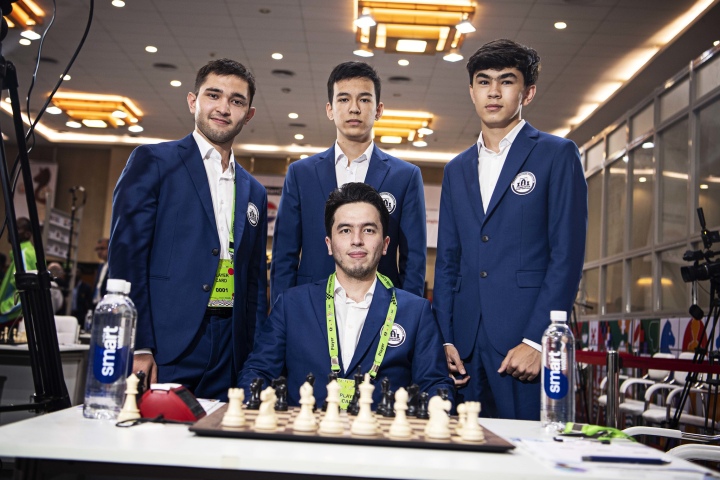 Uzbekistan coach Ivan Sokolov was understandingly very happy when both of the games seemed to be going his way, but suddenly on board four Jakhongir Vakhidov spoiled a winning position against Sam Shankland, which meant that Nodirbek Abdusattorov's great win against Fabiano Caruana on board one was just enough to score the draw.

In his post-match press conference at the media centre, Sokolov lamented his bad luck. "I would have immediately taken the draw before starting the match, but I think we have fallen short".

The tough matches between Poland vs Romania, Canada vs Iran and Turkey vs Azerbaijan also ended in 2-2 draws, allowing other strong teams to pull ahead in the standings.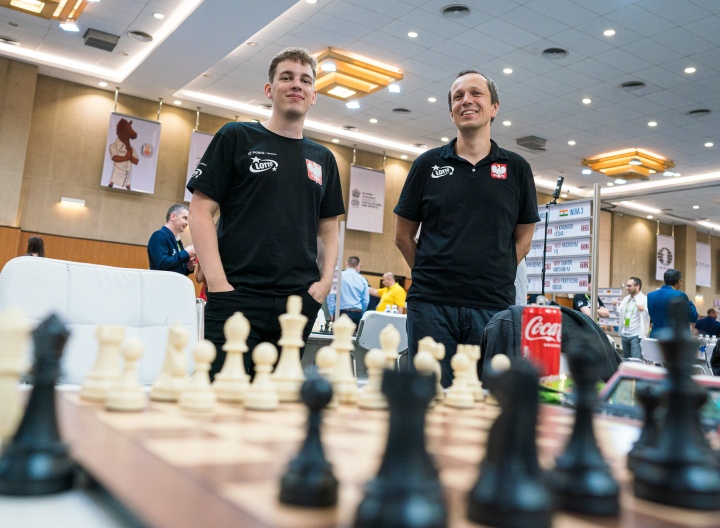 Spain's victory over India C by 2.5-1.5 (Anton Guijarro scored the key point) will allow the Spaniards to start from pole position tomorrow. Still unbeaten individually, they have come to play with their best team in many years and the Olympic medal is the target. However, they have been matched up in the fifth round with India B, who took down Italy by 3-1 this afternoon and are also undefeated individually – for sure a great match ahead for all to enjoy. Replay the match here

In addition to Spain and India B, three other teams went to dinner tonight with 8/8 match points. England, who defeated Serbia by 3.5-1.5, have been paired against Armenia, who took down Austria by 3-1. They have arrived in great form, led by their lifetime top board Michael Adams, and are all still unbeaten.

However, David Howell is clearly the team's mainstay at the moment, scoring 4/4 on third board. Nonetheless, they would do well not to sleep on Armenia: a very tough and experienced team, and Olympic medallist in previous years. Michael Adams was kind enough to share his thoughts with FIDE Press Officer Michael Rahal in a short post-game interview.
The final team on 8/8 is Israel, who perhaps made the biggest surprise of the day, defeating the Dutch team – led by Anish Giri – by 2.5-1.5, thanks to veteran Ilya Smirin's win on third board against Erwin l'Ami.

Another very strong team, Israel has five very experienced +2600 players who are also unbeaten at the moment and in very good shape. Tomorrow's match-up against number one seed USA will be a huge challenge to see what they are capable of in Chennai.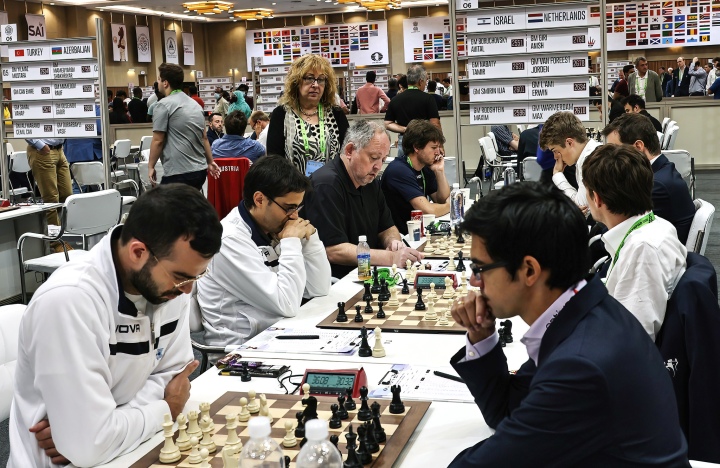 Some other very surprising results today were Zambia – seeded 73 – once again defeating a much stronger team – this time Egypt – by 2.5-1.5 and above all, Norway vs Mongolia – after losing yesterday to Italy, everyone expected seed number three Norway, with Carlsen on board one, to bounce back with a win, but 45th seed Mongolia kept them at bay with a 2-2 tie. All Round 4 results (open section) / Round 5 team pairings
In the Women's section, Tania Sachdev battled long and hard to rake in that precious point which allowed her team India A in the Women's section, to edge out Hungary with a 2.5-1.5 score. All the other three encounters ended in draws, and the onus was on Tania, who rose brilliantly to the occasion. A tired but happy Tania quipped, "It was a tough position, and I was aware that our two boards had ended in a draw but was not able to really evaluate Humpy's position as my position was a tough one". Replay the match here

Team Coach of Women's Team A was upbeat about the Teams victory and commented: "The Teams are well balanced, and it is very important to take one round at a time. All the games today were well fought".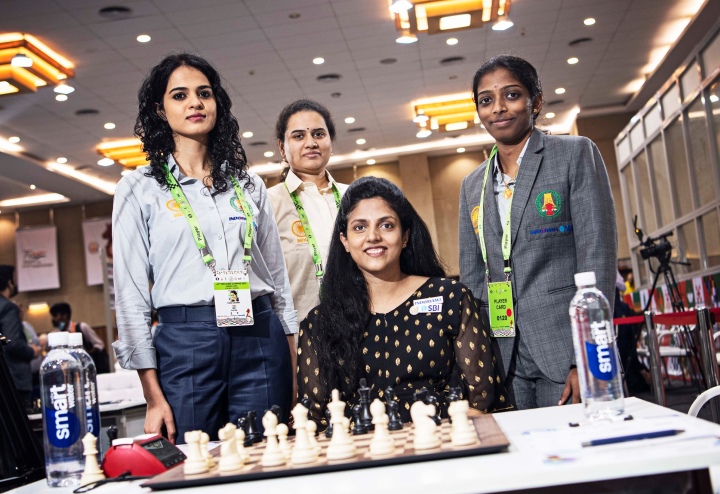 After three rounds, Bulgaria was a top scorer, having dropped only half a point in 12 games. But in Round 4, the young team led by IM Nurgyul Salimova could not stop mighty Ukraine. "Powerhouse Anna" on boards 2 and 3, Muzychuk and Ushenina, did their job winning against Peycheva and Krasteva, respectively, securing an overall victory. Replay the games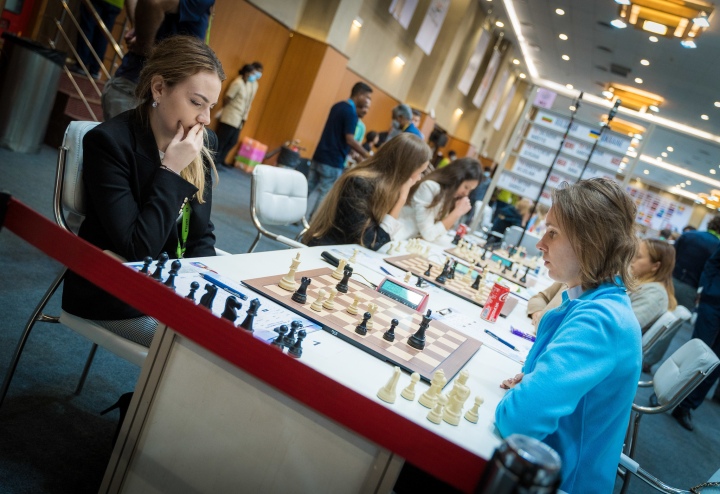 The third-seeded Georgian Women's Team proved too strong for the India C Team, with P V Nandhidhaa winning her encounter against Nino Batsiashvili, rated higher than her. Eesha Karavade lost to Nana Dzagnidze, Sahithi Varshini to Lela Javakhishvili (in just 12 moves!), and Pratyusha fell to Salome Melia. Read more: IM Lela Javakhishvili scores an important win for Georgia defeating WIM Varshini Sanithi in 12 moves!

The Netherlands did not manage to pose problems for Poland, strengthened this year by IM Alina Kashlinskaya on Board 1, and the ladies under the read-and-white flag won by convincing 3½-½.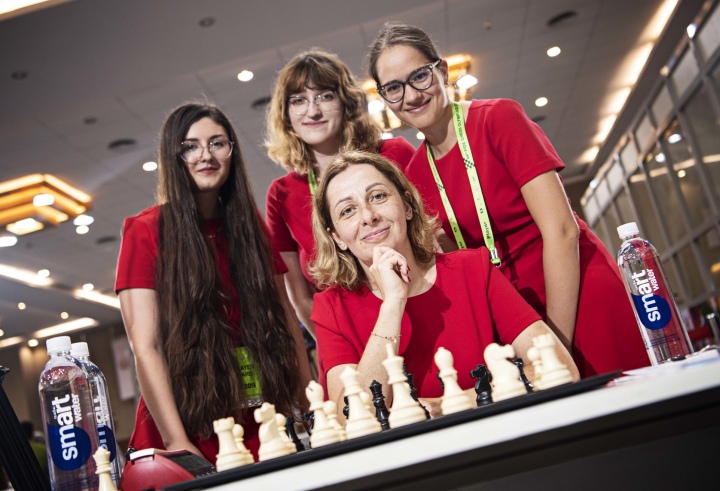 France and Romania complete the list of leaders after four rounds. Both teams won with the smallest of margins, 2.5-1.5, against Serbia and Germany. And if France was a favourite against Serbia and this result did not surprize, Romania's victory is a serious blow to Germany's hopes for medals as the team led by IM Elisabeth Paehtz was higher-rated on every board.

28th seed Mongolia kept up the good work and held 10th seed Kazakhstan to a draw in a minor flutter.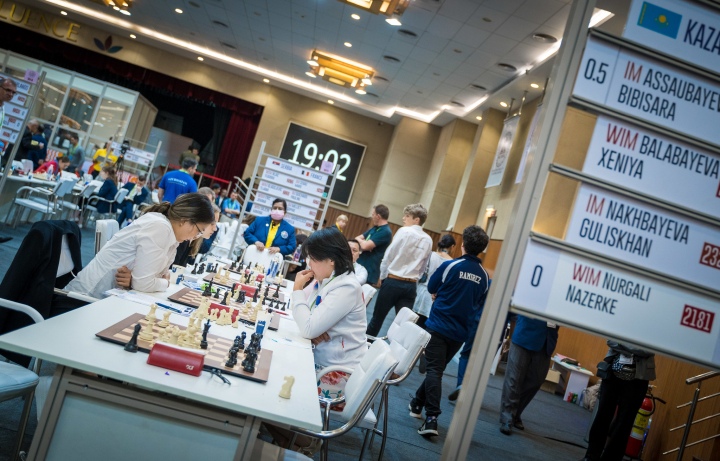 The 11th seeded Indian Women B Team edged past Estonia with a 2.5-1.5 score, with Vantika Agrawal bringing the winning point for her team while the other three games ended in draws. Vantika has been in top form so far, scoring a superb 4/4.

After four rounds, eight teams won all matches in the Women's section of the Chess Olympiad: Azerbaijan, Poland, Ukraine, India A, France, India B, Georgia and Romania. All the Round 4 results (women's section) / Round 5 team pairings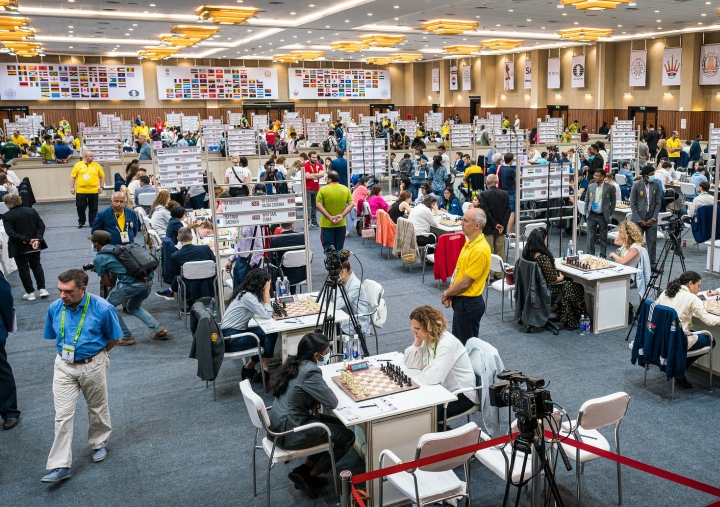 Text: IM Michael Rahal, FIDE Press Officer, Chennai
Photos: Lennart Ootes, Mark Livshitz and Stev Bonhage