The battle for the medal was all the rage in the ninth round of the Olympiad, played this afternoon at the Sheraton Four Points Convention Center in Mahabalipuram. No team is budging an inch, and the matches are fast and furious.

Uzbekistan's young squad, led by teenager Abdusattorov and coached by seasoned Dutch Grand Master Ivan Sokolov, compellingly defeated leaders Armenia by a 3-1 score, with wins by Sindarov and Vakhidov on the last two boards.

Vakhidov's feat is even more praiseworthy – he beat Robert Hovhannisyan (undefeated to date) with the black pieces. With this win, the Uzbekistan team is now the sole leader of the Olympiad sitting on 16 points with two rounds to go. In addition, they are the only undefeated team in the tournament – a huge surprise.

Round 10 pairings / Round 9 results open / Round 9 results women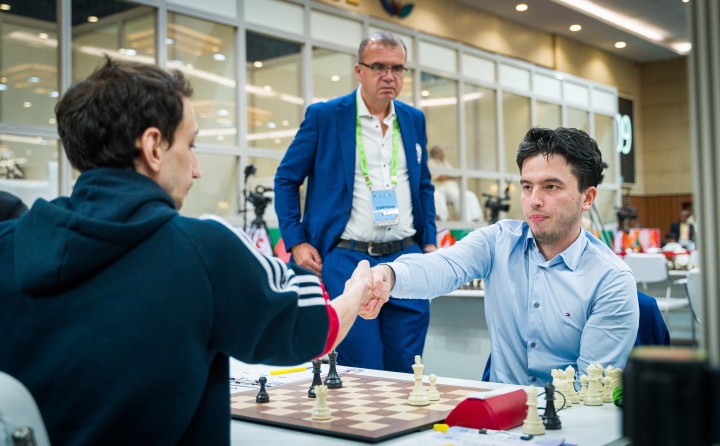 As if that were not enough, the Uzbeks were greatly favoured by the other results of the round. Azerbaijan couldn't get past a 2-2 tie against the India B juniors – Praggnanandhaa defeated Durarbayli on board three but young gun Sadhwani fell to experienced grandmaster Abasov on the fourth board.

India B and Armenia are now sharing second-third places with 15 points, trailing the leaders by just one point. In the other key match of the day, the Netherlands and Iran also shared the points in a match that ended with four draws, leaving both teams with 14 points. The other teams didn't miss the opportunity to keep their options open for the podium.

Despite Levon Aronian's unexpected defeat against Theodorou with White, the United States beat Greece by the minimal 2.5-1.5 score, in good measure due to Wesley So's key win – he is still undefeated. Nonetheless, the hero of the day in the USA camp was Fabiano Caruana.

Magnus Carlsen's courses – Olympiad sale at Chessable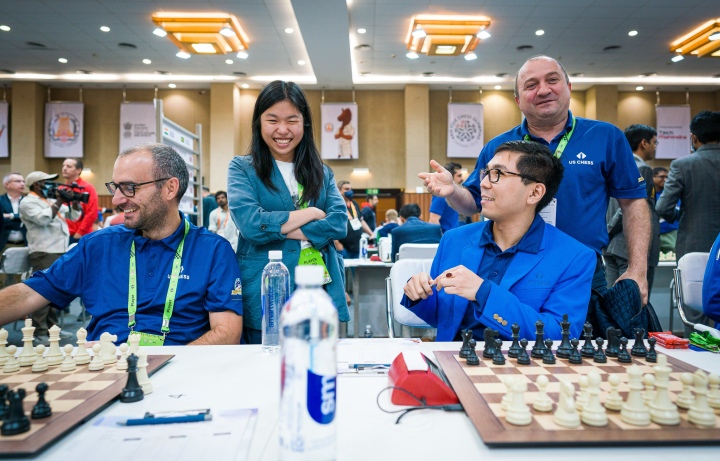 After two consecutive defeats, he took down Greece's number one player Mastrovasilis in a great game with Black in the Sicilian Sveshnikov Defense. The spectacular move 21…Bh6 was the beginning of a winning attack on the white king – a game for the ages.

India A recovered positions at the expense of Brazil, who have been performing at a high level in the tournament. Erigaisi and Sasikiran, on the third and fourth boards, were the heroes of the national team, clearing a 3-1 victory for the local team.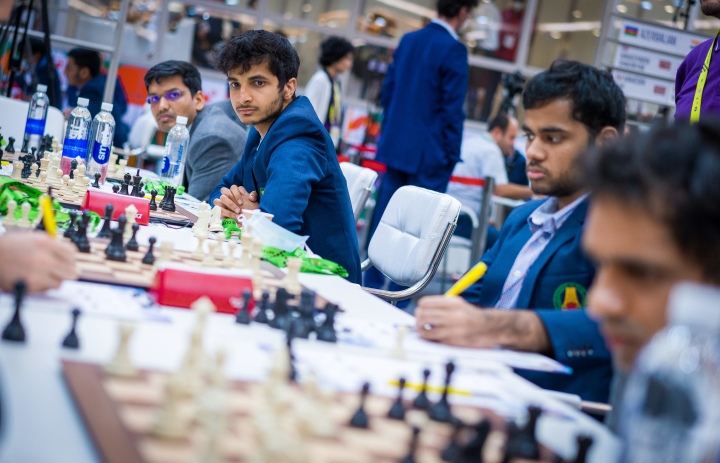 With only two rounds to go and three medals in play, tomorrow's pairings are already pretty meaningful. India B (15) will face Uzbekistan (16) in a clash between the youngsters.

Match two will see an Olympiad classic: Azerbaijan (14) vs Armenia (15). Whilst a draw might be a decent result for Armenia, Azerbaijan needs to go for broke to get a chance to fight for the gold medal.

USA (14) vs Turkey (14), Iran (14) vs India A (14) and Serbia (14) vs Netherlands (14) are the other three pairings that will arguably decide the podium – a win is necessary, so a huge fight is expected.

FIDE Master titles at the Chess Olympiad / WFM titles at the Chess Olympiad

Alongside the Chess Olympiad, the International Chess Federation General Assembly – and general elections – have taken place in Chennai.

Arkady Dvorkovich was re-elected today for a second term as FIDE President with 157 votes, against 16 for his electoral opponent, the Ukrainian chess Grandmaster Andrii Baryshpolets. The third candidate, Bachar Kouatly from France, withdrew his candidacy before the voting started. Five-time World Chess Champion Viswanathan Anand, who was part of Dvorkovich's ticket, is the new FIDE Deputy President.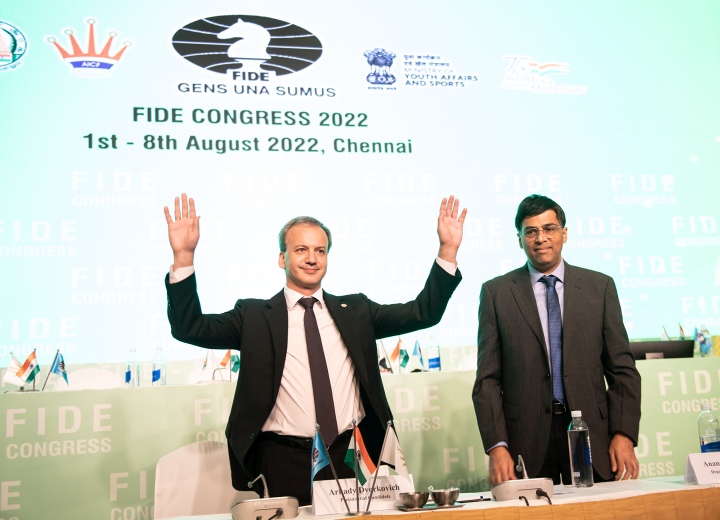 The India Women A Team victory march was halted with a 2-2 draw against second seed Ukraine, the squad boasting of two former Women World Champions, Mariya Muzychuk and Anna Ushenina. All the four encounters ended in deadlock, and India A continues to be in charge of the sole lead with 15 points while Georgia has inched closer, sitting on 14 points. 

Ukraine, Poland, Bulgaria, Kazakhstan and Mongolia are bunched together in the third spot with 13 points each. Just like Gukesh D in the open section, WIM Oliwia Kiolbasa (pictured below) of Poland also scored a fantastic 8/8 in the Women's competition.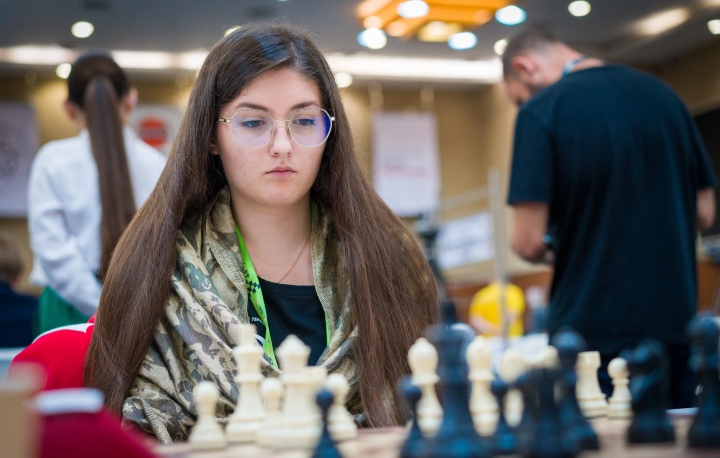 The encounter between former Women's World Chess Champion Mariya Muzychuk and Humpy Koneru was much-awaited, and the former opted for the Nimzo Indian defence. After the massive exchanges, the opponents ended up in a rook and four pawns each drawish ending and signed peace on move 40.

Anna Muzychuk unleashed the prehistoric Italian Greco gambit against Harika Dronavalli on the second board. Harika played sensibly to complete development and quickly extinguished White's initiative. She had a good chance for advantage in the ending, but Anna found a way out in a pawn down opposite colour bishop ending and forced a draw on the move 49.

Vaishali R countered the Petroff Defence by Anna Ushenina with the Nimzowitsh attack but failed to gain any initiative. She slipped to a slightly inferior ending after simplifications and had to demonstrate good calculation and understanding of Rook endings to hold off Anna. Tania Sachdev and Nataliya Buksa played out a Ruy Lopez, which also failed to excite the spectators. The game petered out to a draw by repetition after massive exchanges on the queenside.

India C Team, seeded 16th, were no match for fourth-seeded Poland and went down 1-3. India B team seeded 11th, defeated Croatia 3.5-0.5, with Vantika Agrawal, Padmini Rout and Divya Deshmukh scoring victories and Mary Ann Gomes conceding a draw.