Chessity has made one more important release in the "Gaming your training" platform, that has become so popular among amateur and club chess players around the world. With the new theme trainer you can learn & improve your chess. The platform has active the first themes of the steps method, by Cor van Wijgerden. A total of 30 themes have been released (Step 1 + 2) and Cor van Wijgerden, developer of the steps method, will create more themes each month.
The Chessity game platform keeps on developing. Besides the new route planner, more additions have been made. Now the puzzle forum has been separated from the cafe chat and you can see your own puzzle comments in the cafe. There is also improved quality and functionality of the puzzles.
Visit the new theme trainer page
Cor van Wijgerden is a Dutch chess player rated 2430. He is International Master since 1978. He helped Chessity with the development of an exciting chess tactics trainer. Cor van Wijgerden is a well known chess trainer. Together with Rob Brunia he developed the Steps method. The profound knowledge of technical and didactic aspects of chess from both authors resulted in a solid teaching method that helps the chess player to make progress. Just a few days ago Cor van Wijgerden was awarded the Euwe ring.
Cor van Wijgerden wins major Dutch Chess award (the Euwe ring)
Cor van Wijgerden is a renowned Dutch chess trainer who is famous for having developed the step-by-step method for learning chess. In December 2012 his achievements over the past 25 years were rewarded during the opening of the 50th Chess Festival in Groningen, The Netherlands. Genna Sosonko passed on the Euwe ring, the highest award in the Dutch chess World, to Cor van Wijgerden!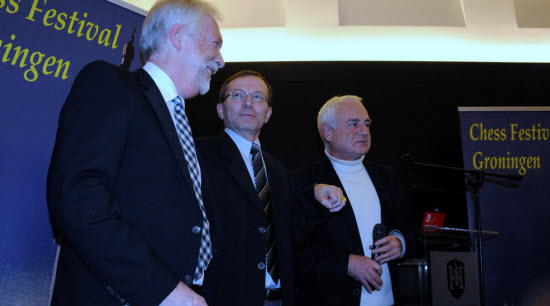 The Gasunie gave the ring to Max Euwe in 1976 in honour of his enormous services to chess in general and in particular with respect to young people. Since that time the ring has adorned the hands of Hans Bouwmeester, Jan Timman, Hans Böhm, Hans Ree and Genna Sosonko.
For many years Van Wijgerden, an international chess master, was the national coach for young Dutch chess players, the country's sub-top and women chess players. After this he spent many years as head teacher of the Max Euwe Academy. His most famous pupils are the Grandmasters John van der Wiel, Jeroen Piket, Loek van Wely, Jan Smeets, Daniel Stellwagen and Erwin L'Ami. In addition to this, Van Wijgerden – together with Rob Brunia – laid down the foundations of the Step-by-step method. This method for learning chess has been trendsetter in the Netherlands for many years now: it has been used to teach hundreds of thousands of people how to play chess. The method is now being used in several other countries too. His training method is just about to make an international breakthrough via Chessity.
Just a few of the many responses to his award:
IGM Jeroen Piket, "Cor's Step-by-step method for beginners is and always will be an excellent aid to playing chess in schools and for young players. Cor's main strength: the didactic skills, being able to discover the hidden qualities of both those with a talent for chess and trainers, and simultaneously laying down the basis for an improved understanding. This may also have forged a serendipitous link with the name attached to this ring, as I have always been given to understand that professor Max Euwe regarded teaching as just as important as playing chess."
GM John van der Wiel, "If anyone has meant a lot to young chess players, and in particular to the training of young players in the Netherlands, then it is Cor. Partly because of his background in education, he started from a more knowledgeable position. He can actually be described as a visionary. And he has such an affinity for young people."
IGM Jan Smeets, "The very fact that he introduced – and continues to update – the 'Step-by-step method' is sufficient justification for this award. To have trained so many strong chess players is actually unique in the Netherlands."
IGM Dimitri Reinderman, "I came into contact with Cor in four different roles: as a coach, as a trainer, as a teacher and as a chess player. During the years in which he was national coach, I was fortunate enough (together with Machiel de Heer, Ineke Tichelman and Caroline Slingerland) to attend the Chess Youth World Championships in Timisoara, Rumania, and Cor – out of a sense of duty – always came along. Later in life Cor was more involved in training the trainers. Job Delemarre, John van der Wiel, Petra Schuurman, Thomas Willemze, Merijn van Delft, Dolf Meijer (there seems no end to the list of names): he taught us all. A special talent of Cor's is that not only was he good at explaining things, he also managed to make everything fun: there was always plenty of laughter during his lessons."
IGM Erwin L'Ami, "I trained a lot with Cor towards the end of the 1990s and at the start of the new millennium, both privately and in groups. Whole generations of top Dutch chess players grew up with Cor. But you only really appreciate Van Wijgerden's influence, when you realise that for two decades he has been teaching not only the country's top players but in fact everyone who plays chess in the Netherlands! It would be impossible to imagine a better successor for the Euwe ring!"
Chessity comments, "Chessity makes no secret that, in our opinion, Cor van Wijgerden is by far the best trainer of young chess players in the world and that his training method represented a breakthrough in teaching people to play chess. Cor and his method have trained all sorts of players, from starters to advanced players. Cor does not enjoy such renown internationally and as far as Chessity is concerned, this is about to change."
Learn & improve your chess with the theme trainer
Chessity released a new chess learning experience for you. With the new theme trainer you can learn & improve your chess. We have released 30 themes (Step 1 + 2). Cor van Wijgerden, developer of the steps method, will create more themes each month.
Overview