England's National Chess Library is made up of around 7,000 books from a number of collections left to the BCF, including Harry Golombek' s personal collection, which forms the core of the library. The library was housed in Hastings, then the ECF Offices in Battle and was recently transferred to safe keeping within the Kimberlin Library at De Montfort University in Leicester in June 2021.
The extensive library contains 19th and 20th century books, journals, pamphlets, and tournament programmes relating to every aspect of chess, from 'how to play' manuals, match and tournament books, player biographies and general histories to the art of the chess piece and the rise of chess computer games. The archive papers include files on the administration and management of the ECF, and there are also artefacts including tournament banners, chess sets, timer clocks, badges and even a panel of chess-themed stained glass from Harry Golombek's front door! The collection also includes a more or less complete set of year books from 1907 onwards produced independently and then by the BCF from the 1920's onwards and more recently by the ECF. Various chess luminaries have donated their libraries to the ECF and these contributions are marked by bookplates in the volumes.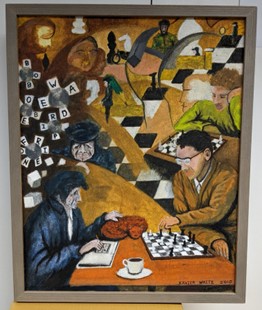 In addition, the ECF recently accepted a painting by Xavier White which will be displayed alongside the ECF Library. Robert Walks Through Water (3,4) is a portrait of chess player and writer Robert (Bob) Wade, who lived near White and struck up a friendship with him over crosswords in a cafe. White wanted the portrait to be united with Wade's books, which have been assimilated into the ECF Library.
A light-hearted blog post by David Millns at DMU following the transfer of the library, in which he says —
'After many lockdown related delays, recently we were able to take in the library and archive of the English Chess Federation – nearly 200 crates of books! The Library is a fantastic resource for anyone interested in the history of chess or looking to pick-up some tips for their own game. The books and journals will be catalogued in due course, but for now the collection can be browsed on the open shelves: just make an appointment via archives@dmu.ac.uk …'
A simple catalogue entry from Katharine Short can be found here.
While cataloguing of the books and journals is still in progress, researchers and visitors are welcome to browse the shelves and please feel free to contact the librarians at the link below if you would like to arrange a visit to view the collection.
Kimberlin Library, D
e Montfort University, The Gateway, Leicester LE1 9BH
Tel: 0116 2078776
Here are some of the recent tweets from the DMU Archives and Special Collections Account on Twitter highlighting some of the historic books within the collection in their #ChessTuesday series of tweets.
Press release of English Chess Federation