FIDE announced the first-ever FIDE and ChessKid Unrated Girls Only Tournament, which will take place on July 10, 2022, as a part of the FIDE Queens' Festival.
This free-to-attend event will consist of Eastern Edition and Western Edition. Both editions will be played in two different age groups – Ages 9 and under and Ages 10-16. All players will have the opportunity to play in a warm-up event taking place on July 2 and participate in a special FIDE Queens' Festival workshop on July 9.
Tournament details:
Eastern Edition Schedule:
July 10th, 3am PT / 5am ET / 10am UK / 11am CEST / 2:30pm India / 7pm Sydney
Western Edition Schedule:
July 10th, 10am PT / 1pm ET / 6pm UK / 7pm CEST
Entry Fee: The event is free to attend but is only open to FIDE unrated players (National ratings are allowed).
Format: All sections will feature a 7-round Swiss tournament. The time control will be 5 min + a 5-second increment per move
Platform: All games will be played on ChessKid.com's live server. No account is needed to play. Special one-time-use tournament accounts will be created for all players.
Free mini-camps with WGMs will be given to all participants of the event.
In addition to electronic diplomas and certificates of participation, top-3 players in each category will be awarded a free year of ChessKid Gold membership. More than that, all festival participants will receive a 3-month ChessKid Gold membership and invitations to a weekly mini-camp with WGMs.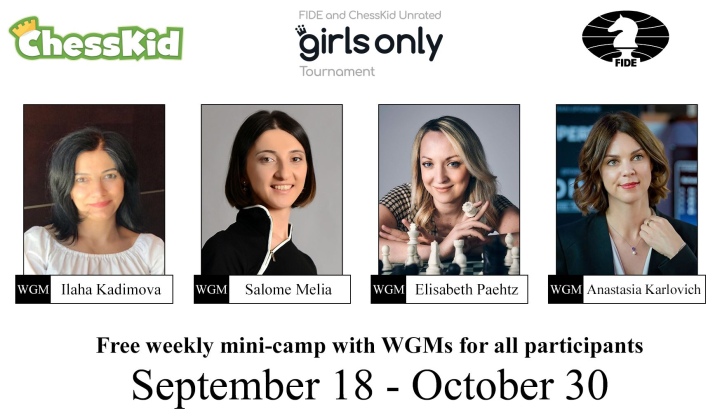 The weekly mini-camps will take place on Sundays, starting on September 18 until October 30. Each mini-camp will last 90 minutes. WGMs Ilaha Kadymova and Anastasia Karlovich will host the 9 and Under section, whileWGMs Elisabeth Paehtz and Salome Meliawill lead the Ages 10-16 section. All tournament participants from Ukraine will get a 1-year free gold membership on ChessKid. 
All players will also be invited for a Zoom workshop with FIDE women representatives and Queens' Festival organizers. The workshop will take place on July 9 and will feature the following guests:
Dana Reizniece-Ozola – WGM, FIDE Managing Director
Anastasia Karlovich – WGM, Chess Journalist, Photographer
Eva Repková – WGM, Head of FIDE Women Commission
Keti Tsatsalashvili – WGM, Chess Blogger
Contacts:
For any additional questions, please reach out to either of the event organizers:
Tournament Coordinator: Nadezhda Kravchuk: nadezhda@chesskid.com
Tournament Director: Anastasia Sorokina: anastasia@chesskid.com
FIDE announcement and detailed information about the event: https://fide.com/news/1810