Following two days of competition, there are now six teams with a perfect score. However, for many, the socialising aspect and the atmosphere seem to be the most significant factor.
The second day of the Olympiad started with the first move ceremony, carried out by Darija Kisic Tepavcevic, a doctor and epidemiologist who is currently serving as the Serbian minister of family welfare and demography.
As a doctor, Darija Kisic Tepavcevic was intrigued by the event and discussed with FIDE President Arkady Dvorkovich how chess benefits people with disabilities. During the conversation, she posed a curious question – are the players in the event matched by their disability? That is a fair point as, arguably, a person with a hearing impairment is not in the same position as someone who is visually impaired or suffering from a severe physical disability.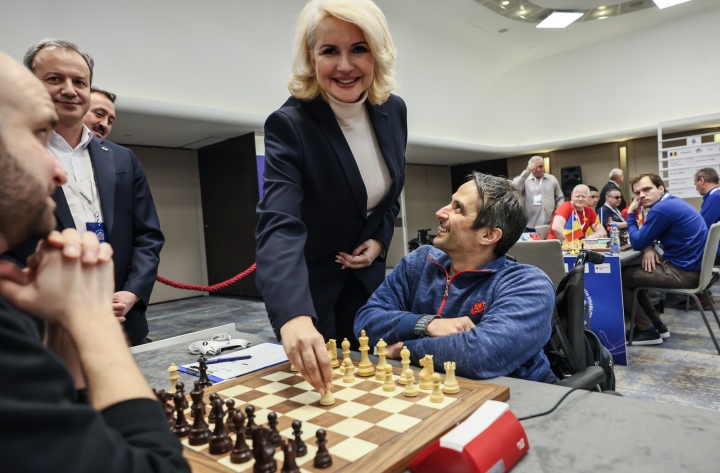 Thomas Luther, head of the FIDE Commission for players with disabilities, said that it would have been fair to match people based on their disabilities but that in such s case, we would have several mini-tournaments, and that wouldn't be practical given the current circumstances.
"This is the first Olympiad for people with disabilities, and for us, this is primarily about bringing everyone together as one, as a Family – which we are. Hopefully, in the future, we will have many hundreds or a thousand participants, and we can put each competitor in a group of people who have a similar disability", Luther explained.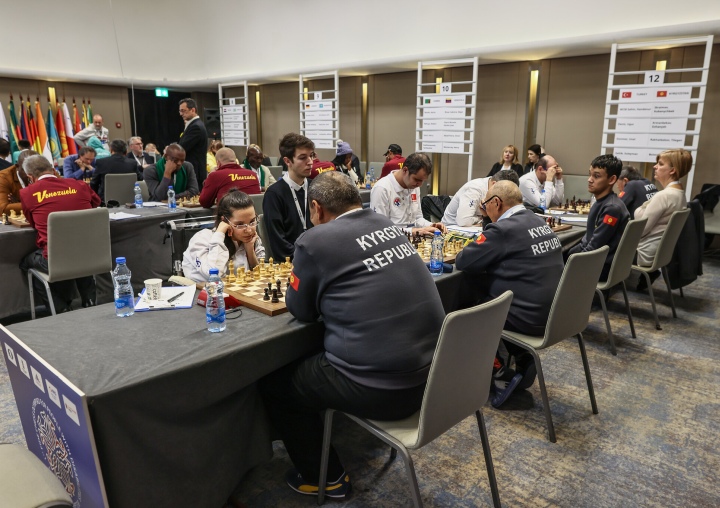 Just two days into the event, the atmosphere in Belgrade is distinctive compared to typical chess events. Unlike in other top tournaments – especially those for the chess elite – where participants usually quickly depart the playing area after their game, at the Olympiad for people with disabilities, many players stick close to the playing area or sit together with their teammates or players from other countries to analyse their games. The ambience is reminiscent of a friendly chess club where everyone smiles and talks to each other. But still, while the atmosphere may be friendly, the games are serious.
The twists and turns of Round 2
The top-seeded team of Poland got an early boost against the international squad of IPCA when IM Jacek Stachanczyk gave a lesson in opening tactics to Artem Andriienko from Ukraine: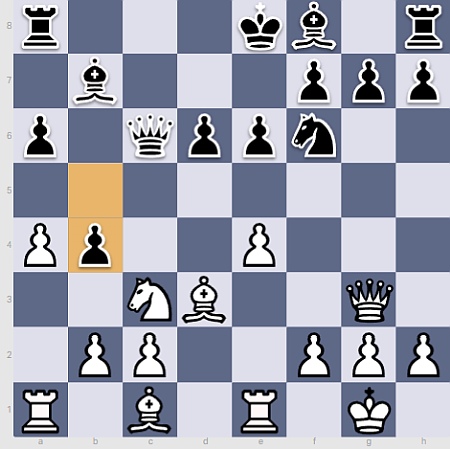 13.Nd5! The pawn on b4 can't be protected (13…a5 14.Bb5); capturing exd5 loses Queen (13…exd5 14.exd5+); and after 13…Nxd5 14.exd5 Qxd5 (14…Qc8/Qd7 15.Nb6) 15.Be4 the black bishop is lost. One of the youngest participants of this tournament in Belgrade chose not to suffer long and resigned right away.
Later on, a draw was agreed on the first board, and FM Marcin Molenda extended the lead to 2.5:1.5, compensating for the loss of Pawel Piekielny against Eugenio Campos from Angola.
Israel was ruthless with 3.5:0.5 against the first team of the host country, Serbia. Aleksandra Aleksandrova executed a swift mating attack, and Andrei Gurbanov demonstrated a temporary sacrifice to liquidate into a won endgame against Dragan Zivic: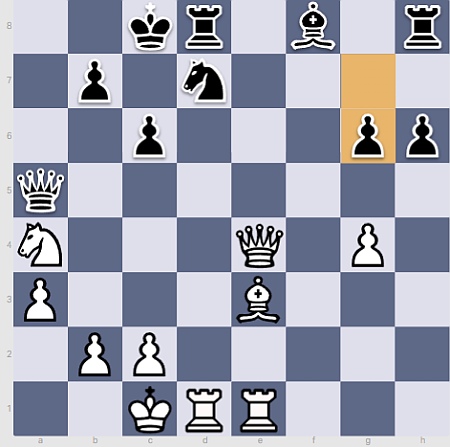 25.Nb6+! Nxb6 26.Rxd8+ Kxd8 27.Bxd6+ Qxb6 28.Qe8+ Kc7 29.Qe5+ Bd6 30.Qg7+ Kb8 31.Qxh8+ and White won on move 34 1-0
The main upsets of the round were losses of the 3rd, 4th and 5th teams from the starting rating list. 
The international selection playing under the FIDE flag had an advantage in rating on two upper boards in the match with the 3rd-seed Hungary, and they used it. The main surprise, however, was created by the young Natasha Morales Santos from Puerto Rico, after surviving with her king locked down in the centre of the board: 
32.Ne4 Bxe4 33.Bxe4 R5xe4+ 34.Qxe4 Bg5+ 35.Kxg5 Rxe4 36.Kf6 Re3 37.Rc1 Rf3+ 38.Ke7, and she outplayed the opponent rated 450 points higher to bring her team a victory by the score of 3:1! 
The 4th-seeded Croatia had a nightmare start on day one when they lost to Serbia's second team. This time they were defeated by Uzbekistan 3:1, and the 5th seed Cuba lost 3:1 against the team from India.
The second team of Serbia continued with its great run from the first day and scored another convincing victory. This time they confidently defeated Zimbabwe with 3.5:0.5 and surprisingly remained in the group of leaders. It shows how the difference in average rating matters little in a tough team competition such as this one.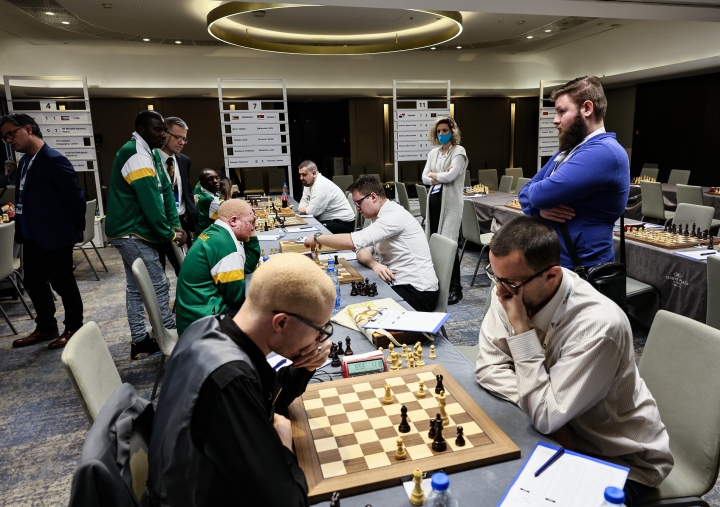 The next 3rd round will conclude the first half of the inaugural Chess Olympiad for people with disabilities, and some of the matches may already be of key importance, especially for those on the top of the standings: Poland – FIDE; India – Israel; Serbia 2 – Philippines and ICCD – Hungary.
"Chess gave me the opportunity to beat giants"
Behind every player, there is a very big life story. Jesus Osorio (38) is a remarkable person from Panama. Despite having brittle bone disease, he has overcome many challenges and is pursuing his passion for chess.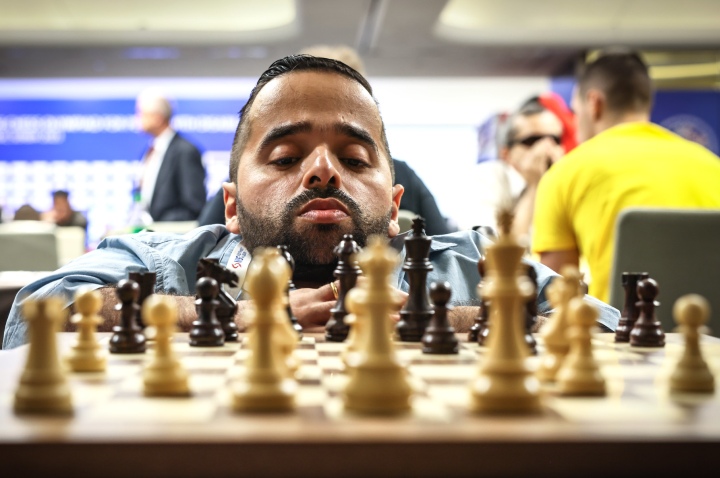 Inspired by his brother, a marathon runner, Jesus wanted to achieve something big, and at the age of 10, he picked up chess. Since then, he has dedicated his life to promoting the sport. Now, he has achieved his dream of representing Panama in the Chess Olympiad. "In chess, we are all on an equal playing field, and I'm grateful for the opportunity to be here."
Jesus is married and has two children, one of whom has a disability. He is also a TV show host, showcasing the world of chess, and has a popular TikTok channel in Panama dedicated to the sport. 
Chess has given Jesus a lot, and he shares his story with pride.
"Chess is the only sport where there is no difference between an abled and disabled person. Chess gave me the opportunity to beat giants. This sport gave me the opportunity to challenge myself."
Through his interview with FIDE, Jesus shared his life and chess journey, inspiring us all with his determination and love for the game.
By Milan Dinic (FIDE Press Officer) and Marjan Kovacevic (DIS reporter)
Photos by Mark Livshitz
About the event
The Chess Olympiad for People with Disabilities, a six-round Swiss tournaemnt  is played at the Crowne Plaza Hotel in Belgrade, Serbia.
The time control is 90 minutes for the first 40 moves, followed by 30 minutes for the rest of the game, with an addition of 30 seconds per move starting from move one. The default time is 15 minutes.
The second round starts on Tuesday, January 31, at 3 PM CET time