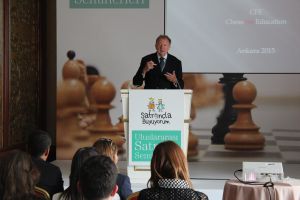 (by Anastasiya Karlovich)
Kevin John O'Connell (born August 28, 1949 in London, England) is an Irish chess master. He is the author of 32 books on chess, hundreds of magazine articles and a couple of thousand newspaper columns, mostly on chess but also on computing and sports psychology. His newspaper column (East Anglian Daily Times in UK) has now been running for 25 years.
Awarded the titles of International Arbiter in 1998, FIDE Master in 2003 and FIDE Senior Trainer in 2010. Earned MSc, with distinction, in Sports Science from Essex University in 1998, gained a teaching qualification in 1999.
Ireland's delegate to FIDE 1977-2010, he was President of FIDE Zone 1 (1978-1994), Chairman of FIDE's Computer Chess Committee (1982-1990). A member of FIDE's Qualification Commission since 1978, he was Chairman (1990-1994) and Chairman of the Titles and Ratings Committee (1994-2002). Honorary Life Member of the Irish Chess Union 2002.
Chairman of the Chess in Schools Commission since 2014.

Anastasiya Karlovich: The Chess in School Commission is one of the oldest and the most active FIDE commissions which was created in 1984. Which initial goals have been achieved since that time and what are your tasks for the next years?
Kevin O'Konnell: I was one of the founders of the Commission in 1984. Despite the hard work and financial support of founding chairman Nicola Palladino, few of the initial goals were achieved. It seems that the time was not quite right, with too much emphasis on chess development and not enough on using chess to help children develop educational and life skills.
Since 2010 we have refocused on using chess for education, for absolute beginners, mainly in the age range 4-12. The appearance of chess players from these programs (about 5% of those in CiS programs go on to play some sort of competitive chess, joining chess clubs and their national federation) is a happy by-product, but not the principal objective. This is in contrast to the previous focus (and current TRG – Trainers' Commission – focus) on developing chess players, coaches and trainers.
Perhaps we were quite late with this refocus. In the interim, many organizations (some not-for-profit, others fully commercial) had sprung up around the world to introduce chess into schools, typically in a non-competitive format, to strengthen the level of children's educational attainment, not to develop chess players. Some of these organizations are even hostile to the idea of chess players emerging from their ranks.
Over the years, we have developed a good array of teaching materials, support materials, especially our web sites and, in the last year or so the exciting developments of online teacher preparation and a curriculum for pre-school children. For curriculum and teaching materials we have almost a complete array. We do not advocate any one above the others, they are all approved by my Commission, but they do tend to fall into a sequence for different age groups. See below for details.
Chess in Schools – Our Global Future is a promotional booklet that we first produced in 2012, a new edition being published for Tromso last year. It is designed to provide all the background and support information needed for federations to persuade Ministries, school principals, teachers or parents of the value of a chess in school program. It is freely available for download.
Perhaps the most exciting development is our online platform for distance learning (see below for details).
For the future, it is important that we continue to develop our existing programs and to be on the alert for potential new developments, especially ways of using technology to even greater effect.

A.K.: How many federations take part in Chess in Schools programs. Which Countries are playing the most active role in promoting Chess in Schools? Why do you think they have succeeded and what was the role of CIS in their success?
K.O.: It is impossible to give precise numbers, mainly because there is such a broad spectrum of programs and our role in those programs varies greatly. However, you could look at our CiS 4-Year Report 2010-2014, where you can find information relating to 8 conferences that we hosted or took part in, 105 federations that we visited, assisted or worked with in some way and 80,000+ schoolteachers trained (mostly by the Indian and Turkish federations, using the 'snowball' method, which we initiated in India).
It's also necessary to acknowledge the great impact of Ali Nihat Yazici during his term as Chairman of our Commission. Before Ali Nihat became the Chairman of FIDE CIS there were five important years of immense development of CIS in Turkey from 2005 to 2010. It was in 2005 that the Minister of Education in Turkey actually asked the TCF to put chess into all Turkish primary schools. Ali realized it was impossible logistically to manage that at the time and it was partly for that reason that he insisted on chess being an optional subject rather than a compulsory one. He was able to point to his experience when he became Chairman of FIDE CIS because he knew how it helped the development of the Turkish chess federation.
Often, the biggest single role in a project's success has been the 'door-opening' achieved by FIDE President Ilyumzhinov's visits and discussions with Presidents, Prime Ministers and Ministers of Education. He generates the political will to do something and then it is much easier (although not easy!) for us and the federations to develop programs with those ministries.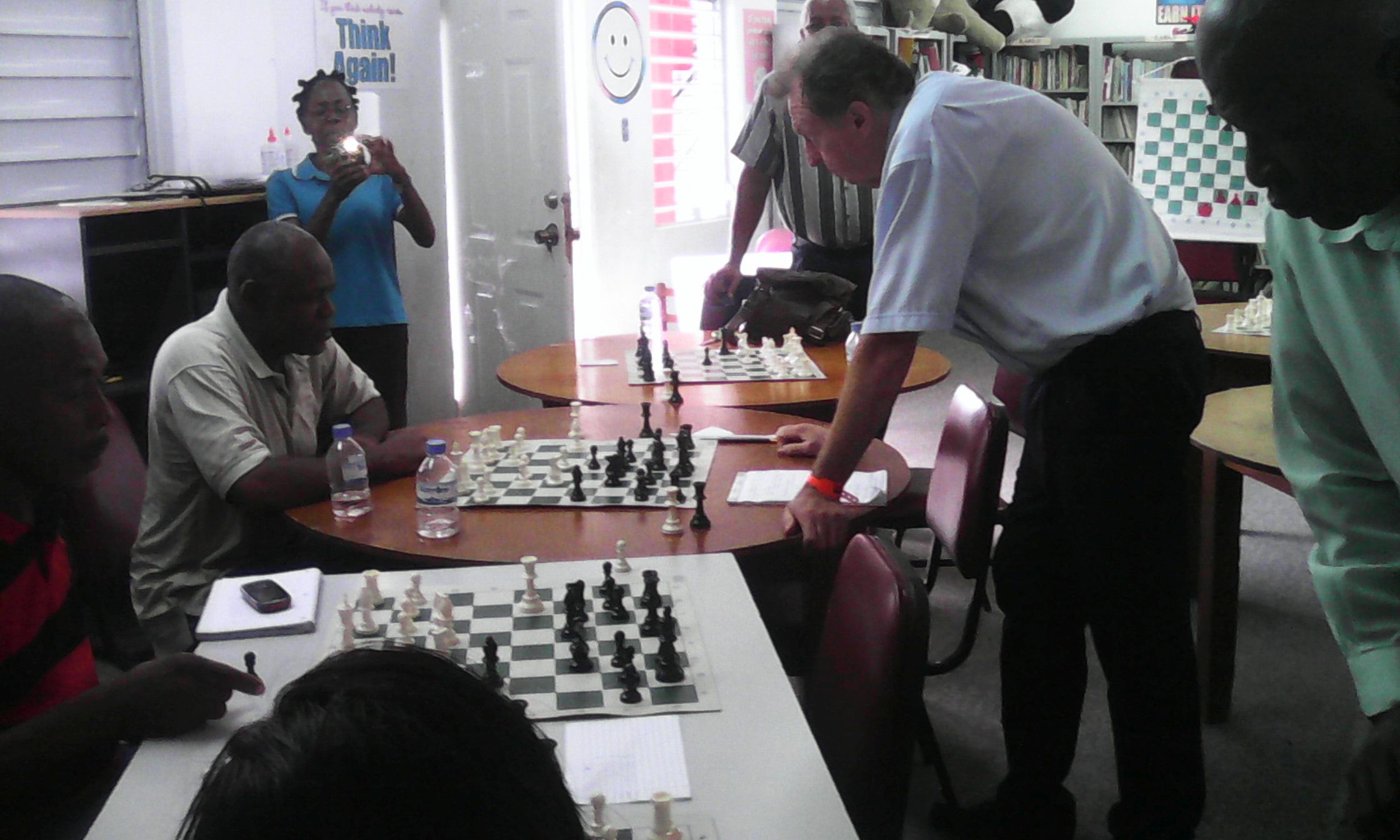 A.K.: Are there any problems in coordination between CIS and national federations?
K.O.: Our main focus is chess for education, using chess for the benefit of children's school education, and their social development. As I've mentioned before we are focused on beginners but still about 5% of them are going to be chess players. At the same time the national chess federations are part of FIDE and the interest of the national chess federations is to grow and to have large membership, to have strong chess players.
Our agenda is to have a national chess in school coordinator in each country but it's slow going trying to make it happen. Normally national federations look to chess from the professional point of view, they don't see the advantages of chess in schools programs purely for beginners. But in fact we can help the national federations to achieve one of their goals as the main advantage to them of chess in schools is the increasing number of members of each federation.
Unfortunately we are still trying to explain it and it's hard to understand why we are not making progress to get this message across. This is why we came up with FIDE student membership of which there are 2 categories: free membership and the paid one. It's obvious what is the benefit to have paid membership for each federation. FIDE takes a very small amount, almost nothing and nearly all the income goes to the national chess federations. Free membership is also important as it increases the number of members of a federation, something which sponsors always care about.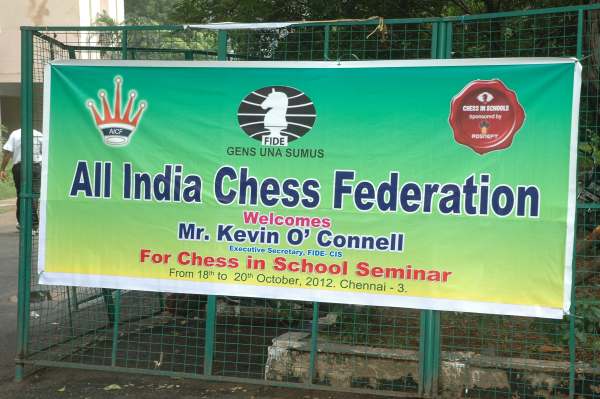 A.K.: Can you please give an example of a country which successfully runs a chess in schools program? Are there any kind of researches about the benefits of chess in such countries?
K.O.: In 2011 chess was introduced as a compulsory subject in Armenia. Starting with grade two (7-year-olds), it is a three year program. The State Pedagogical University had a group of psychologists and sociologists carrying out tests from the very start. They have statistics for many sorts of things connected with child development. Over the past few years they have compared each different year group including those (7-year-olds in 2010) who never studied chess.
The conclusion of the research shows that teaching chess promotes the development of creativity, intellect, memory, watchfulness, emotional stability, logical thinking, willed qualities. All of this, once again demonstrate the importance and the role of chess in schools as a tool of effective and strategic management of education and formation of the modern individual. (See our cis.fide.com web site for details of the research).
A.K.: What kind of materials have you produced to help the teachers in schools and where one can find them?
K.O.: We have many downloadable materials to help both federations and individual teachers. We think that they are appropriate (approximately) for the following age groups:
4-6 Early Years Skills Program, based on the successful psychomotricity program (Chess on a Giant Chessboard). This has been developed in partnership with groups in Italy, Germany and Spain as part of an Erasmus+ program. Nearing completion, with 60 videos demonstrating how to implement the program, we will release this at the end of this year or very early next year, initially in English, Spanish, German and Italian, with French, Arabic and others to follow soon thereafter.
6-7 Chess: The First Year of Study. This consists of a classbook and a workbook, written by Umanskaya and Volkova. It is available in two languages: English and Russian.
7-9 Elementary Level Chess Class Book. This is a corrected translation of the book used in Turkey since 2005. It is available in English, French and Arabic. A separate teacher guide book accompanies this.
9+ Planet Chess. This was prepared by our Commission in 2011 and updated since. The latest available version (2014) can be downloaded in English, French, Spanish, Arabic, Russian and others.
All these materials are freely available for download from our site: http://cis.fide.com/en/teaching-materials. There are other support materials as well, not least the FIDE Student Magazine (see below).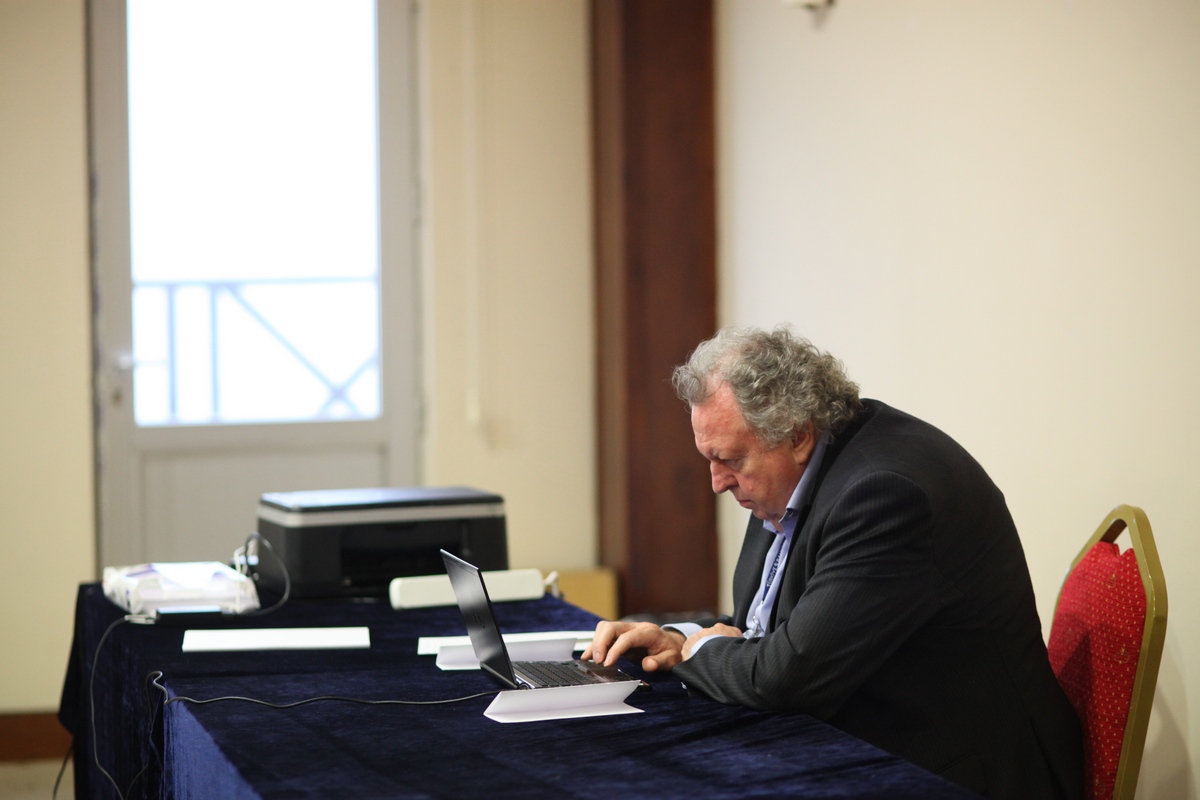 A.K.: There are not enough teachers in some countries and many of them have to study chess from the very beginning. What can you advice the teachers to improve their knowledge in order to teach chess in schools?
K.O.: It is precisely those teachers who do not play chess who usually are best at teaching chess in schools programs. Chess players, especially strong ones and chess trainers are at a great disadvantage. The teachers are closer to the beginners they are teaching and better understand their problems and they know about teaching. Players and trainers almost inevitably look at everything through the eyes of a chess player, never those of a beginner, and they hardly ever have any training as teachers, thus they work under a double handicap.
Most professional chess players cannot see the things on the chess board the way that beginners do (or, rather, do not!) and I've seen strong players tearing their hair out because the children could not understand them. Whose fault is that? I believe it's the fault of those who do not know how to teach!
We have developed a special program which can be used for pre-school children, for kindergartens and the first years of school. It's not so much chess as the basic skills which are necessary even to start learning how to play chess because children of that age don't have the necessary concepts, they don't know what "square" is, what "line" is, not even speaking about "vertical", "horizontal" or "diagonal". They need to learn all this before they start learning how the pieces move. Also, bear in mind that at this age most of the children can neither read nor write.
Some chess players think that they can go to schools and teach children in one hour how all the pieces move and by the end of 1-2 weeks see them playing competitive chess. In our materials, we not only give advice but also explain to teachers why they are usually much better for teaching beginners than professional coaches or chess players. Many teachers think that chess is a very difficult subject and not being established players, they fear that it will be too hard for them to teach it. To support them I can just say – if you are teaching a beginner of anything you should probably not be a university professor of that subject!
The new FIDE Early Years Skills Program, for use in pre-school, kindergarten and first year of primary school, is a program that absolutely requires real teaching expertise with this age range and little or no chess knowledge.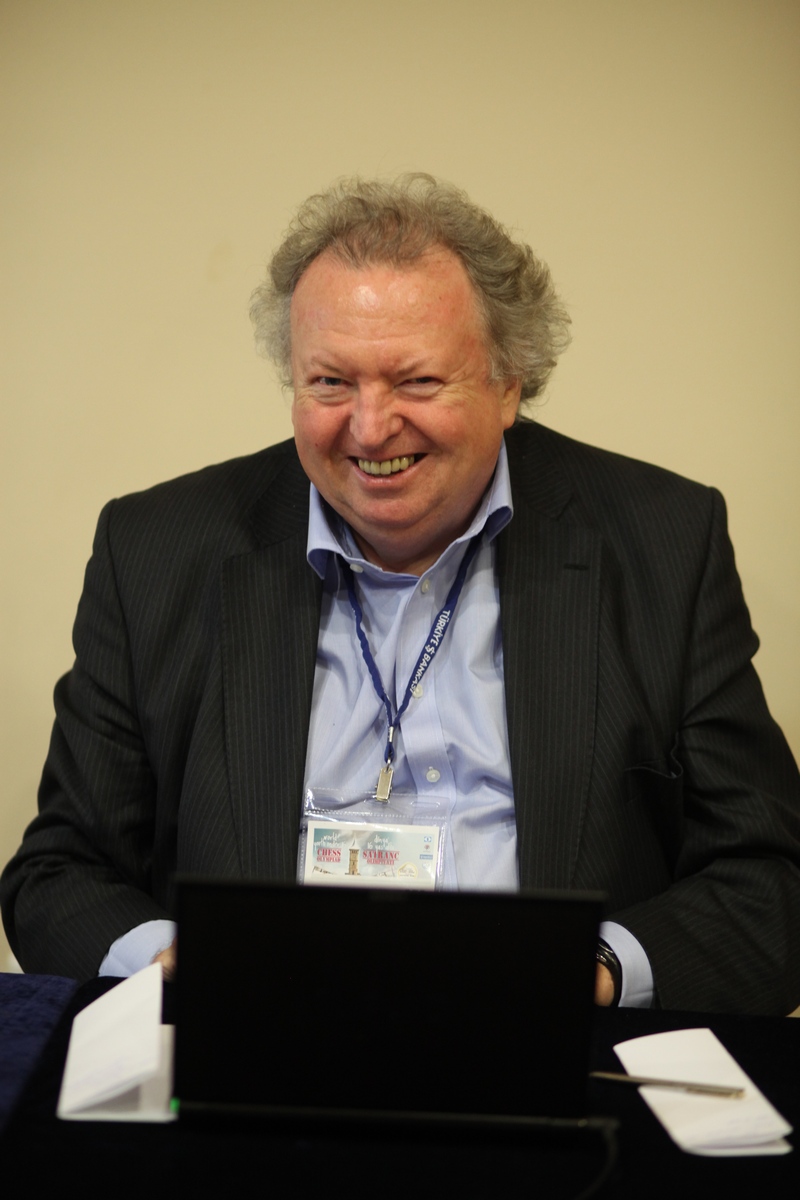 A.K.: If you believe that the school teachers can teach beginners better than professional chess players and coaches, than where is the place for those chess trainers?
K.O.: Many chess trainers are against chess in schools programs where ordinary schoolteachers are used, the trainers fearing that they will lose by missing out on some lucrative teaching. But that's a big mistake. Look, for example, at what has happened in Turkey so many children have been taught chess by the teachers and now want to improve their chess education. The demand is so great that there are not enough professional chess trainers to meet that demand and hundreds more trainers are needed.
Compare that with the position ten years ago when the situation was reversed – there were not enough children wanting chess training to provide enough work for even the small number of trainers then trying to make out a living in the country. When you have a proper chess in schools program, about 5% of those children go on to become players, and that creates a huge pool of demand for training.
We have been developing programs to target this problem of lack of trained schoolteachers. We continue to work towards making such programs available by 'distance learning' especially for the Early Years Skills Program and for the Diploma of FIDE School Chess Leader. These take care of the very beginning. Then our seminars for the title of School Instructor (using the Foundation Trainer Guide which we developed jointly with TRG) come into play for teachers who will take children on from the beginner level; it is then that they will learn about tactics, checkmates, opening, middle game, endgame and more.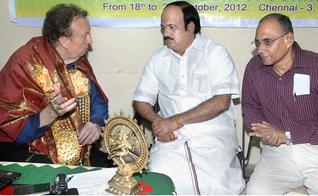 A.K.: You have already produced more than 100 FIDE Students Magazines. How many subscribers do you have? What is the procedure to become a new subscriber?
K.O.: Many of our 17000 or so subscribers are from our first two partner countries (Slovakia & Slovenia), but on a percentage of population basis, little Jersey is clear first (ca ??% of children 6-18). Children (or their parents or teachers) can register in their language (12!) for FSM, which is entirely free, at sm.fide.com (there is also a premium membership with additional benefits). The magazine is then emailed to them.
A.K.: Who is helping you to handle all this huge amount of work?
K.O.: It would not be possible to handle this job without a lot of help from others, not only those who are inside the Commission, but also those who are outside. Let's start with the books…
The authors and the publishers have made them available for use free of charge, so everyone can download them. We need to thank Dr Olgun Kulaç and Turkiye Is Bankasi for providing us the Turkish chess books, which we have translated into several languages (so we also have to thank our translators!).
The most active members of CIS promote chess in school programs in their countries or even whole geographical or linguistic areas. These mostly unsung heroes participate in the preparation of many of our materials.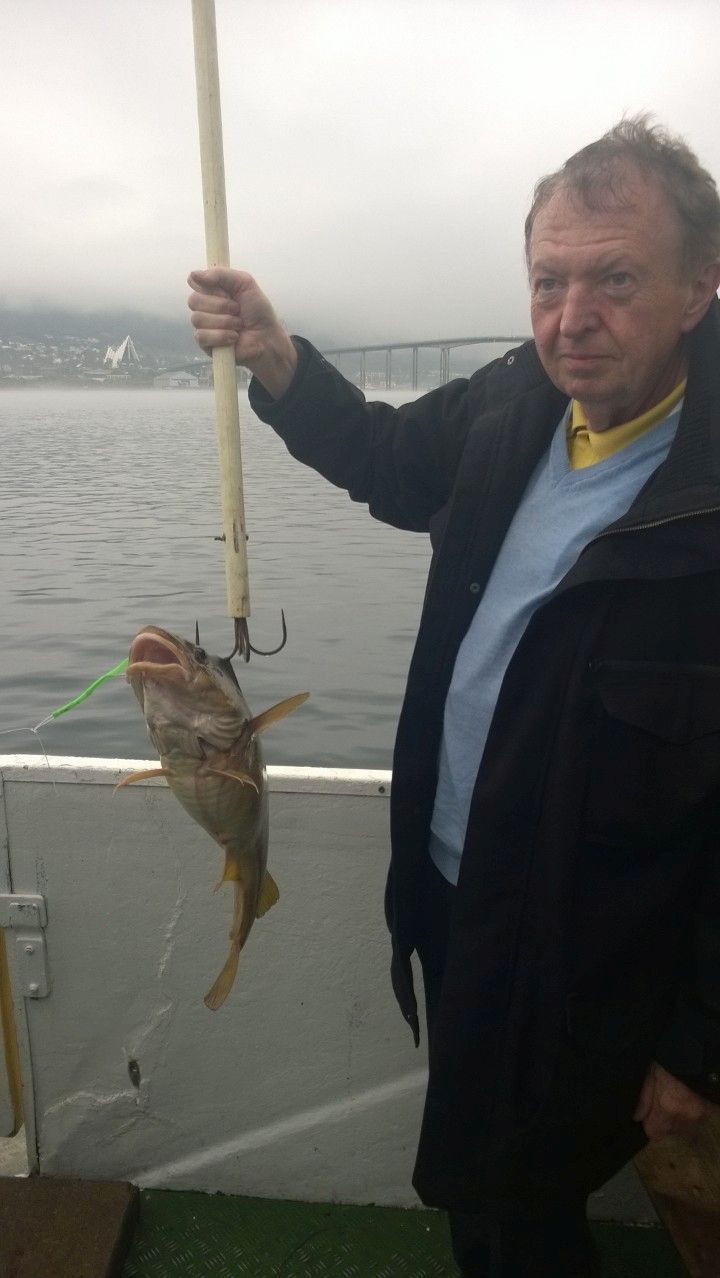 A.K.: How does CIS cooperate with other FIDE Commissions?
K.O.: We have good cooperation with Social Action & DEV and a long-standing cooperation with TRG although improvements are always possible.
To improve cooperation between CiS & TRG was one of my main considerations in becoming a member of TRG in 2010 (and again in 2014) but it takes two to tango as they say. One example of difficulties has been the 'tug-of-war' over the School Instructor title. Introduced by CiS in 2012 and approved by the GA that year, TRG persuaded the PB to remove the title in 2013. CiS & TRG then agreed a joint control of the title, approved by FIDE in 2014, but that did not work out. In 2015 the Executive Board in Abu Dhabi returned the title to CiS!
In 2011-2012 we undertook a major collaboration with TRG to produce the Foundation Trainer Guide. Our objective with that book was to provide a bridge between the area of CiS and that of TRG. Most of the chapters serve a dual objective. The first is to expand the knowledge and understanding of trainers (especially DI & NI) in the area of teaching, so that they may be better able to step in immediately after the beginner stage. The second is to aid schoolteachers who wish to develop their knowledge and understanding of chess, thus going beyond the School Instructor title to the FIDE School Chess Leader diploma.
We view this as a very important area – the bridge between Chess for Education (beginners – CiS) and Education for Chess (chess players – TRG).