By IM Michael Rahal (Munich, Germany)
The Munich Kempinski hotel witnessed this afternoon one of the most exciting rounds of the 2022-2023 Women's Grand Prix series. 
The round started with the ceremonial first move, played by the German U-16 female champion, Maja Buchholz, performed in the game between Zhansaya Abdumalik and Dinara Wagner.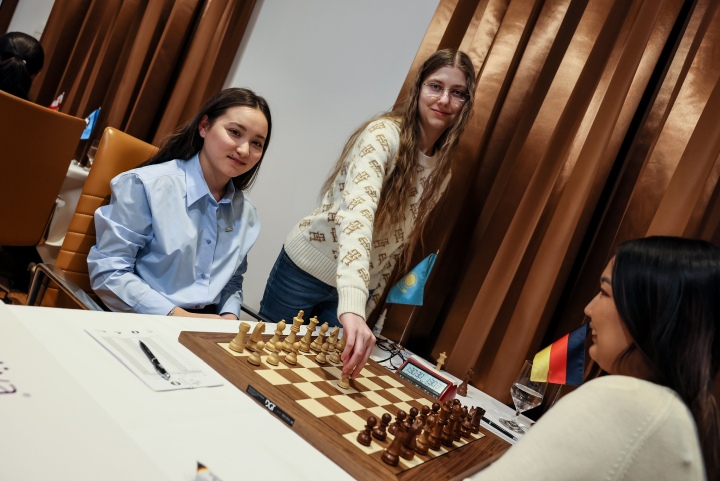 Perhaps the presence of the German Youth team, cheering before the round, positively influenced the combative spirit of the players, or simply that they risk much more than in the open category. 
Either way, time trouble was epic: no fewer than four of the six games were decided around move forty. With today's results, Kosteniuk leads the tournament with 7/9, only one point ahead of Humpy Koneru. Since they face each other tomorrow, the event is completely open. 
Humpy was quite pragmatic after the game – "I am taking the tournament round by round, and I am not thinking of positions. I am going to relax and start preparing for tomorrow". 
GM Muzychuk, Mariya vs GM Harika, Dronavalli (0.5-0.5)
A very equal match-up. My database yields a total of 36 games, with 8 wins for Muzychuk and 9 wins for Harika in previous encounters. Standing on 50%, with three rounds to go, both players were clearly interested in improving their tournament position.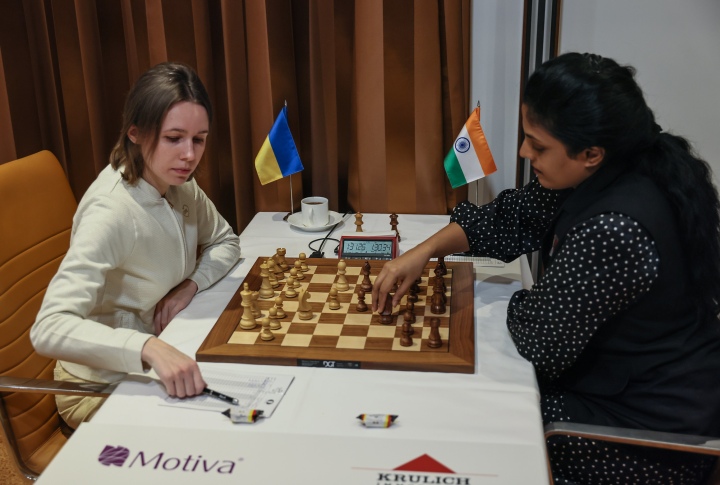 In classical Italian, it didn't seem that much was happening in the opening until Muzychuk spiced things up with 24.g3. After a more or less forced sequence of exchanges, White ended up with an extra pawn, but Black's pieces were very active, especially the rook. 
Both players preferred to play it safe, and a draw was agreed on move thirty-nine after a threefold repetition. 
GM Dzagnidze, Nana vs GM Kosteniuk, Alexandra (0.5-0.5)
Trailing Kosteniuk by two points, this afternoon's game was Dzagnidze's last chance to make a statement for the tournament: a must-win situation. Additionally, most of their previous games ended with decisive results.
The opening was a Nimzo-Indian Defence, with the so-called "hanging pawns" structure, both strategic and dynamic, ideal for both players' styles. After a series of exchanges, the pawn structure stabilized, and the position remained equal.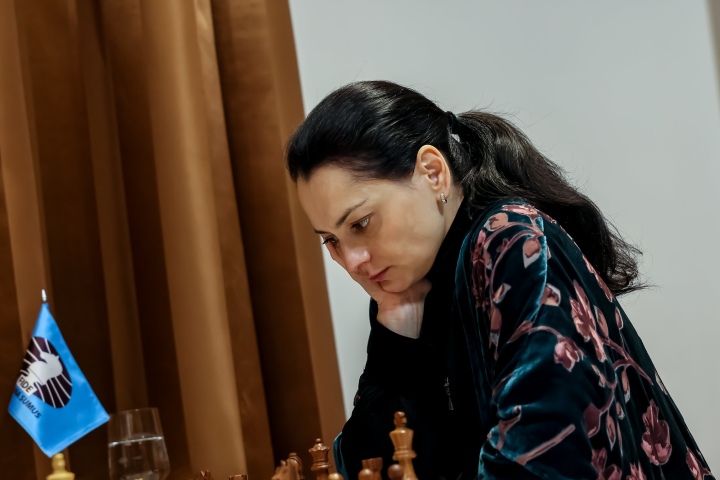 Going into the ending, Kosteniuk won a pawn. Maybe she could have played for a win, it's hard to say, but taking into account the tournament situation, she decided to play it safe and agree to a draw after a three-fold move repetition. 
"I considered playing for a win, but in time-trouble, I couldn't see how to improve my position and decided to agree to a draw," commented Kosteniuk after the game.
GM Abdumalik, Zhansaya vs WGM Wagner, Dinara (1-0)
Facing Abdumalik's English Attack in the Sicilian Najdorf, Wagner chose the old 6…Ng4 line, which recently fell out of fashion, substituted for the most part by 6…e5. 
One of the key moments of the opening was Abdumalik's choice to play 14.Nxc6 instead of the regular 14.Nb3. Transitioning into the middlegame, the top Kazakh player made a crucial strategic decision, parting with her dark-squared bishop after 19.Bxe5: the position was very double-edged.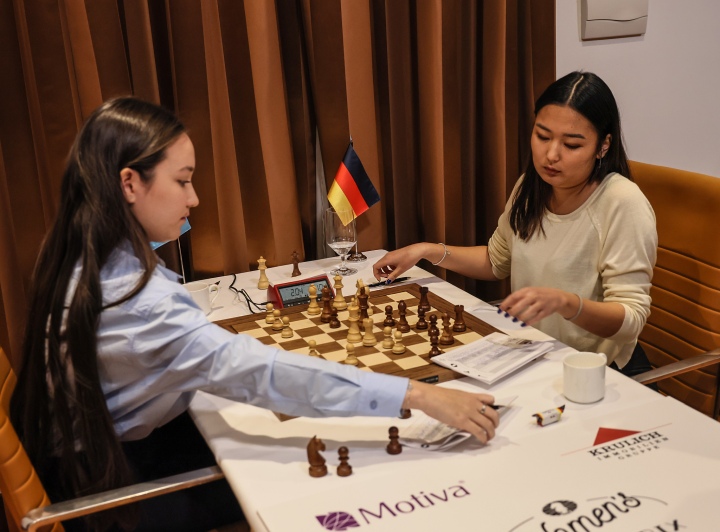 She started transferring her pieces to the queenside in an attempt to attack Wagner's king. Anything could have happened, but Abdumalik was on the winning side today.
"I was a bit lucky because she made some mistakes in time trouble. But in general, the game was fine, we were both fighting, and I am happy that I have managed to win my first game," a very content Zhansaya Abdumalik explained in her postgame interview. 
GM Muzychuk, Anna vs GM Tan, Zhongyi (0-1)
According to my database, Anna Muzychuk and Tan Zhongyi have played 21 times, with a roughly equal score: 6 wins for Tan Zhongyi and 5 wins for Anna Muzychuk, with a total of 10 draws, so a close fight was expected, especially as both of them are currently standing near the middle of the standings.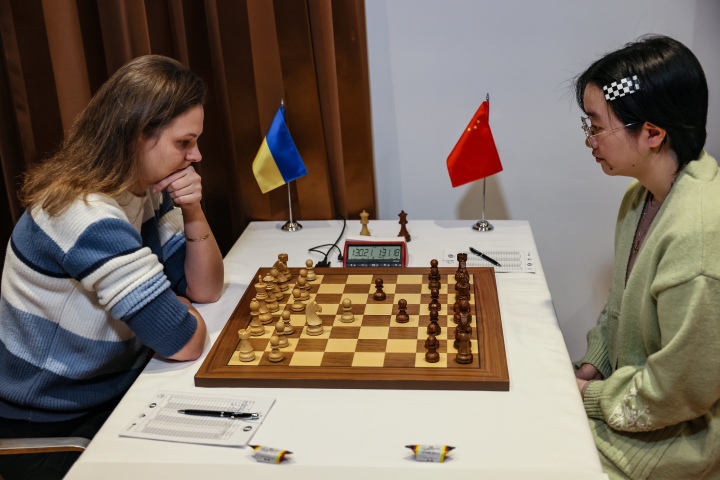 Muzychuk chose the sharp Keres Attack against the opponent's Sicilian Defence, forcing her on the defensive. Things seemed to be going well when suddenly she decided to sacrifice her h4-pawn, which was certainly a double-edged decision. 
Muzychuk was able to open several lines to Tan Zhongyi's king, but in exchange, the former Women's World Champion installed a monster knight on e5, dominating the board.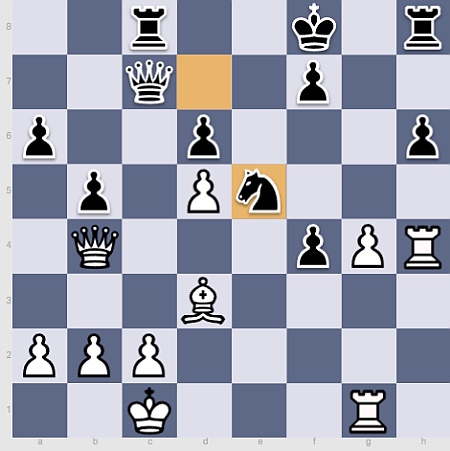 Muzychuk began to lose her way and soon found herself in a hopeless situation. Even though she could have decided the game earlier by tactical means, Tan Zhongyi preferred to transition into a double rook ending. "The knight on e5 was the key strategic element of the game," explained Tan Zhongyi after the game.
GM Koneru, Humpy vs GM Paehtz, Elisabeth (1-0)
According to my database, Humpy has traditionally been a very tough opponent for Paehtz. They have faced each other on 13 occasions, with 9 wins for Humpy and only 3 wins for Paehtz. 
For today's game, the German number one opted for the King's Indian Defence, which quickly transposed into one of the sharpest positions of the Benoni. Paehtz blitzed out her opening moves and sacrificed a pawn for the initiative, a typical idea in these positions.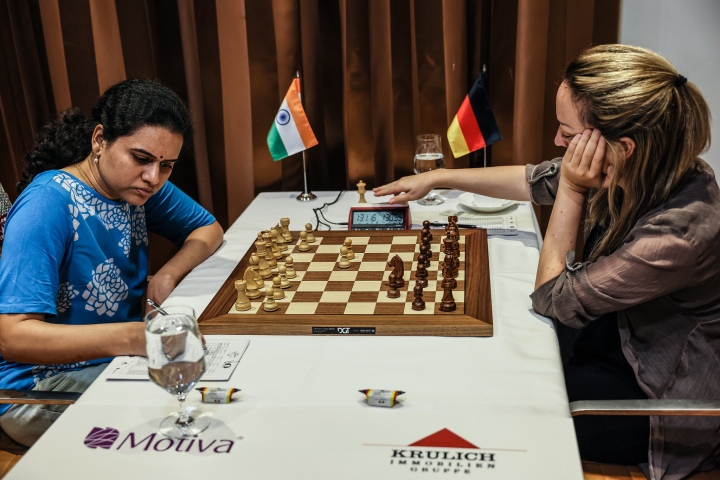 Paehtz could have achieved full equality with 18…Rxb2, but instead chose 18…f5, falling quickly into a very unpleasant position. 
"Even though I am a pawn up, it's quite a complicated position. It's more to do with who is controlling the central squares," Humpy explained to IM Michael Rahal, FIDE Press Officer for the event. "She has to try …Ng4, …Qh4, and at some moment play …Ne5 with counterplay."
WGM Zhu, Jiner vs IM Kashlinskaya, Alina (0-1)
The last game to finish was the most exciting. Poland's number one player opted for the French Defence for the second time in the event. Zhu Jiner had prepared the Advance Variation, one of the most strategic lines against the French. 
"I generally play the line with …Nh6, but today I went for the main line …c4 to play a long game, in which I thought I might understand some nuances better," Kashlinskaya explained her opening choice.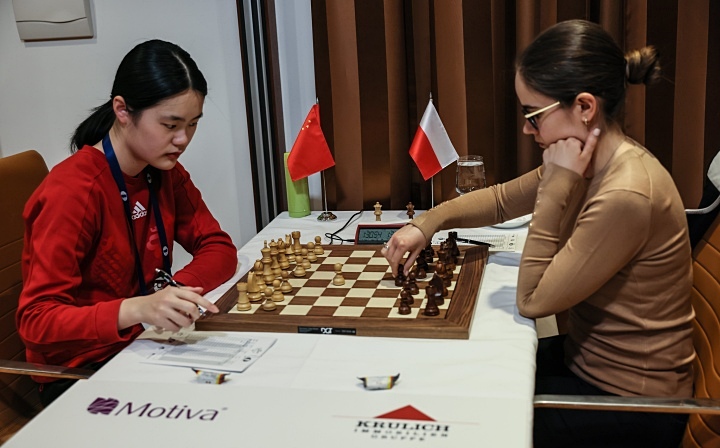 It's hard to say when Kashlinskaya went wrong in the opening; possibly 13…g5 wasn't timed properly. Zhu Jiner rearranged her minor pieces and began to dominate the board, honing in on her opponent's weaknesses. But approaching time trouble, in a tricky position, Kashlinskaya took over the initiative. 
"I didn't like my position in the middlegame, too many weak squares. In time trouble, I made some mistakes, but on move 40, I thought that my attack was crushing. I didn't even consider 41.Rxd5" were Kashlinskaya's thoughts after the game. 
Standigns after Round 9: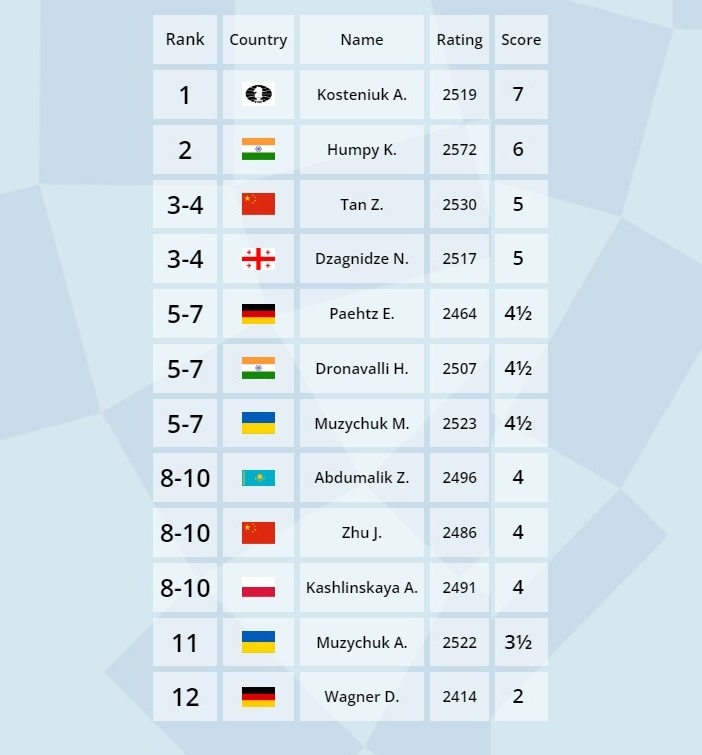 The tenth round will be played on Sunday, February 12th, at 3 PM at the Kempinski Hotel venue. 
The closing ceremony and prizegiving is scheduled for Monday 13th at 7 PM in the Maximillian III room at the Kempinski Hotel. Approximate duration: One hour
Photos: Mark Livshitz