Grand Prix events are long and tiring. Eleven games plus travel essentially means two full weeks abroad, in addition to time allocated for training purposes. The free day at the halfway point of the event is very much appreciated by the players – and officials/volunteers – to recharge their batteries for the last rounds.
Most of the players hang around the official hotel, relaxing, maybe watching a movie, using the gym. Nonetheless, the tournament organizers happily provided a bus and a guide for a wonderful three-hour trip to visit the cities highlights. Getting to know the city where you are playing is a must for most of us and Astana doesn't let you down.

Back to the today's seventh round, the Minister of Culture and Sports of Kazakhstan, Dauren Abayev, made the ceremonial first move today in the games Abdumalik vs Kosteniuk and Assaubayeva vs Shuvalova.

WGP Astana 2022: Pairings & Schedule / Detailed information / LIVE games
Zhu, Jiner — Vaishali, Rameshbabu (0.5-0.5)

To date, Zhu Jiner and Vaishali had only faced each other once, in the Hou Yifan rapid play challenge in 2021, in which the Chinese wonder girl emerged victorious. In today's game, Vaishali mixed it up and went for the Sveshnikov variation, diverting from the Accelerated Dragon that she used successfully in the first round against Lagno.

It quickly became clear that both players had prepared the game very well: they blitzed out their first twenty moves, following several games played by the might Ivanchuk, and eventually went for a forced mass piece simplification. An uneventful draw was agreed on move 31 in a completely equal rook ending.

Vaishali spent less than 25 minutes for the full game: impressive opening preparation with Black. With this result, she remains on 50% in the middle of the table while Zhu Jiner maintains her spot at the top of the classification.
Abdumalik, Zhansaya — Kosteniuk, Alexandra (0-1)

Dominating her opponent by 3-1 in classical games, and also many rapid and blitz games, Alexandra Kosteniuk has always been a tough rival for Kazakhstan's number one female player. In addition, Kosteniuk has been crushing with the Black pieces here in Astana, although her performances with White have been much less impressive.

In the second game to finish, Abdumalik surprised her opponent with the rare 5.Re1 side-line in the Italian opening. I noticed in the playing hall that Kosteniuk took a moment before responding 5…Ng4 but then blitzed out her next moves: a piece sacrifice was in the making.

Zhansaya was playing very fast: it was clear to me that she was in home preparation but the position seemed quite dangerous for White. She won a pawn, but had to weaken her kingside to hold it. In the commentary booth, GM Ilya Smirin was of the opinion that she had a very dangerous position.

After 16…g6! White's position was crumbling and after 17.Qe1 Abdumalik was lost, although the alternatives were not much better. With the piece sacrifice 17…Nxg4, Kosteniuk opened the way for the rest of her pieces and the game was essentially over.

"In modern chess, to win with Black is quite an achievement" Kosteniuk stated in her post-game interview.

Tan, Zhongyi — Kashlinskaya, Alina (1-0)

Today's game was an important one for Poland's number one female player. A win with Black against out-of-form Tan Zhongyi would catapult her to the head of the table. Kashlinskaya took advantage of the free day to refresh her knowledge of the Semi-Tarrasch variation of the Queen's Gambit which, according to my database, she had only played once against Goryachkina in 2013.

Her opening decision definitely came as a surprise for Tan Zhongyi. Faced with a choice of variations, she opted for the solid 5.e3 and 6.a3 line and the game transposed into a variation of the Queen's Gambit Accepted, which also isn't a regular line in Alina's repertoire.

Black did get the bishop pair, but lagged behind in development. However, Tan Zhongyi couldn't capitalise on her initiative and, with a symmetrical pawn structure, the position fizzled out into an equal endgame.

Just when the draw seemed to be the most logical result, Kashlinskaya misplayed her chances and suddenly her king was in danger: pawn sacrifices were needed to avoid a direct disaster and Tan Zhongyi didn't let her second chance go away.

Wagner, Dinara — Lagno, Kateryna (0-1)

For the third time in the event, Dinara Wagner chose the Catalan Opening for today's important game against Lagno. Well-prepared, Kateryna went for a new and very aggressive idea with Black, launching her kingside pawns against White's castled king: Lagno was going all-out for the win from the get-go.

15…h4! might have been an improvement but Black's slow play on the queenside allowed Wagner to break open with 19.f3! and get back into the game. Once again very low on time – Wagner's plague in the tournament – she sacrificed a pawn for the attack, but her own king was also very weak.

"My king was unsafe. If I missed one check it could be not good. So, I tried to focus until the very end" explained Lagno in her post-game interview. At some point Wagner's plan backfired and Lagno was in the driving seat, bringing back the full point.

With this important win with Black, Kateryna Lagno ties for first with Goryachkina and Zhu Jiner, with four rounds to go.
Paehtz, Elisabeth — Goryachkina, Aleksandra (0.5-0.5)

This match-up is a classic. They have been facing each other for the past ten years with a more or less equal score. But while Goryachkina is leading the tournament, Paehtz is in need of points: she is currently on -2.

Things started off well for the top German female player: in an Exchange Slav, she developed a strong initiative on the kingside and Goryachkina was on the defence. But Aleksandra pulled herself together and gradually improved her position, to a point where she was even much better: 34…Rc2! was the key move, threatening amongst other killer moves 35…Qxg3. She missed the opportunity to play …Rc2 three times!

Low on time, Goryachkina wasn't able to calculate all the consequences of the move and went for a safer option, allowing Paehtz to force a perpetual. It remains to be seen if the missed opportunities will haunt Goryachkina in later rounds.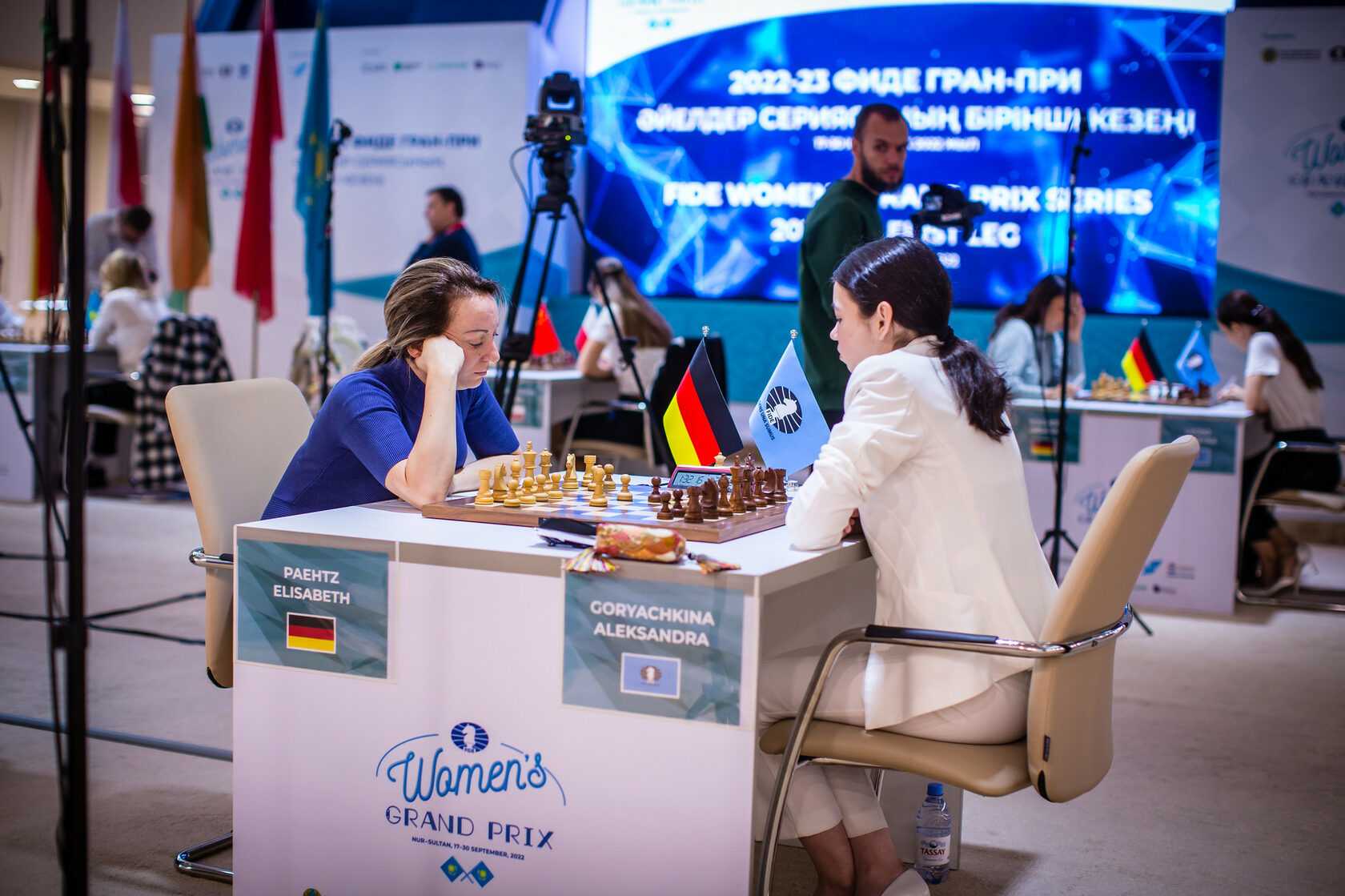 Assaubayeva, Bibisara — Shuvalova, Polina (0.5-0.5)

With four defeats in a row, Polina Shuvalova has been underperforming heavily in this event. However, in most of the games she has had her chances and actually been very close to scoring in some of them. Against Assaubayeva, the score up to now has been very close in classical games: 1.5-1.5, a victory apiece and one draw.

Today's opening was a theoretical line of the Queen's Gambit, a fitting opening for the Women's Grand Prix. They followed a couple of old Kramnik games well into the middlegame until Assaubayeva positionally sacrificed a pawn on the queenside, in exchange for a positional bind.

Shuvalova wasn't impressed: their didn't seem to be enough compensation. In addition, Assaubayeva was down to her last twenty minutes. But Bibisara pressed on, placing two very strong knights on b5 and e5: with ten minutes to go to the time control anything could happen. Sensing danger, Shuvalova defended accurately and gave back her extra pawn to force an equal ending. She even got the chance to test her opponent's endgame knowledge in the rook+bishop vs rook ending, which Assaubayeva successfully defended the 50 moves necessary for the draw.

"I don't know, somehow I have been unlucky. I am fighting in every game. I have made some strange decisions and miscalculations, I don't really know why but I hope it will be better after the rest day" said Shuvalova to IM Michael Rahal, press officer for the event, in her first interview here in Astana.
Standings after Round 7:
Round 8 | Astana | 26.09.2022
Shuvalova, Polina — Kosteniuk, Alexandra
Vaishali, Rameshbabu — Abdumalik, Zhansaya
Goryachkina, Aleksandra — Zhu, Jiner
Lagno, Kateryna — Paehtz, Elisabeth
Kashlinskaya, Alina — Wagner, Dinara
Assaubayeva, Bibisara — Tan, Zhongyi
Text and interviews: IM Michael Rahal, FIDE Press Officer, Astana
Photos: Anna Shtourman