The first day of the FIDE World Rapid and Blitz Chess Championship kicked off today with a press conference joined by FIDE President Arkady Dvorkovich and World Champion Magnus Carlsen.
Magnus Carlsen was asked whether the fact that this is the last time he is appearing in the World Rapid and Blitz as the world champion in classical chess has any impact on how he approaches this event. "These championships have been very important for me for a decade, and they will continue to be an event to enjoy and covering for. I am always on the hunt for more titles and wins, and that will not change in the future regardless of the classical championship."
Carlsen was also asked if he would play against Hans Niemann if the two were paired. "I don't have an answer. I understand it's a question that people want an answer to, but I hope you can understand I can't answer it."
Speaking about the recent rise in the popularity of chess, Carlsen noted the impact the coronavirus pandemic has had on forcing people to stay indoors, but he also pointed to the rising awareness of mental health and the role chess can play in improving it: "Across many societies, there's an emphasis on having not only a healthy body and a healthy mind and chess is quite suitable."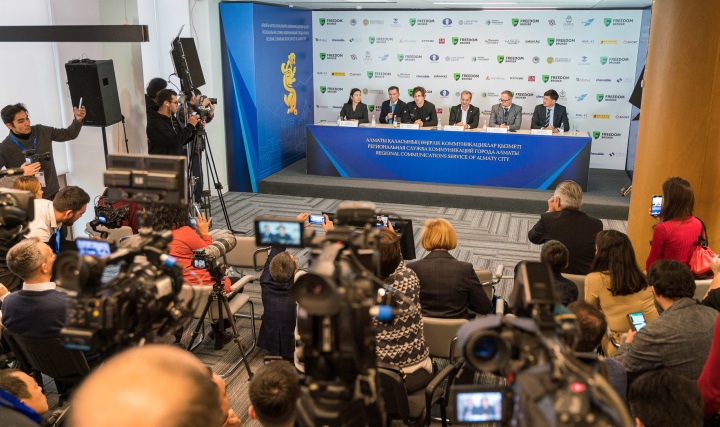 Carlsen was asked if chess players work with mental coaches. "I never felt the need. I feel like I usually understand the reasons for my successes and failures. I haven't felt the need to speak to professionals. I have people in my life I can talk to about these matters", said Carlsen.
"People who work with me work hard so I can work less and focus more on the games. I think about chess all the time – I visualise the games and think about the ways I can improve. There is not a lot of deliberate practice or something that people perceive as work. I never wanted a classic nine-to-five job, and I don't think I can ever treat chess as this… I think my way goes to show that there are several ways to obtain a goal."
The world champion was also asked what the biggest lesson chess is has taught him. "Chess has taught me that spending a lot of time on chess will make you good at it. Everything is not necessarily transferable. The most helpful thing I learnt from chess is to make good decisions on incomplete data in a limited amount of time."
There have been many good Kazakhstani players of the past, Carlsen noted. "One of the early good victories was against Evgeniy Vladimirov, who was a very strong player in the 1980s and 1990s and notable as Kasparov's coach… Zhansaya Abdumalik is one of the best female players in the world. There are some strong young players. For now, there has been more success for Uzbekistan, your neighbours, but I'm sure that's motivating for the youngsters here."
He also spoke about other board games: "I am fascinated by other board games, especially the Japanese game shogi. As for go, I don't know much about the game. I understand that it's insanely complex. It's more of a pure game than chess because the rules are simple and clear, and yet the game itself is so complicated. I'm used to playing chess, so I feel that it is more interesting because the pieces have different qualities. Chess has been around for a long time, and it's still far from being figured out by us humans. It's a wonderful game".
The final question of the press conference was asked by a four-year-old. As usual, kids at that age ask questions which sound so simple but are very difficult. The question: How to become a world champion? Carlsen's response? "Very easy, you just have to defeat the previous world champion!"

Replay the press conference here
Text: Milan Dinic
Photos: Lennart Ootes