Nakamura – Nepomniachtchi is the final at the FIDE Fischer Random Chess Championship 2022. Ian Nepomniachtchi gained Fischer Random revenge for his unsuccessful classical title challenge against Magnus Carlsen last year, and immovable object Hikaru Nakamura toppled the irresistible force of the preliminaries, Nodirbek Abdusattorov, to set up a title match few predicted. Nakamura, the only undefeated player in the event, eliminated Abdusattorov with a shocking 3-0 sweep, while Nepomniachtchi won three in a row after dropping the first game in a very nervy clash with Carlsen.

Find all the information about the 2022 Fischer Random World Championship here / Replay the games of day 3 / Abdusattorov and Nakamura – leaders of their Fischer Random 2022 groups after day 1 / Abdusattorov is the first to qualify for the Fischer Random semi-finals / Carlsen, Nakamura, Nepomniachtchi, and Abdusattorov to meet at the Fischer Random semi finals
The day's play
The knockout segment in the FIDE World Fischer Random Chess Championship produced the title finalists from two intriguing semifinal match-ups. Reigning classical chess world Magnus Carlsen faced his previous challenger for that title, Ian Nepomniachtchi, in one of the best-of-four, two mini-match duels.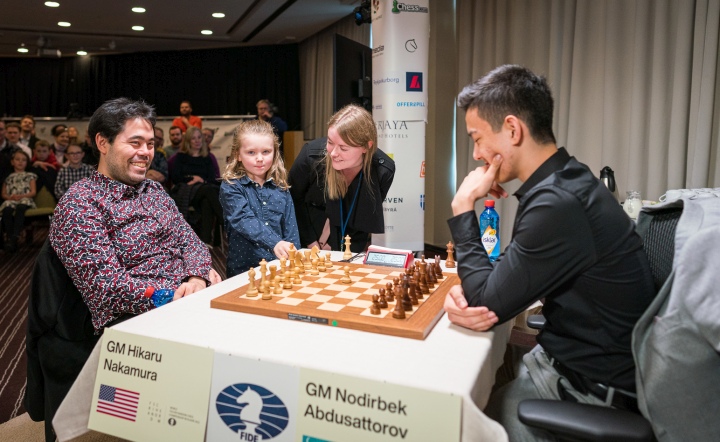 Reigning World Rapid Chess Champion, the Uzbekistan teenage prodigy Nodirbek Abdusattorov, who had shown awesome form in the preliminary group stage, met the well-known master of both this variant, but also all forms of speedier chess – US Grandmaster Hikaru Nakamura.
Carlsen was the last to arrive as the players gathered for the unveiling of the first position of the day, as well as another drawing of lots. Chief Arbiter Omar Salama concealed a different colored pawn in each fist and asked first Carlsen, and then Nakamura, to choose a hand. Carlsen picked one with black, meaning he will play this color in games 1 and 4, while Nakamura did the opposite. This ritual guarantees that the players will get both sequences of color in the mini-matches.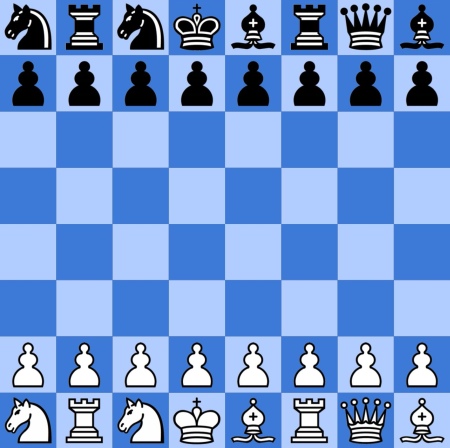 Start position 1
Salama said that he reckoned that getting to play white in the final game could be a small advantage in a must-win situation – though it must be stressed that given the embryonic state of opening knowledge in Fischer Random, the statistical advantage of who moves first is harder to measure.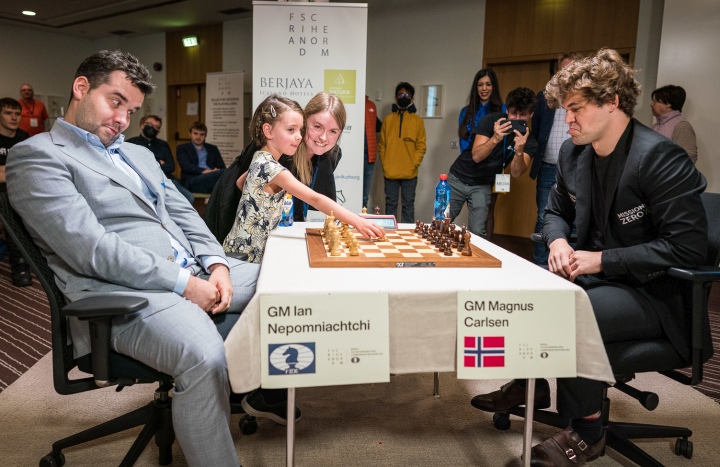 Today's ceremonial first moves were played by a pair of six-year-olds, Aria Björk and Thor Gudni, representing their preschool Laufasborg. Salama has been teaching chess there for 15 years and explained Laufasborg's unusually rich chess tradition, which has been covered in several international TV news documentaries. "The chess room there is named after (Iceland's first Grandmaster) Fridrik Olafsson, who visits it often on his birthday, 26th of January – which is the chess day of Iceland."
All kinds of excitement
The two games quickly burst into action, with everyone ready to take risks and with complicated and fluctuating battles on both boards. 
Nepomniachtchi appeared to be on the brink of defeat after giving Carlsen a chance to attack, but his much quicker rate of play soon began to elicit errors from the Norwegian. Carlsen appeared to miss a clear win when down to his last seconds to complete the first 30 moves.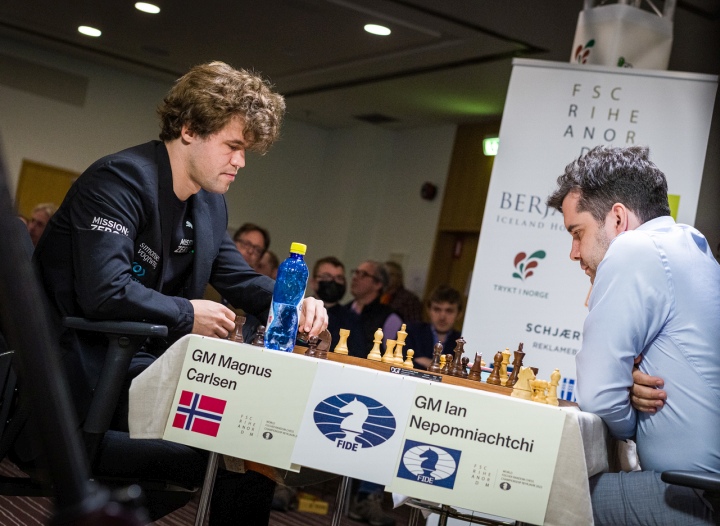 This meant the battle flared up again, but now with Nepomniachtchi also beginning to run short of time. A thrilling slugfest lasted until the final seconds, with Carlsen extracting the full point in dramatic fashion, which was greeted by spontaneous applause from the audience. 
"It was exciting for me too, I understood early that I was going to be under time pressure… In the end, it was a bit messy, a bit random," Carlsen said.
Veteran versus teen
The other match had no lack of drama, with Abdusattorov playing with the mix of aggression and optimism that has fueled great results in Reykjavik so far. He seemed to have gained the upper hand quickly, but Nakamura is a master of clever and complex defending. He conjured up a tricky concept and turned the tables when this wily idea punished an overoptimistic decision from his opponent.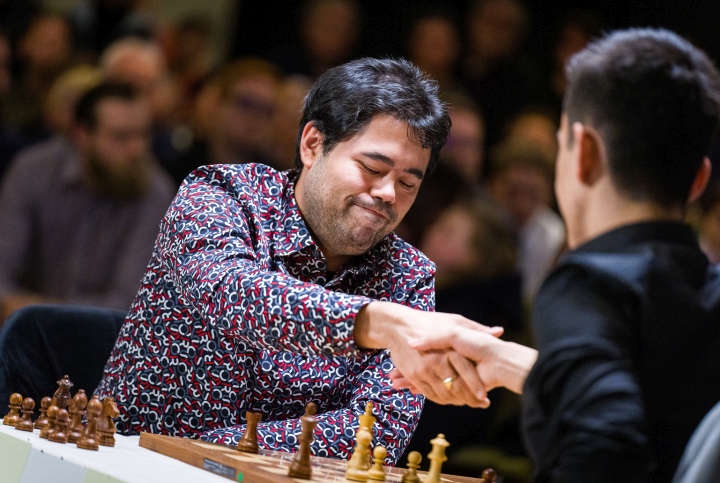 "Probably I was losing at one moment, but when he allowed this (material) imbalance it was just too easy for me to play," Nakamura explained. Nakamura turned a material imbalance into a material superiority and won smoothly. 
Things change quickly in a knockout event. Abdusattorov had dominated his preliminary group and impressed with his smooth attacking play, but now he had to show that can fight back against one of the craftiest of Fischer Random players. 
Return games
Einar S. Einarsson, former President of the Icelandic Chess federation and honorary member of FIDE, made the first move in the second game of the day. The Carlsen-Nepomniachtchi game followed a similar script, the latter playing provocatively and very quickly, while Carlsen again risked serious time shortage while trying to work out the complicated critical variations.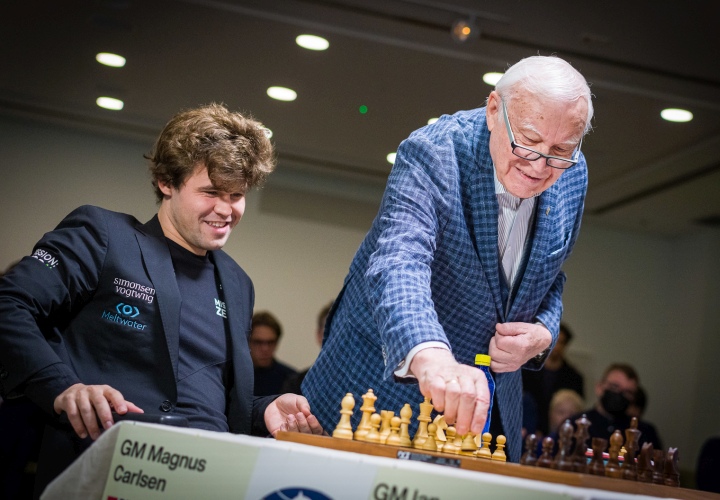 Carlsen has been plagued by an unusually high number of serious oversights in the event, and here he stumbled again while trying to refute his opponent's quick and risky approach. Despite the blunder, Nepomniachtchi was forced to work surprisingly hard to overcome Carlsen's grim resistance, and he looked both relieved and annoyed when he finally evened up the match.
Experience still counts for something in a youthful world, and Nakamura produced an extremely smooth performance to take a surprising 2-0 lead over the man no one wanted to play. Wesley So had some success vs. Abdusattorov in the preliminaries by trying to avoid the sharp, complex positions where the youngster had been so deadly, and Nakamura took a leaf out of this book, exchanging queens early and methodically outplaying his rival in the much more sedate type of position that arose. 
A newish start
The second half of the matches would be played from a new position. Now the tension was more evident, with the players eager to hurry off and try to plot some opening strategy. Abdusattorov was unable to concentrate enough to give a reaction to Norwegian TV, finally just shrugging apologetically and saying he had nothing to add.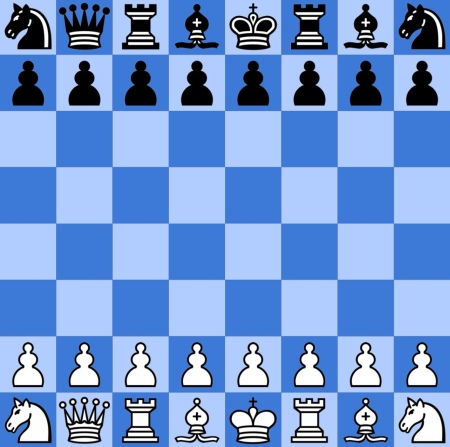 Starting position 2
The tension may also have been related to what they got – players have muttered darkly whenever they see knights in the corner.
This time Carlsen and Abdusattorov would begin their mini-matches with the white pieces. In the initial phase of play both of them appeared to emerge with small advantages, though Abdusattorov's vs. Nakamura was far more chaotic. 
Carlsen decided to go pawn grabbing, but this left him with the far from random problem of having opened lines of attack leading to his own king, something which played into his opponent's hands and style. Nepomniachtchi finished the game with clinical attacking accuracy and handed his rival a second consecutive defeat.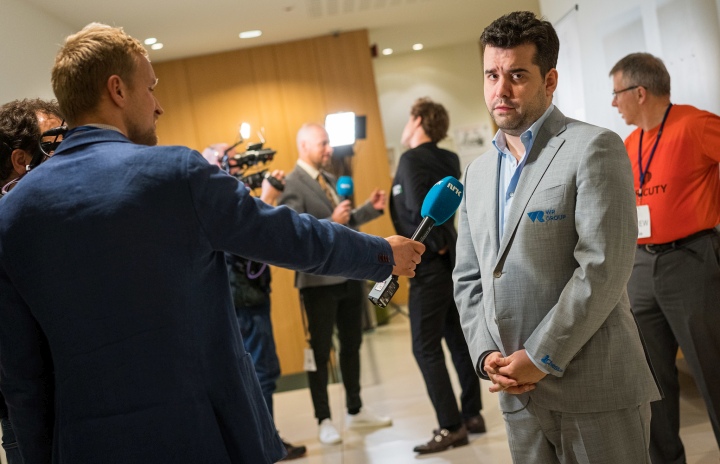 Even though spectators were relishing the action in this match, Nepomniachtchi was typically sceptical, feeling the level of play in their encounter had been very low, but that Magnus had so far "made one more mistake than me – but let's see."
Meanwhile, Nakamura booked his spot in the final with a 3-0 sweep over young Abdusattorov. The script from Nakamura was familiar: Some dubious early play that unbalanced the position, followed by remarkable defensive resilience, then ruthless punishment of any inaccuracy as his opponent's frustration mounted. 
Nakamura is enjoying a recent run of good results in all forms of chess and explained once again that by learning not to care about the obvious targets, good things tend to happen. "I don't care about the title, and I don't care about the money," he told NRK TV. "I'm just trying to play good chess and have fun." Tomorrow good things can bring him both of those prizes.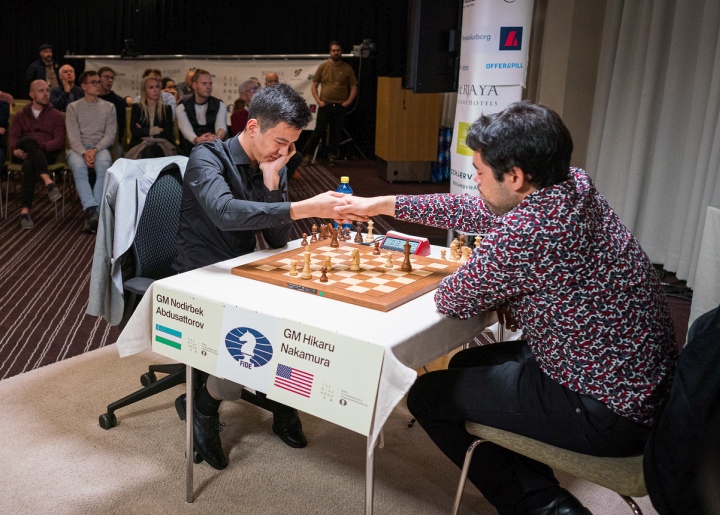 The only show in town
This left Carlsen in a must-win situation in game four of his match. He appeared at the board well before the start of the game to stare at the start position, something which also left him at the mercy of photographers. The first move was made by Anne Merete Smelhus Sjøeng, representing Trykt i Norge, one of the commercial partners off the event. 
Carlsen had used his early arrival to dream up a very ambitious opening plan. Nepomniachtchi continued to play with restored confidence and a quicker pace, and the game looked set to become a slow and nervy duel of subtle manoeuvring. Instead, Nepomniachtchi made the most of only needing a draw to clinch match victory and aimed for simplifications. Finally, Carlsen blundered material again in a desperate attempt to keep life in a dull position. 
Classic tempo for Fischer Random
Carlsen's verdict on his performance repeatedly included the word 'frustrating'. He told NRK TV that he would continue to argue that Fischer Random should be played at a much slower pace since the game is so little explored, while he feels classical chess needs to go ever faster to combat the reverse problem of being overly analyzed.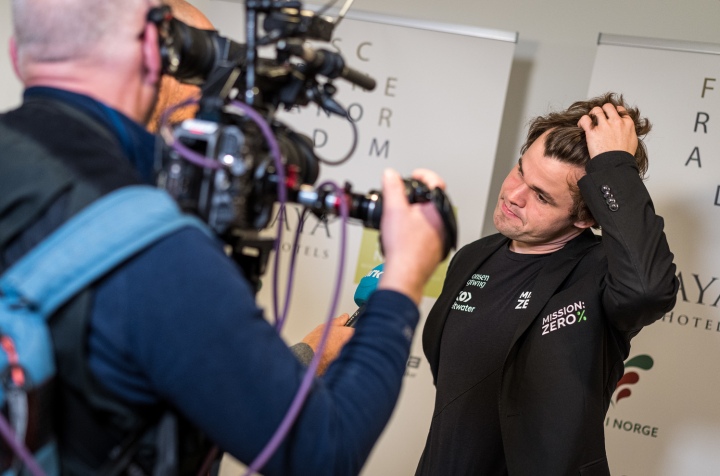 Nepomniachtchi was only slightly buoyed by the result. "This is probably the first day I am not totally ashamed of my play, which is a step in the right direction." He explained that he had consciously decided to play sharply early in the games after his initial loss, even if it was objectively risky. This, and his speed of play, proved too much for Carlsen on the day.
Behind the scenes:
The 28th was a rest day for the players, but an outing was scheduled. The players toured nearby Perlan, a domed interactive exhibition hall which has become a major tourist attraction. After this, the players had the option for a pilgrimage to Selfoss, where the legendary Bobby Fischer chose to be buried and where a memorial center has also sprung up to showcase his career.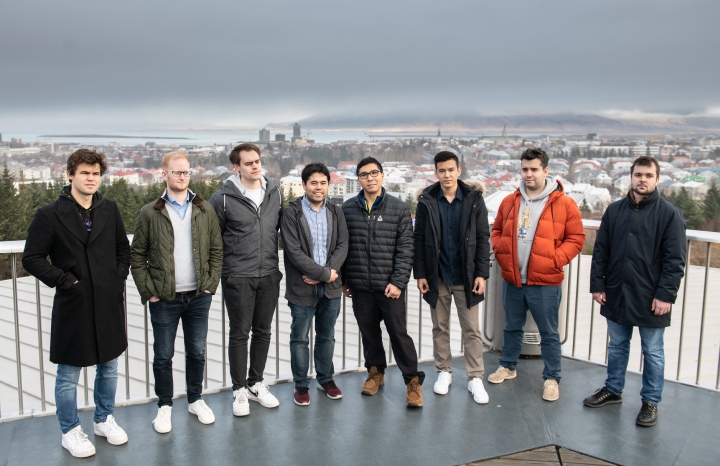 There are many threads that bind the Fischer Random World Championship to the 50th anniversary of the Fischer – Spassky match here in 1972. Another is the hotel venue, where Fischer lived while mounting his successful challenge for the title, which became a constant stage for international chess events for decades afterwards. 
The four players who have final-day matches to decide their final placings have another rest day. One person whose plans were no secret was local Grandmaster Hjorvar Steinn Gretarsson, who could be seen on the commentary team for the live show by Iceland's national broadcaster RUV. 
Gretarsson could also tell the Norwegian NRK TV team what Magnus Carlsen had been doing on the rest day yesterday. Hjorvar said that he felt it was his duty to show the world champion around the Icelandic capital, and that the tour included dinner … and karaoke. 
Facts:
The finals will take place on Sunday, October 30th. 
The play-off matches to decide 3/4, 5/6 and 7/8 places and prizes, will take place at the same time. The pairings are:
Final: Hikaru Nakamura – Ian Nepomniachtchi
3-4 play-off: Nodirbek Abdusattorov – Magnus Carlsen
5-6 play-off: Vladimir Fedoseev – Wesley So
7-8 play-off: Hjorvar Steinn Gretarsson – Matthias Blübaum
Games 1 and 2 will be played from the same starting position. Games 3 and 4 will be played from a second starting position.
In the event of a tied match, there will be an Armageddon game. The player with white will have 15 minutes and will need to win the game to win the match. Each player shall bid a number of minutes up to 15, and the player with the lower bid will have black and will only need to draw the game to win the match. If both players make the same bid, the arbiter will draw lots to decide the winning bid.
The time control for each game is 30 moves in 25 minutes, plus 5 minutes for the rest of the game, plus 5 seconds increment per move starting from move 31.
Play is scheduled to start at 15:00 GMT, with the drawing of the first start position 15 minutes before.
Text: GM Jonathan Tisdall
Photo: David Llada and Lennart Ootes