Poland defeated their direct competitor for first place, India, and are one round away from clinching gold at the first Chess Olympiad for People with Disabilities
As the event in Belgrade nears its end, key games on top boards are getting longer, and tiredness is starting to kick in. While this is usual in any tournament, for some of the participants of the first Olympiad for People with Disabilities, this can be particularly hard because of their health.
Uzbekistan's board number one, Sirojiddin Zaynidinov and Hungary's Zoltan Zambo spent nearly six hours playing their round five game – a strain that even the elite chess players would find challenging to manage. Given the various types and levels of health issues players with disabilities have, there is a special health team dedicated to looking after them.
Does having a disability make it harder to play chess? The medical perspective
Dr Sofija Jovanovic is the Medical Doctor of the Olympiad, and she is in charge of looking after the health and well-being of all the participants. She says that the quantity of attention paid to the general health status of the players with disabilities is larger than in regular events. "We have a finer line to meet here".
Dr Jovanovic notes that because of their disabilities, the players are well in tune with their health conditions, and they take good care of the rest of themselves, which makes things easier.
"We don't have large health problems here. We have a disability we try to match in every area of the competition: so, we have the volunteers who are helping them play chess, and we have people who are supported in all other areas."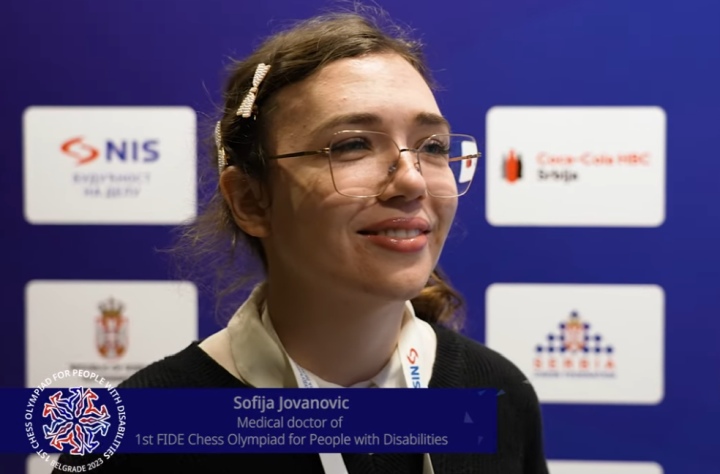 In terms of health issues that have most commonly come up – "it's headaches, flu symptoms, and nose bleeds. Here, however, we have to be extra careful with the symptomatology as it might correlate with something bigger," notes Dr Jovanovic.
However, the players can sometimes overreact: "It's refreshing to see someone so in tune with their health. At the same time, it's also a bit overbearing, but sometimes a headache is just a headache".
Medicine highlights the benefits of cognitive challenges such as doing sudoku, crosswords and anything of that variety. It also notes the value of competitive sports for general well-being. Chess is the overlap of these two spheres.
"Different studies show that being part of a competitive sport – no matter your health, gender, ethnicity background – is going to help you deal with personal loss or defeat in sports or other things you will have to overcome in life later on", dr Jovanovic notes.
Can spending too much time on chess be bad for your health?
"It depends", the doctor says.
"It depends on what else you can do with your free time and how you prefer to spend it. Some prefer cognitive over physical or vice versa. You're not supposed to ignore your health, of course."
Games and results of Round Five
The penultimate round brought four key matches between the leading teams: Poland (8) – India (7), Philippines (6) – Israel (6), Cuba (6) – IPCA (6), and Uzbekistan (6) – Hungary (5).
The rise of Asian chess has been visible in their results so far, exceeding rating predictions, but in the 5th round, they had to pass the most challenging tests against the top three favourites: Poland, Israel and Hungary.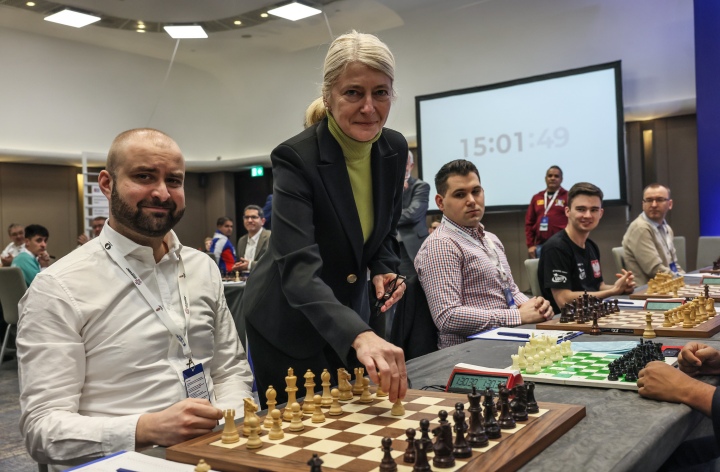 For the encounter with the Polish leaders, the Indian selection opted to have Soundarya Kumar Pradhan (1881), the lowest-rated member of the team, against the GM Marcin Tazbir (2.507), the strongest player in the Belgrade field. Such an experiment worked well in the second round match vs Cuba (3:1), thanks to all three wins on lower boards, but this time the Polish players had a significant advantage in rating even against the most successful Indian players – Shashikant Kutwai (3.5 points out of 4 games), Kishan Gangolli (4) and Naveen Kumar (two out of three).
As it might have been expected, Marcin Tazbir was the first one to score. Black was desperately low on time and in a weaker position. Tazibir used his advantage and, with a nice sacrifice, went for the mating attack: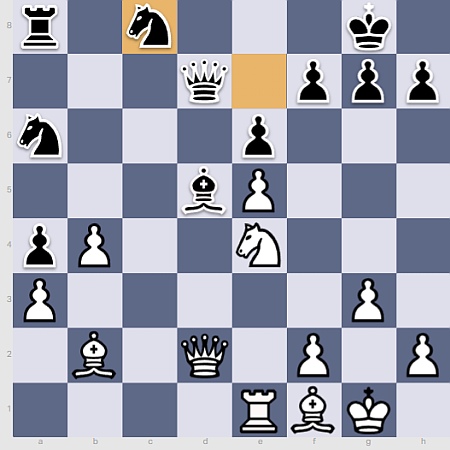 27.Nf6+ gxg6 28.exf6 Kf8 29.Qg5 Qb7 30.Qg7+ Ke8 31.Qg8+ Kd7 32.Qxf7+ Kd6 33.Be5+ Kc6 34.Rc1+ Kb6 33.Bd4+ Nc5 34.Bxc5+ and Black resigned.
The most anticipated game was on the second board, between two players who collected together 7.5/8. Disturbed by the loss on the first board, Shashikant Kutwal missed the right plan (30.h4 Bh6 31.Nd6) in the sharp tactical battle, and the advantage instantly went to the other side: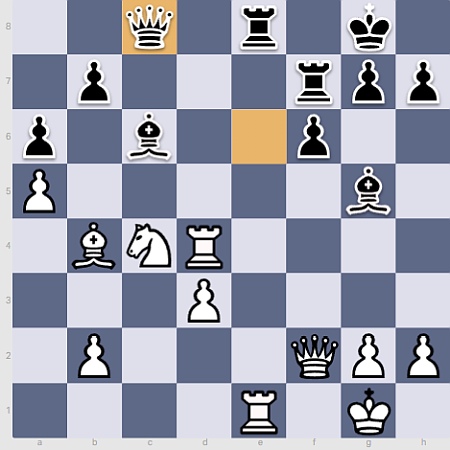 30.Rxe8+ Qxe8 31.h4 Bh6 32.Nd6 Qe3 33.Nxf7 Kxf7 34.Rd8 Qc1+ 35.Qe1 Qxb2 36.Rf8+ Kg6 37.h5+ Kxh5 38.Qd1+ Kg6 39.Qg4+ Bg5 40.Rh8 f5 41.Qx3 Qxb4, and the Polish FM Marcin Molenda celebrated his 5th consecutive win, the same as his team did (3:1) after peaceful outcomes were signed on the lower boards.
After the most important win in this Olympiad, the team Poland leads two match points ahead of the squad of the International Physically Disabled Chess Association (IPCA). The two teams met in the 2nd round when Poland celebrated a close win 2.5:1.5, but the race isn't over yet.
The 7th seeded IPCA got into the last round with another surprise, a very convincing victory against Cuba 3.5:0.5 that keeps their hope for gold alive. If they win and Poland loses their last match, the IPCA team will have a clear advantage in the first tiebreak criteria, the number of board points (at the moment, it is equal – 14.5:14.5).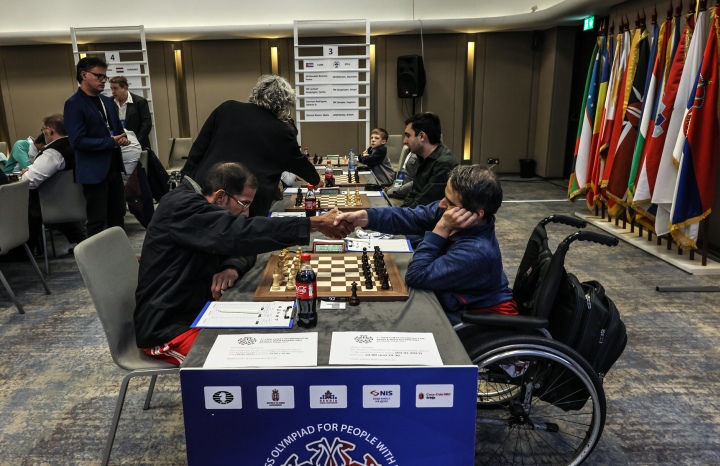 The match Cuba – IPCA was the most balanced one in average rating, with slight advantages of each team on separate boards. However, IPCA won without a single defeat, with the half point earned by Stanislav Mikheev (Serbia) and the wins of Sargis Sargissyan (Armenia), Eugenio Campos (Angola) and Artom Andriienko (Ukraine). 
In another derby of the fifth round, Israel was a clear favourite on the 2nd and 3rd boards, while the Philippine squad could have counted on Sander Severino (3,5 points on the 1st board) and Darry Bernardo with the same result on the 4th board. So, the final result of 2:2, with a single win on each side, was close to expectations. Alexey Streltsov brought the full point to Israel, and Darry Bernardo did it for the Philippines. 
Finally, prediction based on average rating gave no chance to Uzbekistan against Hungary. However, they had already managed to beat the teams of Croatia, Germany and Serbia 1 and got very close to sharing points 2:2 with the 3rd-seed team. In the last game of the match and the day, with a score of 1.5:1.5, Sirojiddin Zaynidinov skillfully defended until the very delicate, study-like position: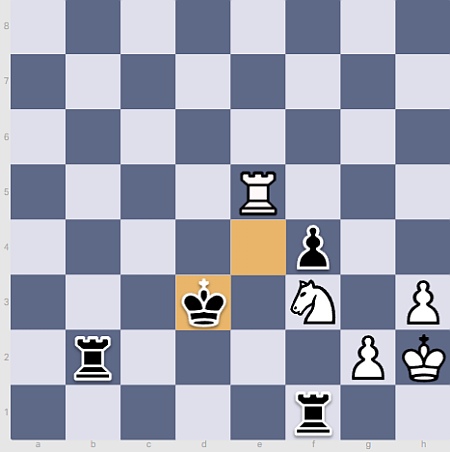 Black threatens Rxf3, and the only road to draw was 84.Ra5! Rbb1 85.Ra3+! After the scary looking 84…Rff2, 85.Kh1! would be sufficient, and there were enough possible checks when the king stays around the defence of the f4-pawn.
Naturally, Zaynidinov couldn't find these subtle moves in the time trouble, and Zoltan Istvan Zambo scored both individual and team win after 84.Ne1+ Kd4 85.Re8 Rb1 86.Nc2+ Kd5 87.Rd8+ Kd5 87.Rd8+ Ke5 88.Re8+ Kd6, with an inevitable mate.
This way, the Hungarian players created serious chances for medals in this Olympiad, while the entire Uzbekistani team deserves congratulations for their incredible fighting spirit during this tournament.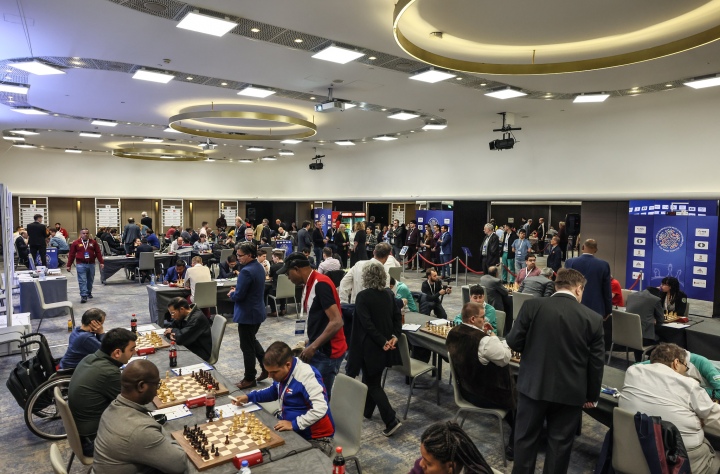 The sixth and last round will be starting earlier (11 AM CET) and will have a deserved crescendo: the clash between the first two seeded teams of Poland (10 match points) and Israel (7). The same excitement will be the other two direct encounters for medals: Hungary (7) – IPCA (8), and India (7) – Philippines (7).
Text: Milan Dinic (FIDE Press Officer) and Marjan Kovacevic (DIS reporter)
Photos: Mark Livshitz