IX IBCA World Team Chess Championship for the Blind and Visually Impaired took place in Ohrid, North Macedonia, from June 27 – July 08, 2022. The event was organized by the National Sports Federation of the Blind of North Macedonia in cooperation with the Chess Federation of North Macedonia.

Every team featured four players and up to two reserves. Players used specialized Braille chess boards, talking clocks, and voice recording equipment. The competition followed the "trademark" IBCA format that combines round robin and double knockout, similar to some high-level football tournaments. Sixteen strongest teams, according to the results of the 2021 IBCA Olympiad, were seeded into two groups of eight teams each, where they played a seven-round RR. In the Yellow Group (Y), the top-3 finishers were Poland (13 match points), Ukraine (12 MP), and Hungary (11 MP). The Red Group (R) was won by Serbia (10 match points, 20 game points), followed by Spain (10 MP, 16 GP), and India (8 MP).

In the top-four semifinal bracket, Poland (Y1) prevailed over Spain (R2) 2.5-1.5, while Serbia (R1) defeated Ukraine (Y2) 3.5-0.5. The decisive matches were: 

For the bronze medal: Ukraine (SF2-L) – Spain (SF1-L) 
For the championship title: Serbia (SF2-W) – Poland (SF1-W) 

Both hard-fought matches ended in a 2-2 draw, so the winners were decided on the tiebreaks. Final standings:
Champion – Team Poland (GM Marcin Tazbir, IM Jacek Stachanczyk, IM Piotr Dukaczewski. Ryszard Suder, Michal Wolanski, Andrzej Migala; captain Marcin Tazbir)
Silver medal – Team Serbia (FM Pavle Dimic, CM Damjan Jandric, Stefan Janjic, Mile Bjelanovic, FM Sretko Avram; captain Nikola Ivanovic)
Bronze medal – Team Ukraine (Vladyslav Kolpakov, Igor Shepelev, WIM Lubov Zsiltzova-Lisenko, Ivan Yatsishin; captain Oleksandr Frantsuzov)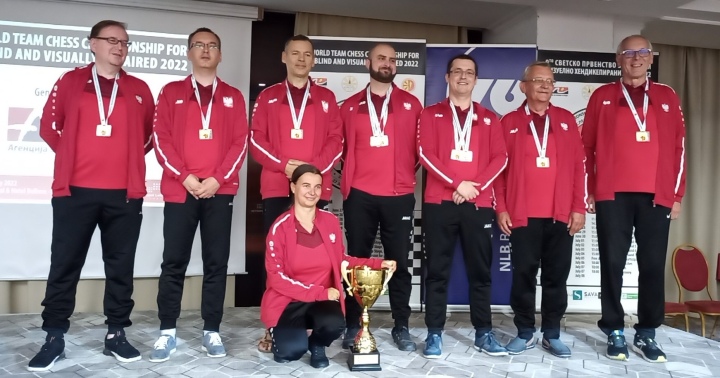 Individual board prizes were won by players from seven countries, with gold medals awarded to:
1st board GM Marcin Tazbir (POL)
2nd board Soundarya Kuman Pradhan (IND)
3rd board Stefan Janjic (SRB)
4th board Ivan Yatsishin (UKR)
Reserve board Michal Wolanski (POL)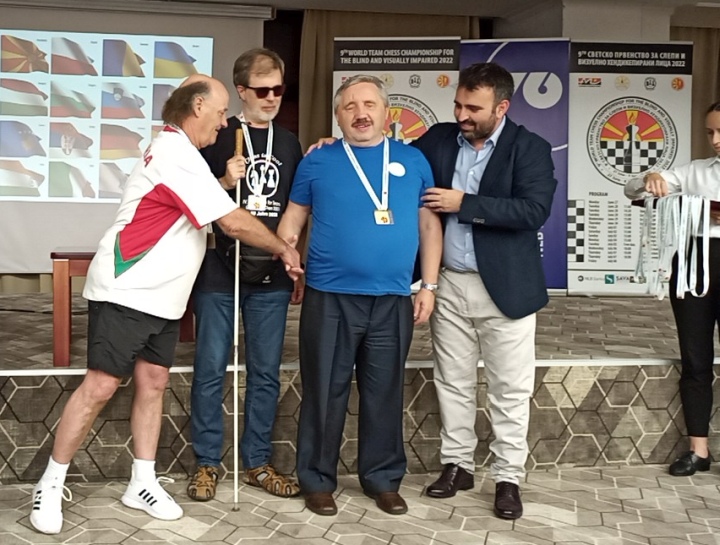 The closing ceremony on July 07 became a huge celebration for Braille players and their supporters. Non-seeing players, their accompanying persons, captains, coaches, officials, and spectators gathered in the sumptuous Biljana Hall at the Metropol Luxury Resort Ohrid, which was exclusively adorned with national-motif posters, and the flags of all sixteeb participating nations. A real constellation of dignitaries attended, including authorized representatives from the Agency for Youth and Sports of the Republic of North Macedonia and from the Ohrid municipality; Dr Charudatta Jadhav (IND), the IBCA President; Ms Diana Tsypina (CAN), the IBCA 2nd Vice-President; Mr Sasha Bogdanovikj, President, the Chess Federation of North Macedonia; Mr Blagoj Mishevski, President, National Sports Federation of the Blind of North Macedonia; Mr Zarko Selkovski, President, Braille Chess Association of North Macedonia.