Teams that will play the final matches of the second Intercontinental Online Chess Championship for Prisoners – the biggest-ever chess event among correctional facilities – were determined. The event organized by FIDE and the Cook County (Chicago, IL, USA) Sheriff's Office started on October 13, the International Day of Education in Prison. 
The teams of the Philippines and Colombia will battle it out for the gold in the men's section of the championship. Both teams topped their groups in the championship stage. India 1 and El Salvador came second in their groups and will fight for the bronze medal.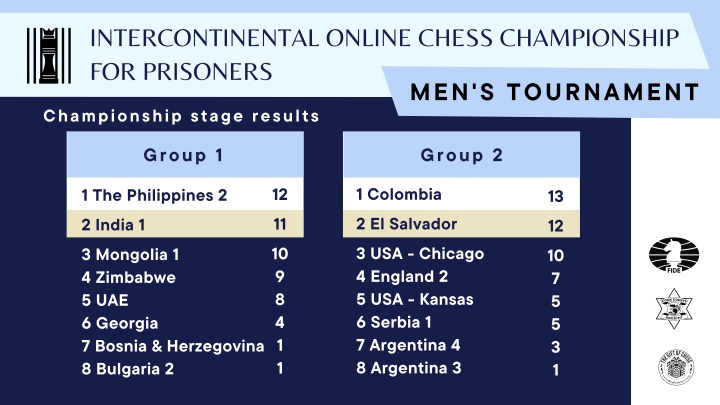 In the women's event, Mongolia and Serbia advanced to the final. Unfortunately, the semifinal between Mongolia and England was not held due to technical difficulties on the latter's side. Mongolia reached the final, where they will face Serbia, who beat Trinidad & Tobago in the semifinal.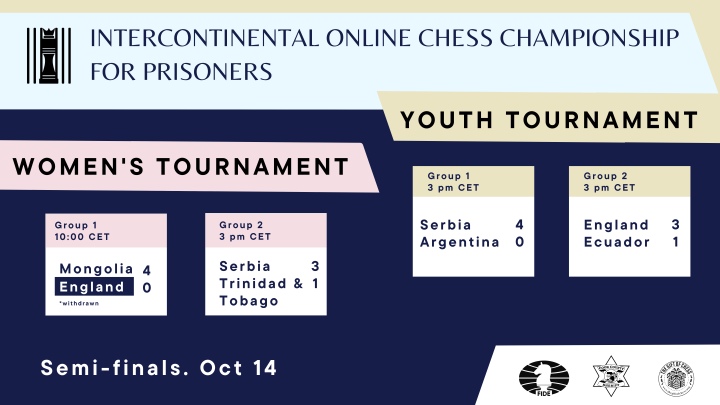 In the youth section, team Serbia became the winner of the Second Intercontinental Online Chess Championship for Prisoners after defeating England in the final. The bronze medal goes to the Ecuador team.

The winners were greeted by the FIDE President Arkady Dvorkovich: "My applauses to team Serbia who won gold in the youth competition. We held it for the first time, as we didn't have a separate junior event last year. I think this is a great achievement for the team. You represented your country and yourselves; you showed great talent and effort to win this tournament. But the most important thing is that you started loving chess, having fun from the game. For me personally, it is important that while you are entering your adult lives, you have a chance to improve. Probably, you've made some mistakes in your past, but you have all the opportunities to be better in the future. And chess will certainly help you with this."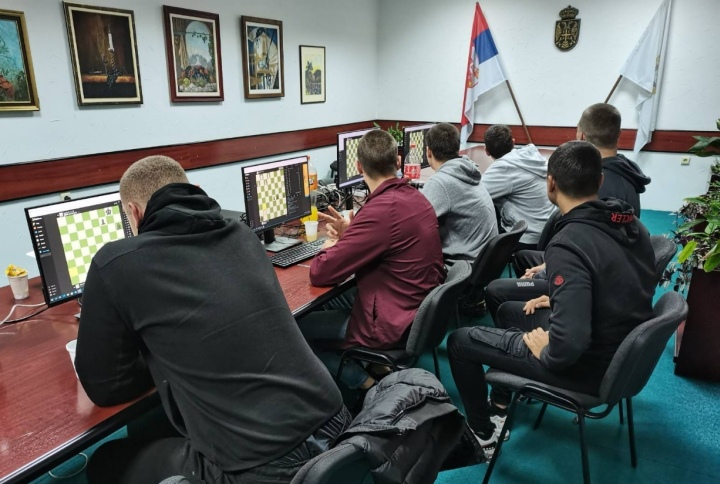 Like a day ago, the broadcast of the event was visited by many guests – chess promoters, organizers of tournaments and chess classes in prisons, and chess enthusiasts promoting the game among at-risk communities.

Spanish lecturer, presenter, commentator, journalist and chess promoter Leonxto Garcia talked about three main reasons why chess is working so well in prisons: "The first one is that every hour inside a prison gets much faster. Time goes faster when we are playing chess. The second idea is that chess makes us think about the consequences of what we are going to do before doing it. And third, chess is a very good way to take out our tendency to violence. Every human being has some tendency to violence – bigger or smaller. Chess is a war with no blood. It is a way to take out that violence. Those three reasons are perfectly appliable and valid to any person and normal citizen who lives outside prison."
Mikhail Korenman, Manager of the Chess Programme at Cook County Sheriff's Organization, Member of FIDE Social Commission, is one of the driving forces of the Chess for Freedom programme. He started teaching chess in a Chicago jail more than ten years ago. He talked about the Chess in Jail program in Chicago prison and the importance of hosting inter-jail tournaments for prisoners.

"Why do I feel this event is important? Chess gives everyone an equal opportunity to win. I can do it. I can do it myself, and I can be the winner. This is important. Chess teaches a different way of thinking. You need to think for yourself and for your opponent. I always tell my students: "Guys, think for your opponent before you make your decision!" That is very important. And they need to apply it to their everyday life. It's not only you making decisions. It's also about seeing what your opponent is doing," he said.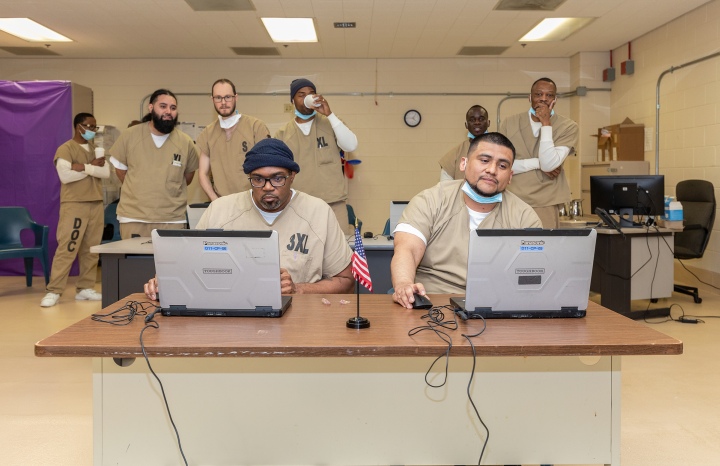 Deputy Chair of the FIDE Management Board Dana Reizniece-Ozola not just supervise FIDE's social initiatives, including the Chess for Freedom programme. During the Intercontinental Chess Championship among Prisoners, she was a coach of team Latvia.

"This experience is very special not only for the inmates themselves but for those who spend their lives, energy and time trying to find ways how to re-socialize inmates, to give them a second chance, to encourage them to do more. FIDE does not only organize this tournament; we are trying to analyze and get feedback so that to see if there's any positive impact of chess in prisons on inmates. We've already made the initial analysis with the help of the Armenian Chess Institute. This year we also made a survey to be able to measure the results. This is important for decision-makers – politicians, officials, and sponsors," she said.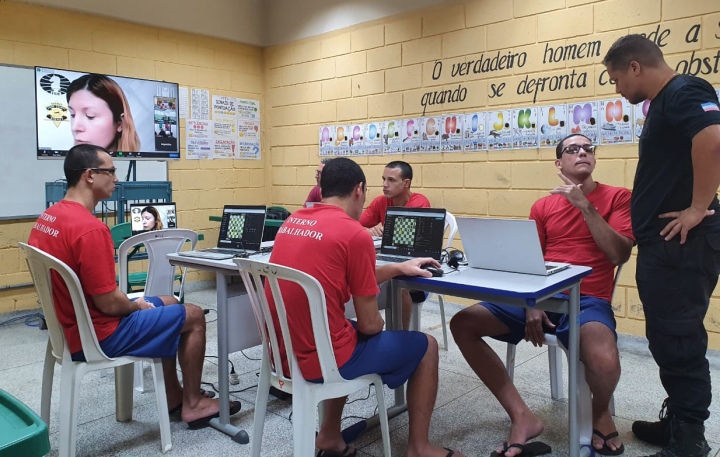 Medalists of the championship will get chess sets from one of the partners of the event – a nonprofit organization, "The Gift of Chess", which distributes chess sets and training technology across the four key initiatives (educational, prison, global, and elderly outreach). Itsfounder Russell Makofsky visited the players from the Cook Country jail and shared his impressions about his visit.

"Chess is a low-cost catalyst for a change. Introducing chess to a community changes the dynamics of that community in many ways. The more I understand the power of chess, the better I can see the application of it in the prison system. A single chessboard can change the whole environment. It helps with strategy, planning and critical thinking, it develops soft skills, but it also connects people to a shared idea. Here in the Cook County Jail, I see people of all ages, races and backgrounds celebrate with each other this idea that they are a chess team, they can do something together, and be good at it."

The final matches in men's and women's sections of the second Intercontinental Online Chess Championship for Prisoners will be held on Monday, October 17, and will be broadcast live on the FIDE Youtube channel.