The opening ceremony of the 2022-2023 Munich leg of the Women's Grand Prix was held this evening at the centrally located five-star luxury Vier Jahreszeiten Kempinski hotel, situated directly in the city centre of Munich. 
The twelve participants, authorities, arbiters and officials, enjoyed a 45-minute series of activities, national anthems, speeches and videos, culminating in a family group photo.
Representing Fide, Dana Reizniece-Ozola, Deputy Chair of the management board, welcomed the "chess queens" to Munich and congratulated them on their participation in the Women's Grand Prix.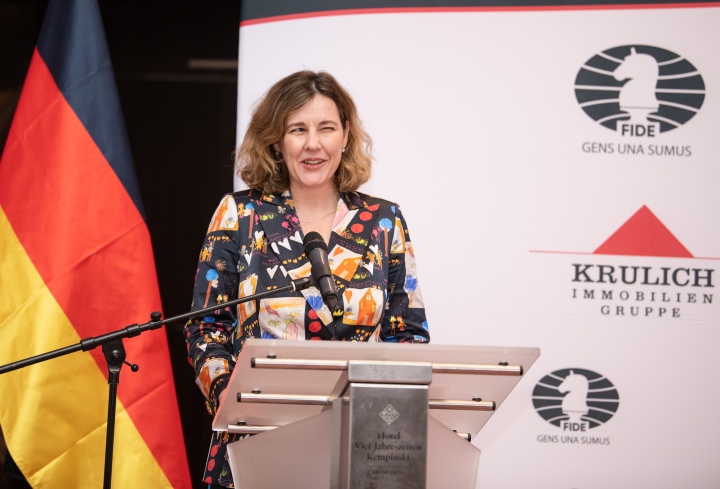 She also extended her thanks to all the main sponsors of the event: the Krulich Immobilien Group, a real estate company based in Munich, and Motiva, a long-term sponsor of FIDE that empowers women in chess.
Hugely appreciative of the importance of the organizing team, Dana stated: "The beauty of a chess game is mainly set by the number of sacrifices in it, but organizing chess tournaments is more about the investment of time, energy and resources so that the event is a success".
After the anthems, the main tournament sponsor, Roman Krulich of the Krulich Immobilien Group, took the floor. After thanking Emil Sutovsky for the idea of organizing the event, Krulich welcomed everyone to Munich.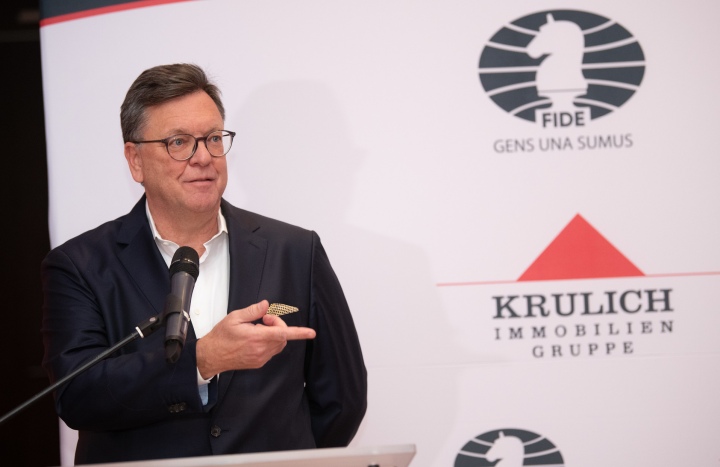 "Together with Stefan Kindermann and Gerald Hertneck, we have been supporting chess here in Munich for more than twenty years, bringing the game closer to children who can't afford the lessons", were Krulich's opening words.
He also thanked the Director of the luxury Vier Jahreszeiten Kempinski hotel, Holger Stroth, for their help as the venue of the exciting tournament.
The participants enjoyed a movie clip featuring most of the players in the recent Astana event, after which GM Stefan Kindermann, founder of the Munich Chess Academy and one of the commentators of the event, gave a short speech in which he broke down the impressive chess history of the city of Munich, highlighting the 1908 Lasker-Tarrasch World Championship Match and the 1958 Chess Olympiad. 
Finally, all the players were invited onto the stage for a photo opportunity, and drinks were served.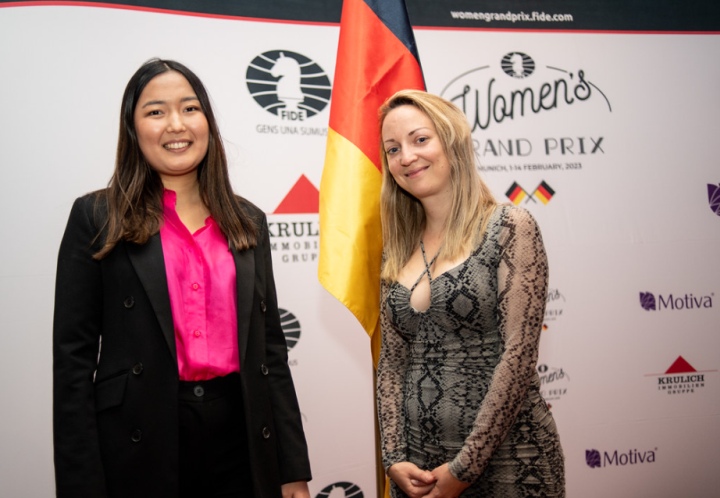 Round 1 pairings:
Harika Dronavalli vs Koneru Humpy
Maria Muzychuk vs Anna Muzychuk
Alexandra Kosteniuk vs Alina Kashlinskaya
Tan Zhongyi vs Zhu Jiner
Elisabeth Paehtz vs Dinara Wagner
Zhansaya Abdumalik vs Nana Dzagnidze
Text: IM Michael Rahal
Photos: David Llada