The 501(c)3 US Chess Federation's 2022 National Middle School (K-8) Championship took place from April 28-May 1, 2022 at the Gaylord Texan Hotel and Resort in Grapevine, Texas. A total of 931 players from 35 states competed. This tournament was formerly known as the National Junior High School (K-9) Championship.
The individual K-8 Co-Champions are (listed in tiebreak order):
Brewington Hardaway, 7th Grade, Speyer Legacy School: New York, New York
Jonathan Chen, 8th Grade, Chaparral Middle School: Diamond Bar, California
Troy Cavanah, 8th Grade, Olson Middle School: Minneapolis, Minnesota
Vaseegaran Nandhakumar, 7th Grade, Anthony Elementary School: Anthony, Kansas
Ilya Levkov, 6th Grade, Millburn Middle School: Millburn, New Jersey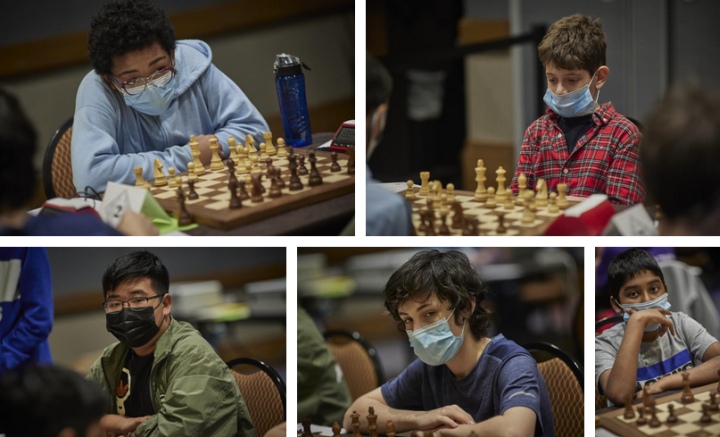 In the K-8 Team Championship the Hunter College Campus School of New York, New York took the title.
Many other winners in multiple sections below the championship section were also determined. These winners are properly identified as, "Winner of the <X> section at the National Middle School Championship." For a full list of winners, please see here: http://www.uschess.org/results/2022/ms/.
As US Chess fulfils its mission to "empower people, enrich lives, and enhance communities through chess," we use our scholastic nationals to fulfill our goals to expand the educational, social, recreational and rehabilitative applications of chess; increase the visibility of chess on mainstream communications channels; develop the depth and breadth of our partnerships; use chess to increase opportunities for underrepresented segments of society, and to continuously improve internal operations and member services. 
US Chess Executive Director Carol Meyer notes, "Our vision is that chess is recognized as an essential tool that promotes inclusiveness and benefits education, rehabilitation, recreation, and friendly competition. This all comes together at our national scholastic championships."
For more information on our events, please visit www.uschess.org.
Photo credit: Randy Anderson