After carefully considering the numerous applications received, the special panel appointed by the FIDE Council decided that these will be the twelve chess players, coaches, and promoters to benefit from the first instalment of FIDE's support to chess veterans in 2023:
Yochanan Afek (Israel)
Igor Yarmonov (Ukraine)
Jesús Nogueiras (Cuba)
Valeri Beim (Austria)
Elmira Aliyeva (Azerbaijan)
Irina Chelushkina (Serbia)
Nukhim Rashkovsky (Russia)
Luben Spasov (Bulgaria)
Vladimir Egin (Uzbekistan)
Tamara Vilerte (Latvia)
Carlos Magno Camaton Borbor (Ecuador)
Giorgi Menabde (Georgia)
A total of €30,000 will be distributed among them, each receiving €2,500. As we did on previous occasions, we would pay tribute to these illustrious veterans with a few words about each one of them, summarizing their careers and achievements.
Yochanan Afek (Israel)
Born (in 1952) and raised in Tel Aviv, Israel, IM Yochanan Afek has had a long and versatile chess career. 
As a player, he took part in countless open tournaments in Israel and all over Europe and played for teams in six countries. He achieved his best result in Paris in 2002, showing a performance of 2680.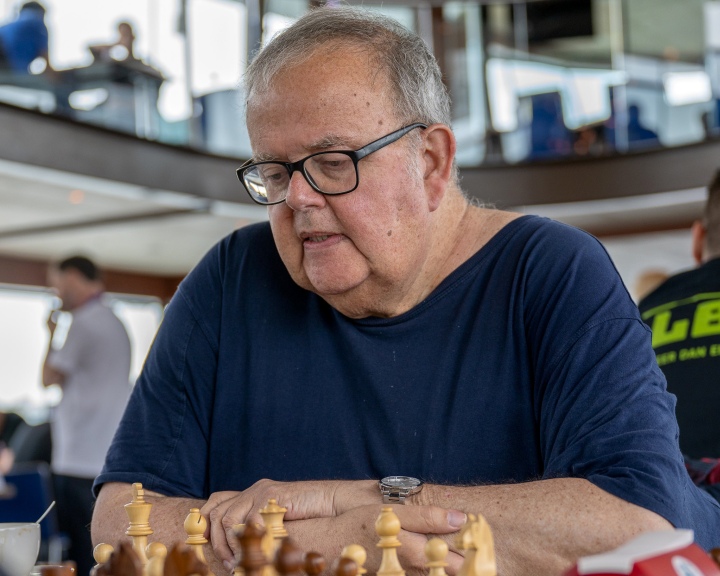 Photo: Frans Peeters
As a trainer, he has worked with individuals and teams at various levels and age groups for over fifty years. From 1987-1997 he served as the trainer of the Israeli national junior team, accompanying Israeli youth players to the World and European championships. 
A talented organizer, he was a full-time director of the Tel-Aviv municipal chess club from 1984-1990. Back in 1987, Yochanan founded the Tel-Aviv International festival and ran ten of its most successful editions as well as many other chess events also on behalf of the Israel Chess Federation. He has been an International Arbiter since 1988. 
For many years Yochanan Afek was the editor of the weekly chess column in two Israeli daily newspapers, "Maariv" and "Äl Hamishmar". As a journalist, he has covered national and International major chess events for several European magazines and written hundreds of articles on various chess topics in the English monthly CHESS, the German Schach, the endgame quarterly EG, Chess Informant and others.
Yochanan authored and co-authored 12 books, including "Invisible Chess Moves" (New in Chess Book of the year 2011), "Extreme Chess Tactics" (Gambit 2017), "Practical Chess Beauty" (Quality Chess 2018 short list of book of the year), "Anthology of Miniature Endgame Studies" (Chess Informant 2022). 
As a problemist, he has composed hundreds of chess problems in various genres, notably endgame studies and won more than 100 prizes. As a member of the Israeli solving team, he won silver and bronze in 1977 and 1978. In 2015, he was awarded the title of Grandmaster of Chess Compositions. I am also International Judge for endgame studies. Since 2003 Afek has been serving as the editor of the Studies section in the leading British magazine "The Problemist".
Igor Yarmonov (Ukraine)
IM and FIDE Master in chess composition Igor Yarmonov was born in 1967. A lifelong disabled person, Igor won five World Championships for people with disabilities.  
Yarmonov is also a well-known chess problemist. His first chess problem was published in 1982. Since then, he has been among the prize winners of the Ukraine Championships in composition. In total, about 250 compositions authored by Yarmonov with different genres are published.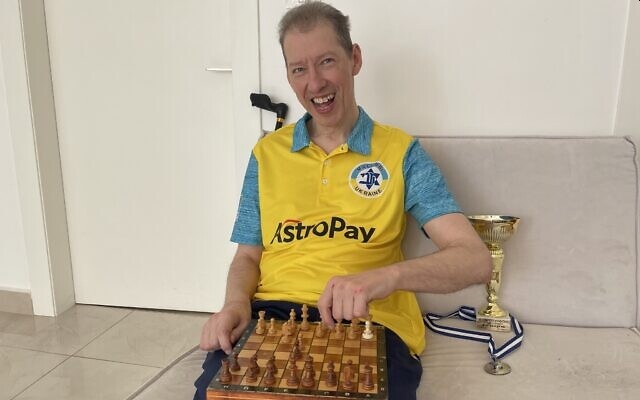 Photo: Inna Lazareva/Times of Israel
In late 2022 Yarmonov and his wife fled from besieged Mariupol and sought refuge in Israel where he currently resides.
Valeri Beim (Austria)
Valeri Bein was born in Odessa, a city known for its rich chess tradition. Under the guidance of well-known specialist Samul Kotlernman, he quickly progressed and became a master after tying for second place in the Ukrainian championship (1972). 
Beim relatively early switched to coaching in his native city and started working with young people. Beim's chess career got a real boost after he immigrated to Israel. He quickly completed the necessary IM norm and then booked his place in the Israeli team at Chess Olympiad in Novi-Sad (1990). 
In the early 1990s, Valeri stringed together several good results in international competitions and became a grandmaster. In 1994 he won a tournament in Budapest (1994) and tied for first place with Zoltan Almasш in Linz three years later.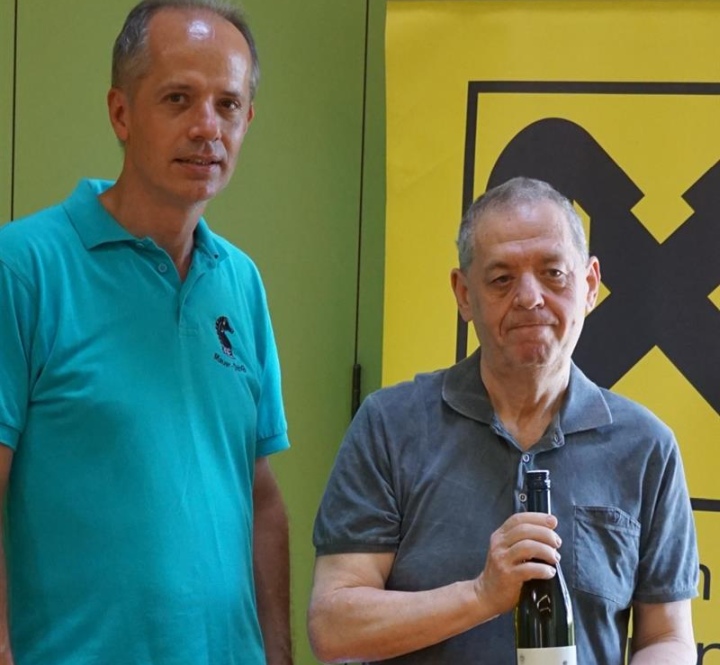 Photo: Winfried Wadsack
After moving to Austria, he returned to coaching and worked with many young local players. A prolific author, he penned several popular books, including How to Play Dynamic Chess, How to Calculate Chess Tactics, Chess Recipes from the Grandmaster's Kitchen, Understanding the Leningrad Dutch, and many others.  
Carlos Magno Camaton Borbor (Ecuador)
Born in 1953, FM Carlos Camaton has had a long career as a chess player, coach and organizer. A many-time champion of his native province Guayas (the largest in Eсuador), Carlos played for his country at the XXI Chess Olympiad in Nice (1974) and the World Student Team Championships in 1974 and 1977. 
For over fifty years, Carlos has been relentlessly teaching and popularizing chess in Ecuador, training junior chess teams and organizing various events, including the massive Malecón 2000 Guayaquil – Ecuador (1250 boards) and the First Chess Festival. 
Jesús Nogueiras (Cuba)
Born in 1959 in Santa Clara, Cuba, Jesús Nogueiras made a name for himself at the World Student Championship (1977), where he helped his national team to win bronze. Two years later, he became GM following his strong showing in Kecskemet (1979). 
In 1985 Jesus Nogueiras became the first Cuban participant of the Candidates after finishing second at the Interzonal in Taxco, ahead of Tal, Romanisin, Balashov, Brown and Speelman.  
Five-time Cuban champion Jesus participated in 14 Chess Olympiads (1980—2008) as a national team member, playing on the first board seven times.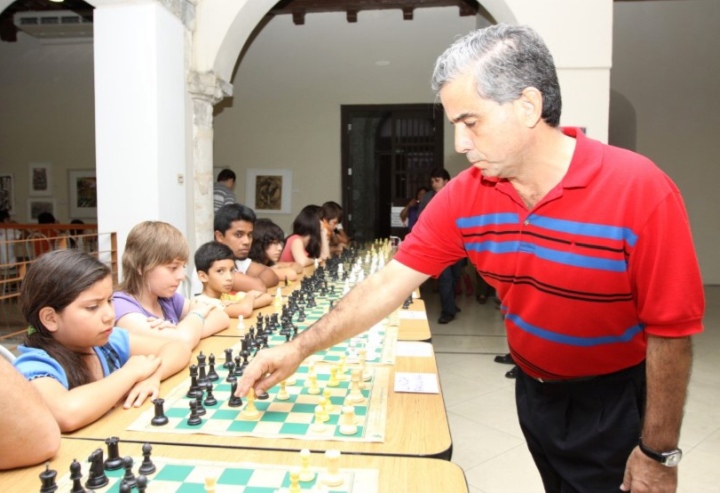 Photo: https://ajedreznoticias.com/
His major tournament victories include the Capablanca Memorial in 1984 and the Torre Memorial in 1997.
Currently, FIDE Senior Trainer Jesus Nogueiras work with young Cuban players. 
Elmira Aliyeva (Azerbaijan)
Born in 1954, Elmira Aliyeva became the first-ever Azerbaijani woman to earn the Master title. The 13-time national champion, she played for the Azerbaijani team in numerous Chess Olympiads and European Championships. Her prolific playing and coaching career has stretched over fifty years.
Irina Chelushkina (Serbia)
Born in Kherson (Ukraine), Irina Chelushkina quickly progressed in youth competitions, but only after she started working with a well-known coach Yuri Simkin, Irina made a quantum leap. 
In 1982 she came first in the Ukrainian Championship and qualified for the USSR championship, the event she finally won seven years later (1989). 
After the disaggregation of the USSR, Irina played for the Ukrainian team, winning silver at the 15th Olympiad (Manila, 1992) and gold in the European Team Championship (Dresden, 1992). 
In the early 1990s, Chelushkina moved to Yugoslavia and played for this country, then Serbia and Montenegro and finally Serbia in five Olympiads.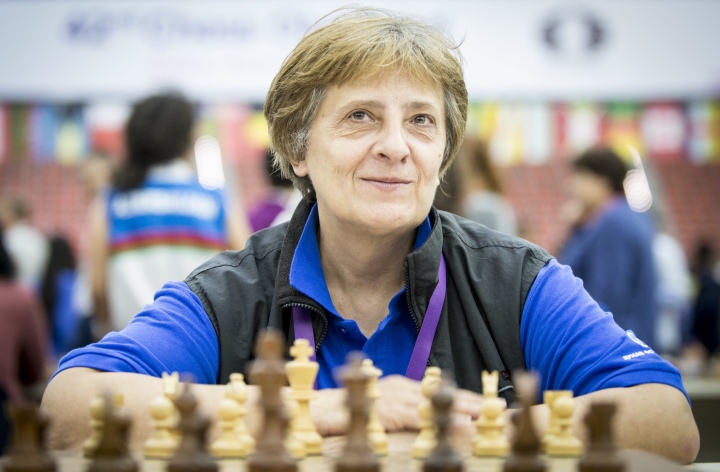 Photo: David Llada
Irina holds a unique record of winning five different championships: USSR, Ukraine, Yugoslavia, Serbia and Montenegro and Serbia. 
Nukhim Rashkovsky (Russia)
Born in 1946 in Sverdlovsk, Nukhim Rashkovsky showed early promise and became one of Mikhail Botvinnik School's first students. In 1958 he won the USSR Championship among schoolchildren and four years later came out on top in the RSFSR Youth Championship (1962). Two-time champion of the RSFSR (1974 and 1976), he debuted in USSR Championship in 1972 and received favourable reviews of his style from many experts, including the winner of the event Mikhail Tal. 
In 1979 Nukhim Rashkovsky turned in an excellent performance in a very strong tournament in Sochi and became a grandmaster. 
A teacher by education, Nukhim Rashkovsky also proved himself an excellent trainer. Over the years, he successfully worked with Nona Gaprindashvili, Vitaly Tseshkovsky, the national team of Kazakhstan, and the women's team of the RSFSR. In the 1990s, he was the head of the Russian women's team, who became the bronze medalist of the World Chess Olympiad in Yerevan in 1996, and the silver medalist in Elista in 1998. From 2001-2003, he trained the Russian men's team, who won the World Chess Olympiad in 2002 and the European Chess Championship in 2003.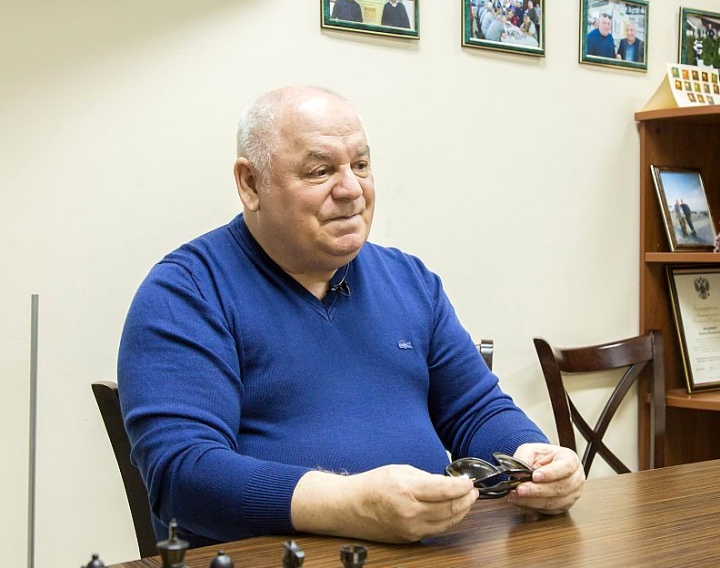 Photo: en.usue.ru
Nukhim Rashkovsky founded and captained Agat, MaxVen and Ural chess teams for many years. Under his leadership, the Yekaterinburg team became a three-time winner of the Russian Club Championship and a winner of the European Club Cup. In 2008, Rashkovsky became the director of the Ural Chess Academy. In 2013, he revived the club under a new name Malachite, and in April 2014, his team won the Russian Club Championship.
As a part of the Russian team, Nukhim Rashkovsky three titles at the World Senior Teams Chess Championships (Germany, 2018; Greece, 2019; Czech Republic, 2020).
Luben Spasov (Bulgaria)
Born in 1943, Luben Spasov was one of the leading Bulgarian players in the 1970s and 1980s. After winning two Bulgarian Junior Chess Championships (1959, 1960) in a row, he emerged as one of the most promising local players and soon became a real force in national championships. Although Luben did not manage to win the national title, he took bronze twice in 1965 and 1973. 
In 1972 Spasov became an IM, and four years later, he fulfilled his potential and was awarded the GM title. Luben played for the Bulgarian team at three Olympiads (1974, 1978 and 1980) and two European Team Championships. 
Over the 1970s and 1980s, he built an impressive tournament record that includes victories (first or shared first place) in Lublin (1971), Gausdal (1975), Albena (1975,1978), Sofia (1975), Pristina (1975), Oslo (1976), Pernik (1976), Virovitica (1976), Stara Zagora (1977), Hamburg (1977), Kikinda (1978), Oberwart (1980), Pamporovo ( 1981).
Luben Spasov achieved his greatest career success in World Senior Chess Championships in the 60+ group. In 2005 Luben won the gold medal in Lignano, and a year later, he took the bronze in the same event.
Vladimir Egin (Uzbekistan)
Born in 1952 in USSR, Vladimir Egin became a master in 1979 and IM in 1995. Although Vladimir had some good tournament results (suffice it to say that he played for the national Uzbekistan team at two Olympiads), he devoted his life to coaching. 
Under his guidance, the Uzbekistan women's chess team won many medals in the Asian Championships and Asian Games. One of his students, Anton Filippov, became GM and Olympiad medal winner in 2012.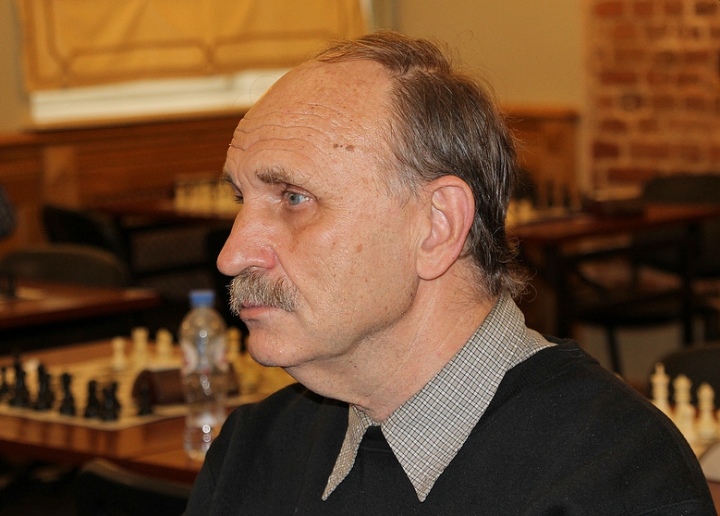 Photo: papinchess.ru
Vladimir currently works at International Chess Academy in Tashkent. He has raised many talented chess players, including the members of the national women's team WGM Nilufar Yakubbaeva, WFM Umida Omonova, WFM Maftuna Bobomurodova, WFM Yulia Khegay. 
 Tamara Vilerte (Latvia)
Born in 1954, Tamara Vilerte established herself as one of the most promising Latvian players after winning two straight Latvian Girl Championships in 1971 and 1972. A year later, she took the title in the Latvian championship. 
A biology teacher by profession (she graduated from Daugavpils Pedagogical Institute), she has worked as a chess trainer for over thirty years at Kuldiga City Sports School.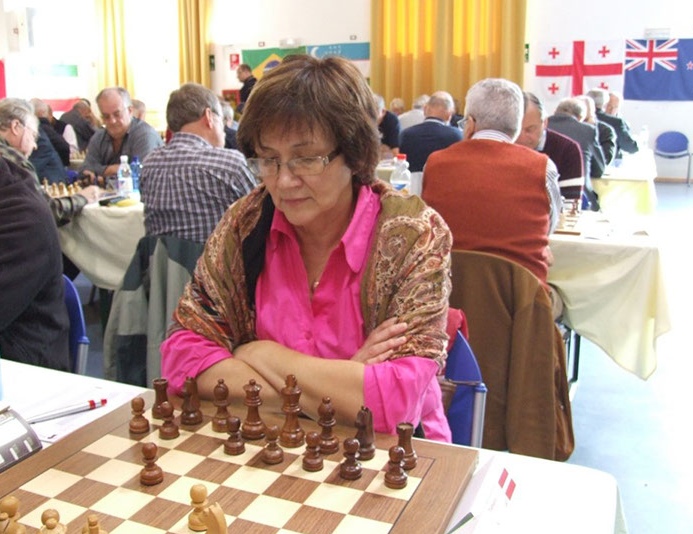 Photo: arcoworldchess.com/
WGM Tamara Vilerte has an excellent record in senior events. In 2008 she won World Senior Women's Chess Championship 2008 (Bad Zwischenahn, Germany) and took silver at the European Senior Women's Chess Championship in Davos. In 2014-2016 she earned bronze medals in three consecutive World Senior Women's Chess Championships. 
Giorgi Menabde (Georgia)
Giorgi Menabde was born in 1958 in Kutaisi, the third most populous city in Georgia, known for its chess tradition. Over nearly forty years of his chess coaching career, Giorgi Menabde raised many strong players, including GM Nana Dzagnidze, GM Valeriane Gaprindashvili, WGM Sohio Tqeshelashvili, WGM Inga Charkhalashvili, GM Giga Kuparadze, GM David Benidze and IM Zurab Javakhadze. 
In Q3 of 2023, FIDE will distribute the second instalment of its financial support to chess veterans.