The first session of the special preparation programme for the Arbiters' Team of the 44th Chess Olympiad 2022 took place on July 3. Almost 200 arbiters from around 100 federation attended the session. A second online session is planned for July 17, before a final preparation day on July 28, at the Olympiad venue, to practice in real conditions.

July 3, 2022, became a historic day for the FIDE Arbiters' Commission. The vision of the Commission has become a reality: the FIDE ARB is seeking opportunities to leverage the quality of Arbiters and support their growth worldwide, using FIDE Events as a development tool for a better player experience.

With this in mind, a special preparation programme was set up for the Arbiters' Team of the 44th Chess Olympiad in Chennai. The first session took place on July 3, bringing together almost 200 arbiters from nearly 100 federations. The team was welcomed by the Chief Arbiter and Chairman of the ARB, Laurent Freyd, before the ARB Councilor in charge of World Events Preparation, Omar Salama, introduced the team structure, arbiters' roles and teamwork expected at the 44th Chess Olympiad.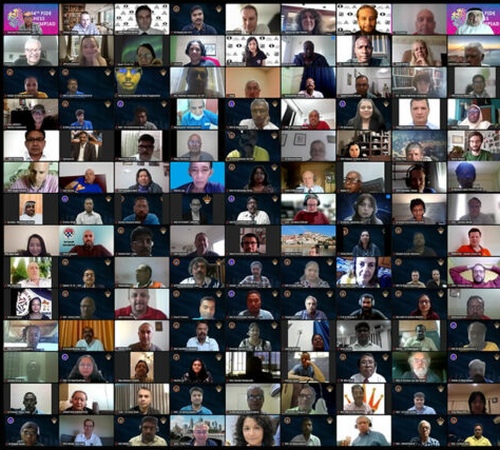 There was a good interaction during the session, and each of the 12 sectors will now form teams to prepare for the year's main event together. A second online session is planned for July 17, before a final preparation day on July 28, at the Olympiad venue, to practice in real conditions.

The Arbiters' Team that will officiate in the 44th Chess Olympiad in Chennai, India 2022, was selected this June. The list of Arbiters is mostly reusing the selection made in 2020 for the aborted Olympiad in Moscow, when a call of interest collected answers from 526 Arbiters from 136 federations and feedback from 101 Federations. 112 Foreign Match Arbiters were selected. Following the 1st FIDE Council 2022, Continents were also consulted and some of their suggestions were used to replace colleagues who withdrew from the team. Read more: Selection of FIDE Chess Arbiters

Selected arbiters for the 44th Chess Olympiad 2022:
Role
Continent
Zone
Fed
Name
Panel
Continental input
Chief
Europe
1.1b
FRA
Freyd, Laurent
ARB Chairman
Deputy Chief
America
2.5
URU
de San Vicente, Sabrina
Green
Deputy Chief
Asia
3.7
IND
Gopakumar M S
Green
Sector
Africa
4.4
UGA
Kisuze, Stephen Ssemmango
Blue
Sector
Africa
4.5
ZAM
Nsakanya, Chanda
Blue
Sector
America
2.2
CAN
Marghetis, Aris
Blue
Sector
America
2.3.2
CRC
Munoz Solis, Carolina
Green
Sector
Asia
3.1
IRI
Pahlevanzadeh, Mehrdad
Red
x
Sector
Asia
3.1
UAE
Abdulrahim, Mahdi
Green
Sector
Asia
3.3
VIE
Nguyen, Thi Anh Thu
Blue
Sector
Europe
1.4
CZE
Prokopova, Jirina
Blue
Sector
Europe
1.1a
ENG
Bayat, Shohreh
Green
Sector
Europe
1.7
EST
Brokko, Margit
Blue
Sector
Europe
1.3
ISL
Salama, Omar
Green
Sector
Europe
1.4
POL
Delega, Tomasz
Green
TAP Chairman
Europe
1.1a
ENG
Holowczak, Alex R
Green
TAP Member
Asia
3.6
PNG
Press, Shaun
Blue
TAP Member
Europe
1.2b
ISR
Burstein, Almog
Red
TAP Member
Europe
1.2a
SLO
Srebrnic, Ana
Green
Supervisor
Asia
3.6
AUS
Sorokina, Anastasia
Green
Supervisor
Europe
1.5a
GRE
Nikolopoulos, Panagiotis
Green
Supervisor
Europe
1.5a
SRB
Baralic, Nebojsa
ARB Secretary
Match
Africa
4.1
ALG
Aimar, Rayene
Yellow
Match
Africa
4.1
ALG
Sekrane, Ahmed
Yellow
Match
Africa
4.3
BDI
Ntagasigumwami, Deo
Yellow
Match
Africa
4.3
CMR
Ebongue, Emile
Yellow
Match
Africa
4.1
EGY
Hassanin, Said
Yellow
Match
Africa
4.4
ETH
Nugusse, Dejen Zelalem
Yellow
x
Match
Africa
4.1
LBA
Almasalati, Abduljawwad A.
Yellow
Match
Africa
4.5
LES
Motloheloa, Tseliso
Yellow
Match
Africa
4.5
NAM
Nakapunda, Otto
Yellow
x
Match
Africa
4.5
RSA
Piek, Ronel
Yellow
Match
Africa
4.5
RSA
van den Bergh, Gunther
Green
Match
Africa
4.2
SEN
Thiam, Pape Samba
Yellow
Match
Africa
4.4
SEY
Contoret, Bernardette Claudia
Yellow
Match
Africa
4.4
SOM
Mohamed, Mohamed Abdulla
Yellow
Match
Africa
4.4
SUD
Maher Musa
Yellow
x
Match
Africa
4.1
TUN
Krifa, Najla
Yellow
Match
Africa
4.5
ZIM
Murimi, Simbarashe
Yellow
Match
America
2.5
ARG
Pingas, Blas Mariano
Yellow
Match
America
2.3.5
BAH
White, Andre
Yellow
Match
America
2.4
BRA
Amaral, Mauro
Red
Match
America
2.4
BRA
Chaves, Joara
Yellow
Match
America
2.5
CHI
Berti Contreras, Lorenginis
Yellow
Match
America
2.5
CHI
Castro Guerra, Mario
Yellow
x
Match
America
2.3.4
COL
Rojas Villamil, Pedro
Yellow
Match
America
2.3.2
CRC
Jimenez Artavia, Rebeca
Yellow
Match
America
2.3.3
CUB
Lopez-Chavez Marino, Barbara
Yellow
Match
America
2.3.2
HON
Garay Munoz, Mario Gerardo
Yellow
Match
America
2.3.1
MEX
Barrientos Carmona, Ernestina
Yellow
x
Match
America
2.3.1
MEX
Martinez Garcia, Jose
Yellow
Match
America
2.3.2
PAN
Murillo Subia, Agustin
Yellow
Match
America
2.3.5
PUR
Soto Gonzalez, Ismael R.
Yellow
Match
America
2.5
URU
Muzzi, Eduardo
Yellow
Match
America
2.1
USA
Dommalapati, Anand
Yellow
x
Match
America
2.1
USA
Underwood, Martha
Yellow
Match
America
2.3.5
VEN
Blanco Hernandez, Uvencio Jose
Yellow
Match
Asia
3.6
AUS
Tsai, Peter
Red
Match
Asia
3.2
BAN
Md Haroon or Rashid
Blue
Match
Asia
3.3
HKG
Chan, Kwai Keong
Red
Match
Asia
3.3
INA
Lubis, Endar Sakti
Yellow
x
Match
Asia
3.7
IND
Aishwarya
Yellow
Match
Asia
3.7
IND
Alankar, Bhivgade
Yellow
Match
Asia
3.7
IND
Amit Sharma
Yellow
Match
Asia
3.7
IND
Anandh Babu V L
Yellow
Match
Asia
3.7
IND
Anil Kumar, Raizada
Yellow
Match
Asia
3.7
IND
Arasu B
Yellow
Match
Asia
3.7
IND
Arbind Kumar Singh
Yellow
Match
Asia
3.7
IND
Arun Kumar G
Yellow
Match
Asia
3.7
IND
Arun Singh M
Yellow
Match
Asia
3.7
IND
Arvind Mhamal
Yellow
Match
Asia
3.7
IND
Ashesh Keni
Yellow
Match
Asia
3.7
IND
Athulan S
Yellow
Match
Asia
3.7
IND
Bansod Swapnil
Blue
Match
Asia
3.7
IND
Beig, Saleem
Yellow
Match
Asia
3.7
IND
Bhardwaj, Vipnesh
Yellow
Match
Asia
3.7
IND
Bhaskar.v
Yellow
Match
Asia
3.7
IND
Bhatt Swati
Yellow
Match
Asia
3.7
IND
Bhuvanaa Sai L R
Yellow
Match
Asia
3.7
IND
Biju Raj S
Yellow
Match
Asia
3.7
IND
Biju Singh Th
Yellow
Match
Asia
3.7
IND
Bindu Pathania
Yellow
Match
Asia
3.7
IND
Chandra Reddy Mouli R
Yellow
Match
Asia
3.7
IND
Chitaranjan Taorem
Yellow
Match
Asia
3.7
IND
Chockalingam Balaji Ulaganathan Dr.
Yellow
Match
Asia
3.7
IND
Choudhury, Asit Baran
Yellow
Match
Asia
3.7
IND
Debasish Barua
Yellow
Match
Asia
3.7
IND
Deepak Kumar Narendra
Yellow
Match
Asia
3.7
IND
Deshmukh, Preeti
Yellow
Match
Asia
3.7
IND
Dhakal, Mahendra
Yellow
Match
Asia
3.7
IND
Ephrame, M.
Yellow
Match
Asia
3.7
IND
Gambhire, Mangesh
Yellow
Match
Asia
3.7
IND
Ganesh Babu S
Yellow
Match
Asia
3.7
IND
Govindankutty M S
Yellow
Match
Asia
3.7
IND
Guru Dayal Prajapati
Yellow
Match
Asia
3.7
IND
Joshi, Ambrish C
Yellow
Match
Asia
3.7
IND
Kajal Budhiraja
Yellow
Match
Asia
3.7
IND
Kameswaran V.
Yellow
Match
Asia
3.7
IND
Kaviraj Sawant
Yellow
Match
Asia
3.7
IND
Kavitha J E
Yellow
Match
Asia
3.7
IND
Kumar Bhuyan, Jayant
Yellow
Match
Asia
3.7
IND
Manjunatha, M.
Yellow
Match
Asia
3.7
IND
Monimala Sinha
Yellow
Match
Asia
3.7
IND
Mrityunjay Singh
Yellow
Match
Asia
3.7
IND
Nadaradjane S
Yellow
Match
Asia
3.7
IND
Nandakumar, N K
Yellow
Match
Asia
3.7
IND
Narendra, Shrimali
Yellow
Match
Asia
3.7
IND
Palaniappan P
Yellow
Match
Asia
3.7
IND
Patel Kavita
Yellow
Match
Asia
3.7
IND
Paul Arokia Raj S
Yellow
Match
Asia
3.7
IND
Pradip Kumar Roy
Yellow
Match
Asia
3.7
IND
Pranesh, Yadav K
Yellow
Match
Asia
3.7
IND
Promodraj Moree
Yellow
Match
Asia
3.7
IND
Rajesh R
Yellow
Match
Asia
3.7
IND
Ranjan, Mohanty
Yellow
Match
Asia
3.7
IND
Ravichandran Venkataraman
Yellow
Match
Asia
3.7
IND
Rupesh, Kumar
Yellow
Match
Asia
3.7
IND
S Chougule, Bharat
Yellow
Match
Asia
3.7
IND
Saini, Rashmi
Yellow
Match
Asia
3.7
IND
Sakthi Prabhakar B
Yellow
Match
Asia
3.7
IND
Saripalli, Jostna
Yellow
Match
Asia
3.7
IND
Sathiesh G G
Yellow
Match
Asia
3.7
IND
Sethuraman, B.T.
Yellow
Match
Asia
3.7
IND
Shenvi, Nitin
Yellow
Match
Asia
3.7
IND
Sheshadri, K R
Yellow
Match
Asia
3.7
IND
Shidore Deepti
Yellow
Match
Asia
3.7
IND
Shidore, Rajendra
Yellow
Match
Asia
3.7
IND
Shivakant Mishra
Yellow
Match
Asia
3.7
IND
Sohani Vivek Suhas
Yellow
Match
Asia
3.7
IND
Soundaramurthy, D
Yellow
Match
Asia
3.7
IND
Srirenga Nachiar R
Yellow
Match
Asia
3.7
IND
Srivatsan R
Yellow
Match
Asia
3.7
IND
Stella Sharmila P
Yellow
Match
Asia
3.7
IND
Subha Rakesh
Yellow
Match
Asia
3.7
IND
Sunil Soni
Yellow
Match
Asia
3.7
IND
Suresh Chandra Sahoo
Yellow
Match
Asia
3.7
IND
Taba Anam
Yellow
Match
Asia
3.7
IND
Tapi Shah
Yellow
Match
Asia
3.7
IND
Teli, Rajendra
Yellow
Match
Asia
3.7
IND
Thakare Pravin
Yellow
Match
Asia
3.7
IND
Tiwari, Rade Shyam
Yellow
Match
Asia
3.7
IND
Varun Kumar
Yellow
Match
Asia
3.7
IND
Vasanth, B H
Red
Match
Asia
3.7
IND
Venkata, Kumar G.
Yellow
Match
Asia
3.7
IND
Venkatesan A N
Yellow
Match
Asia
3.7
IND
Vijayakumar Manickavasagam
Yellow
Match
Asia
3.7
IND
Vijayaraghavan V.
Yellow
Match
Asia
3.7
IND
Vinita Shrotri
Yellow
Match
Asia
3.7
IND
Vishal Kumar Minz
Yellow
Match
Asia
3.7
IND
Yashpal, Arora
Yellow
Match
Asia
3.1
IRI
Paridar, Shadi
Yellow
Match
Asia
3.1
IRQ
Farhan, Naseer Jasim Alhasnawi
Yellow
Match
Asia
3.1
JOR
Malkawi, Fadi
Yellow
Match
Asia
3.4
KAZ
Rinas, Oleg
Yellow
Match
Asia
3.4
KGZ
Umarbekov, Aziz
Yellow
Match
Asia
3.1
KUW
Al Azmi, Khalaf
Yellow
Match
Asia
3.1
LBN
Khairallah, Elias
Red
Match
Asia
3.3
MAS
Kamaruzaman, Norazwan
Yellow
Match
Asia
3.2
MDV
Shamrooh, Mohamed
Yellow
x
Match
Asia
3.3
MGL
Oyunchimeg, Genden
Red
Match
Asia
3.3
MGL
Sainbayar, Tserendorj
Red
Match
Asia
3.2
NEP
K.C., Umesh
Yellow
Match
Asia
3.2
NEP
Khamboo, Monalisha
Yellow
Match
Asia
3.6
NZL
Wang, Ying
Yellow
x
Match
Asia
3.1
OMA
Al Wadhahi Musallam
Yellow
Match
Asia
3.2
PAK
Muhammad, Wasif Nisar
Yellow
Match
Asia
3.3
PHI
Lee, Patrick
Yellow
Match
Asia
3.1
PLE
Tlaib, Hani
Yellow
Match
Asia
3.6
PLW
Hernandez, Roberto
Yellow
Match
Asia
3.1
QAT
Ibrahim, Yousef Khalil
Yellow
Match
Asia
3.2
SRI
Akalanka, Malith
Yellow
Match
Asia
3.2
SRI
Tissera, Thiwanka
Blue
Match
Asia
3.1
SYR
Hasan, Soliman
Yellow
Match
Asia
3.1
SYR
Mir Mahmoud, Afamia
Yellow
Match
Asia
3.4
TKM
Annayev, Vladimir
Yellow
Match
Asia
3.3
TPE
Yueh, Elsa Wei Chung
Yellow
Match
Asia
3.4
UZB
Semenova, Irina
Yellow
Match
Asia
3.3
VIE
Ton, That Nhu Tung
Yellow
Match
Asia
3.1
YEM
Sultan, Mohsen Awadh Senan
Yellow
Match
Europe
1.5a
ALB
Collaku, Marin
Yellow
Match
Europe
1.5b
ARM
Movsisyan, Naira
Yellow
Match
Europe
1.2a
AUT
Mitterhuemer, Guenter
Yellow
Match
Europe
1.8
AZE
Rustamov, Lutfiyar
Yellow
Match
Europe
1.1b
BEL
Bailleul, Geert
Red
Match
Europe
1.4
BUL
Atanasov, Radislav
Yellow
Match
Europe
1.4
CZE
Benak, Jaroslav
Yellow
Match
Europe
1.3
DEN
Pedersen, Hans Milter
Yellow
Match
Europe
1.3
DEN
Rimestad, Arild
Red
Match
Europe
1.1a
ENG
Barnes, Lara A.L.
Red
Match
Europe
1.1c
ESP
Martinez Hernandez, Noemi
Yellow
Match
Europe
1.3
FIN
Al Hamoud, Malek
Yellow
Match
Europe
1.1b
FRA
Dervieux, Dominique
Yellow
x
Match
Europe
1.5b
GEO
Japaridze, Marika
Green
Match
Europe
1.2a
GER
Klueners, Juergen
Blue
Match
Europe
1.5a
GRE
Kytharidis, Argyrios
Blue
Match
Europe
1.4
HUN
Gyomber, Tamas
Yellow
Match
Europe
1.1a
IRL
O Muireagain, Colm
Yellow
Match
Europe
1.2b
ISR
Shulman, Alon
Blue
Match
Europe
1.1c
ITA
Bartolini, Leonardo
Yellow
Match
Europe
1.1c
ITA
Biagioli, Marco
Red
x
Match
Europe
1.2b
KOS
Misini, Burhanudin
Yellow
x
Match
Europe
1.7
LAT
Cimina, Andra
Blue
Match
Europe
1.2b
MKD
Shemshiji, Agim
Yellow
Match
Europe
1.10
MLT
Grima, Noel
Yellow
Match
Europe
1.5a
MNE
Vujacic, Igor
Yellow
Match
Europe
1.4
POL
Judek, Magdalena
Yellow
Match
Europe
1.1c
POR
Rocha, Paulo
Yellow
Match
Europe
1.4
ROU
Nicula, Dinu-Ioan
Red
Match
Europe
1.1a
SCO
McFarlane, Alex H
Blue
x
Match
Europe
1.2a
SUI
Hein, Michael
Yellow
Match
Europe
1.4
SVK
Syrovy, Ivan
Green
Match
Europe
1.3
SWE
Berntsen, Johan
Yellow
Match
Europe
1.5a
TUR
Caliskan, Ismail
Blue
Match
Europe
1.5a
TUR
Uctu, Ahmet
Yellow
Match
Europe
1.9
UKR
Tovchyga, Oleg
Yellow