Two young rookie stars took centre stage as the elite Chessable Masters e-sports chess event kicked off today.
The world's youngest grandmaster Abhimanyu Mishra scored his first win over a top 10 player on the Meltwater Champions Chess Tour aged just 13 as he racked up an impressive 6/12. Mishra is ranked just 459 in the world and is by far the lowest placed player in the event. But that won't last long. The teenager's victory over world No.7 Shakhiryar Mamedyarov with a nasty mating attack at the end was an ominous indication of what he's capable of. Mishra, playing from New Jersey, was overjoyed with his start. "It was a very crazy day, of course," he said.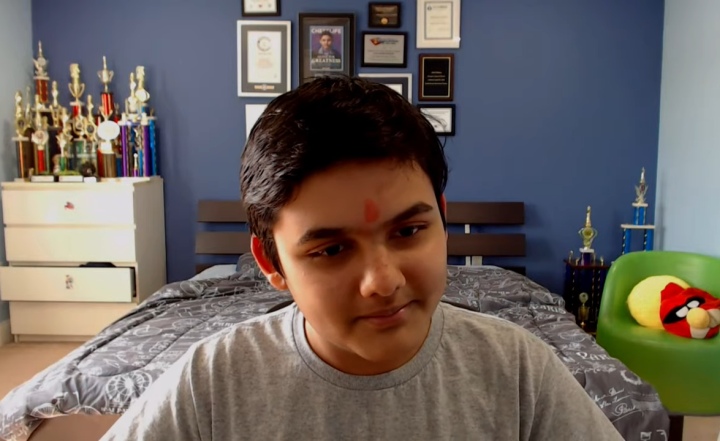 But it was China's Wei Yi, the prodigiously talented 22-year-old, who stormed into the lead on day 1 on his debut with a scintillating 10/12, that included three wins and a draw. Yi defeated India's Pentala Harikrishna, England's Gawain Jones and David Anton of Spain to take a two-point lead into the second day. It puts him firmly in the driving seat to make it to the Knockout stage.
Mishra, meanwhile, had a tough introduction to the event losing first to Anton and then in Round 2 against world No.2 Ding Liren. However, Mishra pushed the Chinese star hard and looked to be heading for an unlikely draw before a miscalculation in a pawn race at the end let it slip. Instead of playing 44. Ng2+, the youngster missed a bishop check that came after 44. bxa5 dxe3 45. axb6 g2 46. b7 Bc4+.
From that point on the teenager went into overdrive winning back-to-back games against the Canadian streamer Eric Hansen and then his landmark win against Mamedyarov.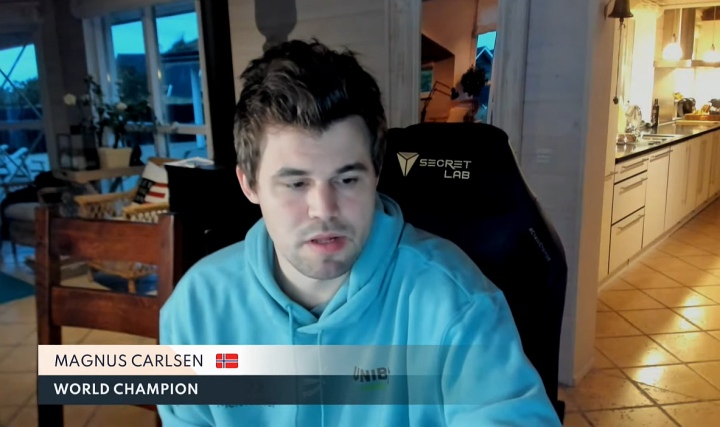 World Champion Magnus Carlsen leads the Tour overall having won two of the first three events. The Norwegian sits equal second in the Chessable Masters having scored 8/12 but was more than happy with his day's work as he rounded it off with a win over Jorden van Foreest. Carlsen said: "The score is good and to end on a high with two wins is nice. I think I didn't play so well, but as long as I win it's fine."
Chessable Masters all infromation / Replay the games here / LIVE broadcast of the games
Standings after 4 rounds:
| | | | |
| --- | --- | --- | --- |
| 1 |  Wei, Yi | 10/12 | 2729 |
| 2 |  Ding, Liren | 8/12 | 2753 |
| 3 |  Giri, Anish | 8/12 | 2730 |
| 4 |  Carlsen, Magnus | 8/12 | 2824 |
| 5 |  Anton Guijarro, David | 7/12 | 2721 |
| 6 |  Shankland, Sam | 7/12 | 2709 |
| 7 |  Mishra, Abhimanyu | 6/12 | 2524 |
| 8 |  Praggnanandhaa R | 5/12 | 2706 |
| 9 |  Harikrishna, Pentala | 5/12 | 2689 |
| 10 |  Hansen, Eric | 4/12 | 2630 |
| 11 |  Vidit, Santosh Gujrathi | 4/12 | 2711 |
| 12 |  Grandelius, Nils | 3/12 | 2656 |
| 13 |  Mamedyarov, Shakhriyar | 3/12 | 2745 |
| 14 |  Tari, Aryan | 2/12 | 2654 |
| 15 |  Jones, Gawain C B | 1/12 | 2587 |
| 16 |  Van Foreest, Jorden | 1/12 | 2736 |