The Russian chess player Aleksandra Goryachkina won the Women Candidates Chess 2019 with two rounds to spare. The youngest participant of the tournament finished with 9.5 points out of 14 and secured the right to play the Women's World Championship Match against the Women`s World Champion Ju Wenjun (China). The prize fund of the coming championship match is 500,000 Euro, which is 150% higher than in the previous match.
Anna Muzychuk (Ukraine) is second with 8 points. Katerina Lagno (Russia) and Tan Zhongyi (China) shared 3-4 places with 7 points.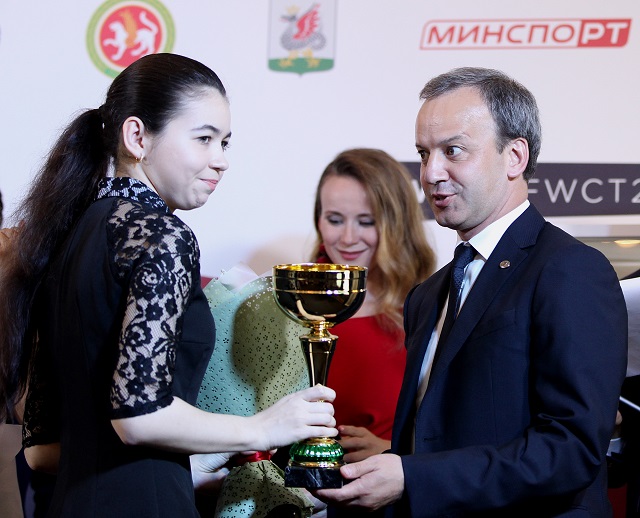 Final standings:
1. Aleksandra Goryachkina (Russia) – 9.5, 2. Anna Muzychuk (Ukraine) – 8, 3-4. Kateryna Lagno (Russia), Тan Zhongyi (China) – 7, 5-6. Nana Dzagnidze (Georgia), Mariya Muzychuk (Ukraine) – 6.5, 7. Alexandra Kosteniuk (Russia) – 6, 8. Valentina Gunina (Russia) – 5.5.
The closing ceremony took place in the Nogai Hotel, the tournament venue, on June 18.
In the beginning of the ceremony, a special prize for the most beautiful game of the tournament, provided by the Russian Chess Federation and AB InBev Efes company, was awarded. The jury consisted of chairman Maxim Notkin, editor-in-chief of the 64-Chess Review, the tournament commentators GMs Sergey Shipov and Evgeny Miroshnichenko, and the Head of the Appeals Committee Jeroen van den Berg. A shortlist of four games was formed.
The beauty prize was awarded to Mariya Muzychuk for the game Muzychuk-Goryachkina, played in the last round, by Natalia Rostova, the Deputy Director of the local branch of the AB InBev Efes, and Maxim Notkin.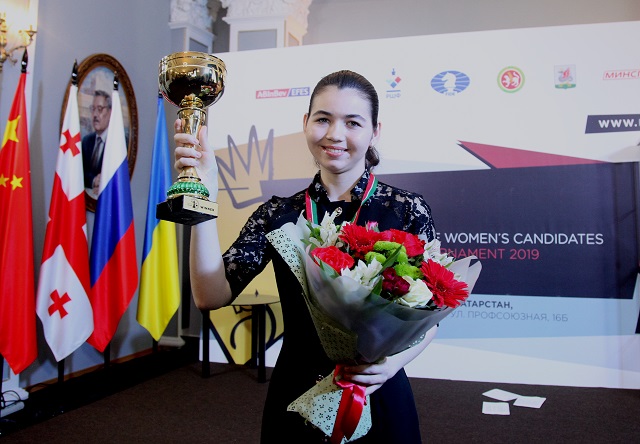 FIDE President Arkady Dvorkovich, RCF Executive Director Mark Glukhovsky, and Minister of sport of the Republic of Tatarstan Vladimir Leonov delivered speeches. The Chief Arbiter of the tournament, IA Hal Bond (Canada) announced the competition results. After his announcement, the players received their prizes from the honored guests.
Total prize fund of the FIDE Women`s Candidates is €200,000.
The organizers are FIDE, Russian Chess Federation, Government of the Republic of Tatarstan, Ministry of Sports of the Republic of Tatarstan, and city administration of Kazan.
The tournament is sponsored by PJSC PhosAgro and Russian Railways.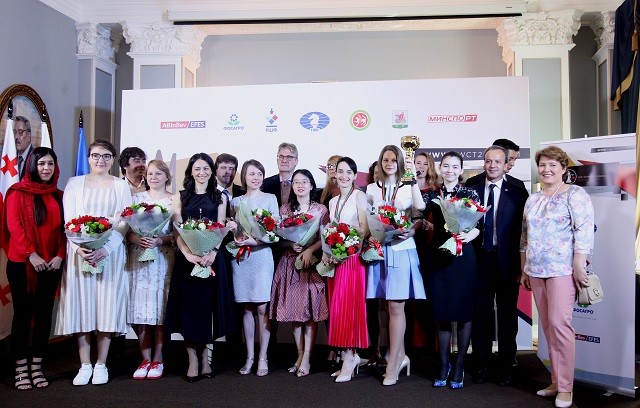 Official website: https://fwct2019.com/en/
Final table: https://fwct2019.com/crosstable