Chess is tough, and the life of a professional player is even more so. Maintaining your emotional stability throughout a tournament can be very testing, and things can change rapidly from one day to the next.

The match between the youth teams of India B and Uzbekistan was 2-1 for India B, thanks to Praggnanandhaa's great win over Sindarov. Only Gukesh's game remained: he was playing White against Abdusattorov.

The Indian GM, with a cumulative score of 8.5 out of 9, had a decisive advantage, but a one-off mistake suddenly made the position drawn. Nonetheless, with this result, India B would have won the match, practically securing a medal. But Gukesh continued to play for the win, the game got tricky, and he made a mistake under pressure, going down in defeat. Replay the game here
The final 2-2 result tasted heavenly to the Uzbeks, who maintained the first position and now have everything in their favour to fight for gold in the last round. Rankings after Round 10 (open section) can be found here

The tie allowed Armenia to bounce back from yesterday's loss with a big win over neighbour country Azerbaijan by 3-1 and to tie for first place with Uzbekistan. Replay the match here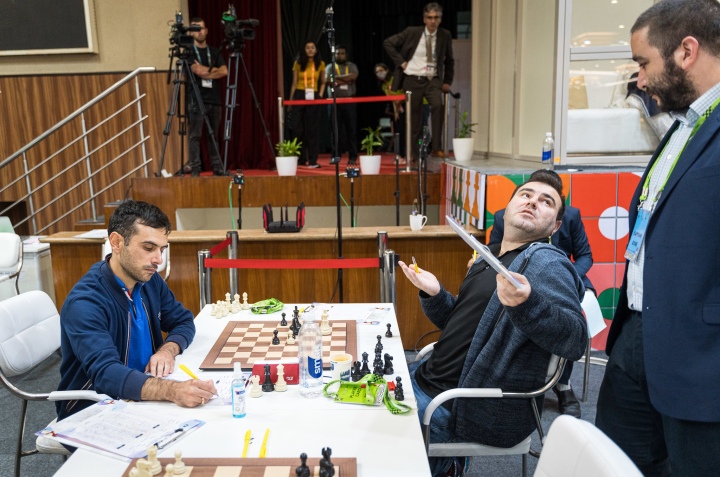 Robert Hovhannisyan on board four and especially Gabriel Sargissian on board 1 were the team's heroes scoring the victories. However, Armenia has always had a "secret", which Sargissian revealed to FIDE Press Officer IM Michael Rahal in a short postgame interview.
Although the United States are having a relatively poor Olympiad – only Wesley So is performing to expectation on board three – two consecutive wins allowed them to climb in the standings. In fact, a win in the last round could even stand for an unexpected medal. Replay USA Round 10 match here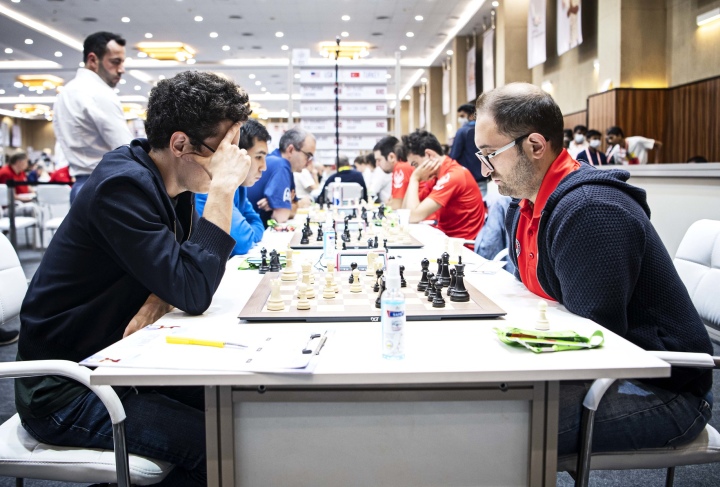 This afternoon Fabiano Caruana and Leinier Dominguez stepped up, leading their team to victory over Turkey by 3-1. We were lucky enough to catch Dominguez for a brief postgame interview: we wanted to know what was happening in the team. "It's my first time in India, but I am very happy to be here. The fans are incredible. When you have several players out of shape, it's very difficult to perform well as a team," Dominguez explained.
India A scored the crucial win against Iran at the last moment and will join the group trailing the leaders. Harikrishna lost against Maghsoodloo on board one, but Vidit notched up his second win on board two against Tabatabaei to level the match.

At the last moment, Narayanan broke down his opponents' fortress for an overall 2.5-1.5.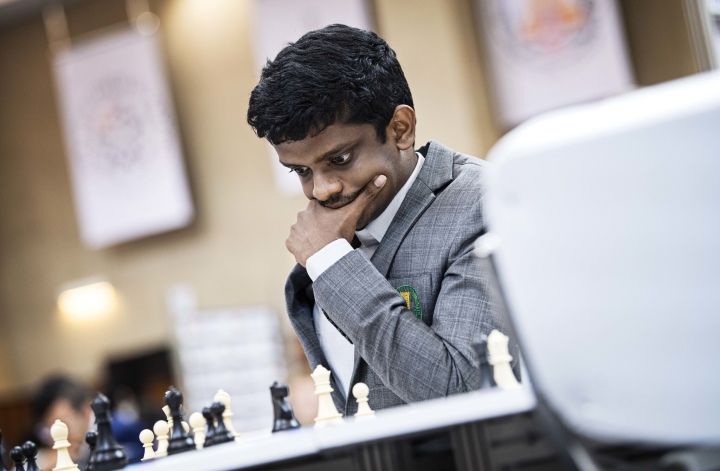 The pairings for the last round leave everything to play for, as most of the top teams have already faced each other. Leaders Armenia (17) and Uzbekistan (17) drop down to face Spain (15) and Netherlands (15). Both of these encounters will be very exciting – both the Spaniards and the Dutch are rating favorites.

India (16) will battle it out with USA (16) – the winner will likely get a medal; even gold can't be ruled out! Finally, India B (16) will play against Germany (15), to try and finish off the tournament at the top of the standings. Round 11 team pairings / Round 11 board pairings open section
After a nightmarish ninth round, the Indian Women A team, given top billing, asserted themselves to carve out a 3.5-0.5 victory against Kazakhstan in the 10th and penultimate round of the 44th Chess Olympiad. Indian A has emerged as the sole leader with 17 points, while Poland, Georgia, Azerbaijan and Ukraine follow close behind with 16 points each. Rankings after Round 10 (women's section) can be found here

Humpy Koneru, Tania Sachdev and Bhakti Kulkarni scored victories, and R Vaishali conceded a draw. Humpy Koneru and Zhansaya Abdumalik battled in the Meran variation of the Queen's Gambit Declined, with Humpy getting an edge early and breaking her opponent's resistance after 55 moves.

Vaishali essayed the Grinfeld Defence against Bibisara Assaubayeva with Black and pondered long on the 12th move before trading two rooks for the queen. She emerged slightly better, but eventually, the game fizzled into a draw after 50 moves. Replay the match here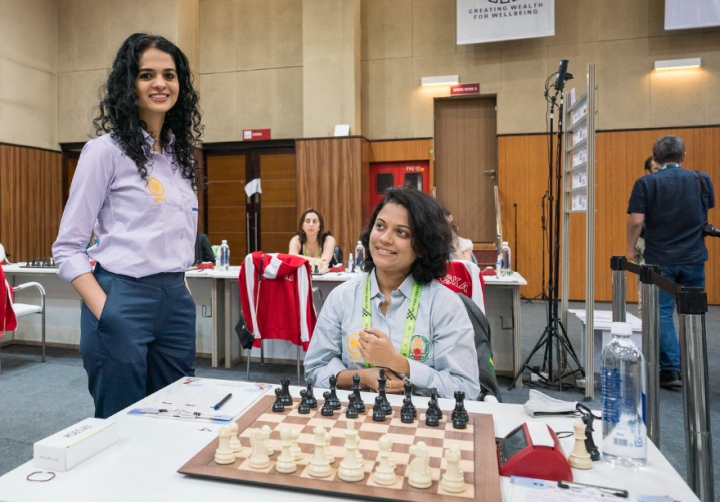 Bhakti Kulkarni employed the King's Indian Defence against Guliskhan Nakhbayeva and launched a powerful attack on the kingside. Guliskhan was forced to part with a bishop and capitulated on the move 47.

Xeniya Balabayeva tested the Semi-Slav against Tania Sachdev and kept the position balanced for a while but cracked under pressure and went down in 31 moves. Tania has been in top form in this event, scoring crucial wins for India A and aggregating 7 points.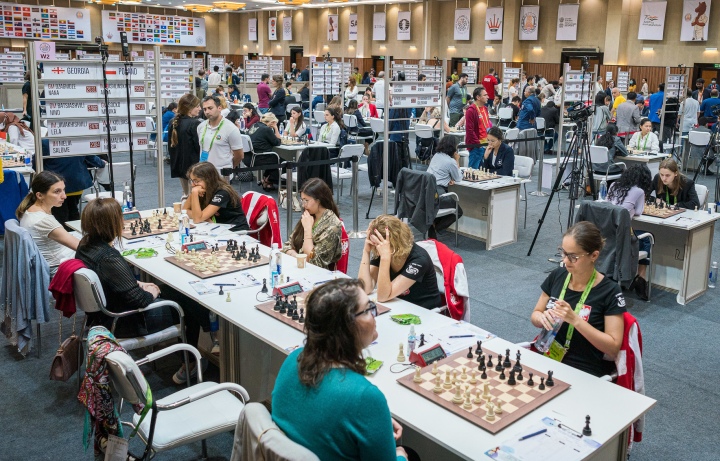 Georgia held Poland to a 2-2 draw in another match of leaders. WIM Oliwia Kiolbasa, who had a sensational 9/9, lost her first half-point today, drawing against Lela Javakhishvili. Replay all games here

Ukraine edged past Germany by a 2.5-1.5 score, while Azerbaijan thrashed Armenia 4-0 in the most one-sided match on the top tables. Replay the match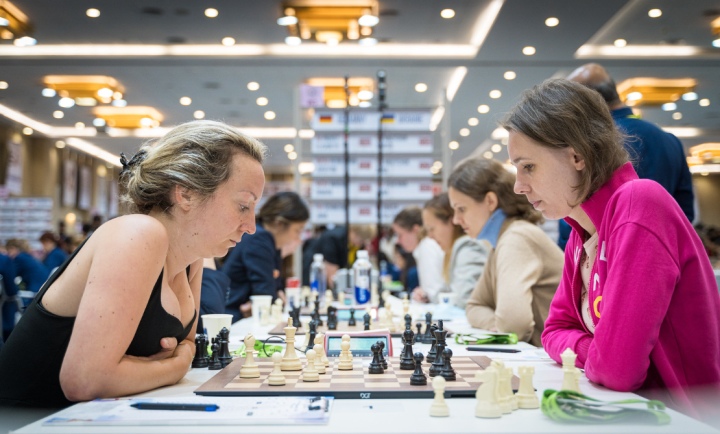 India B Team defeated Netherland 1-3 with Padmini Rout, Mary Ann Gomes and Divya Deshmukh scoring victories. India C Team beat Sweden 3-1 with P V Nandhidhaa and Pratyusha pulling off wins and Eesha and Varshini settling for draws.

The race for all three medals is still wide open, with the last 11th round tomorrow promising plenty of thrill and excitement. The prize awarding ceremony is slated for tomorrow evening at the Jawaharlal Nehru Stadium in Chennai. Round 11 team pairings / Round 11 board pairings (women's section)