The Olympiad is arguably the world's largest team championship, played at the same time in a single venue. It's so big – more than 350 four-player teams – that it typically takes two or more buildings to lodge all the games. Here in Chennai, the main venue hall has a capacity for 27 matches in the open category and 20 women's matches, with more than 350 players.

Read more: Levon Aronian: "It's a problem when the tournament is organized too well" (INTERVIEW)

However, since the Norwegian team is not doing very well at the moment – only the world champion Magnus Carlsen is playing at a decent level – this afternoon they faced North Macedonia on open table 28, in venue hall room B, with capacity for the other 1200 players!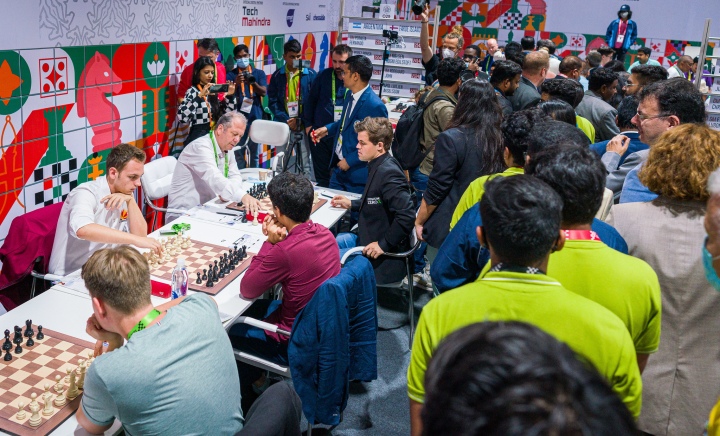 Carlsen's presence generated great expectations amongst all the mostly amateur teams that play their "own" non-grandmaster Olympiad, and of course, one of the sponsors of the event, Mr Shrikant Madhav Vaidya Indian Oil Corporation Chairman, who performed the traditional ceremonial first move on his board. FIDE Director General, GM Emil Sutovsky captured this sentiment magnificently on Twitter.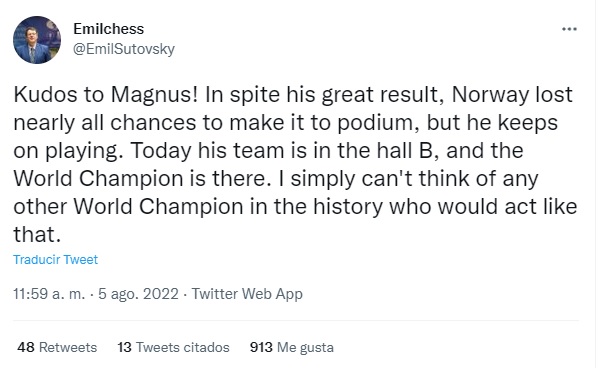 The final score of the match, 2.5-1.5 for Norway, will allow them to return to the main venue tomorrow. However, if they want to continue climbing the ladder, they need to improve on the lower boards. We were lucky enough to catch board two, Aryan Tari, just before he left the venue, and he agreed to a short interview with FIDE Press Officer IM Michael Rahal. Check it out if you want to know what it feels like sitting next to Magus every day!  
Meanwhile, in the main venue, all eyes were on the two main matches. USA vs Armenia was a classic, one of the most exciting matches to date. After less than 20 moves, Wesley So was already winning against Hrant Melkumyan: the American crashed through with a fantastic rook sacrifice, which, in one of the lines, would have been followed up by an unbelievable queen sacrifice and mate in six.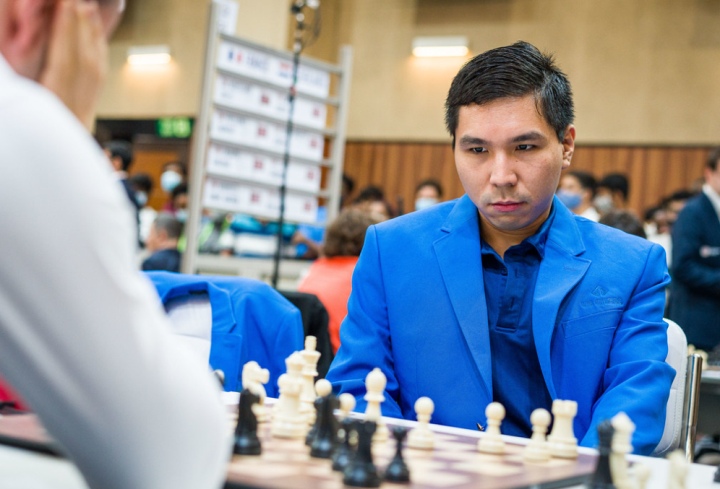 On board three, Lenier Dominguez also brought home the point for 2-0, but then disaster struck. Fabiano Caruana lost on board one against Gabriel Sargissian – a very strong grandmaster who always performs strongly in team competitions. Fabiano is not having the best of events, performing more than 200 points below his rating. Replay the match here

It looked like Shankland was going to lose on board four (for a final 2-2), but he got back into the game. When a draw was about to be agreed, a devastated Shankland illegally "premoved" his king and had to resign immediately. The final result permits Armenia to maintain the lead by one match point. Read more and see the video of Shankland making the illegal move here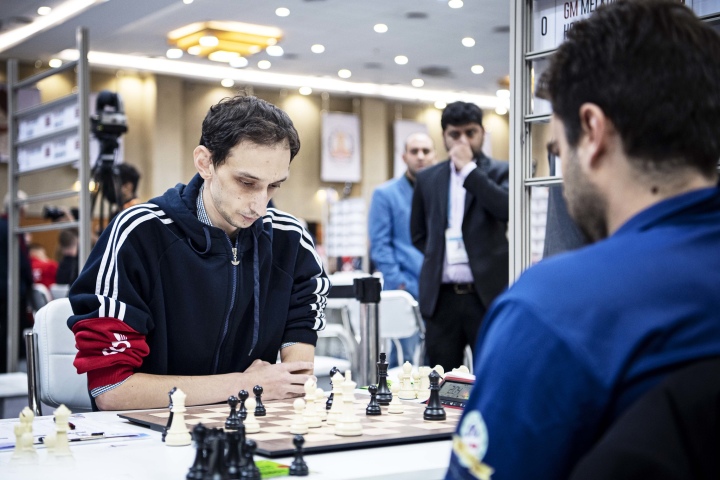 The other top match was India A vs India C. The A-team outrated their colleagues by more than 100 points, and the final 3-1 score more or less reflects what happened on the boards. Replay all games from the match here

Not without difficulties, Erigaisi and Narayanan took down their opponents on boards three and four, while Harikrishna (slightly better most of the game) and Vidit secured draws on the top boards. They will face Armenia for the tournament lead tomorrow.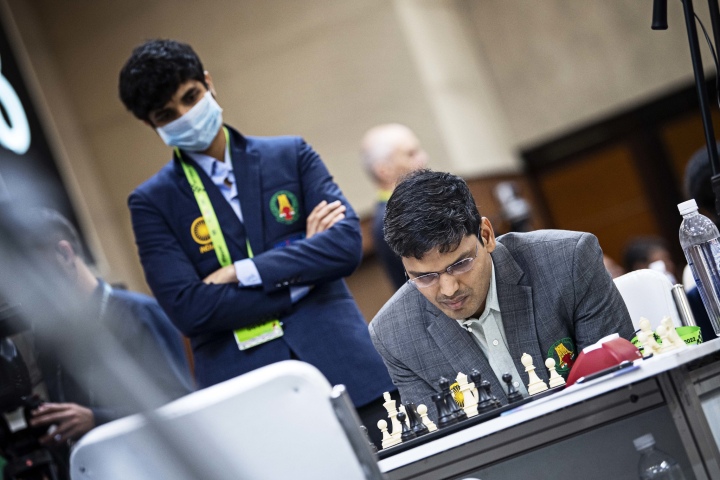 Playing for India B, Gukesh D is still on a roll, and this afternoon he won his seventh game in a row! His TPR (tournament rating performance) is mind-blowing: 3335, nearly 400 points more than Magnus Carlsen, chasing him down.  His opponent, Cuban grandmaster Carlos Albornoz, rated 2566 and is a very strong player. Still, Gukesh achieved a comfortable position after the opening with Black, and then he just gradually outplayed Carlos in a complicated endgame.

Sarin and Praggnanandhaa also won their games, notching up a convincing 3.5-0.5 win against Cuba. Tomorrow they will face the USA in a match that might easily decide the outcome of the young guns – medal or not?

We caught up with five-time World Champion Vishy Anand, India's chess superstar, in the playing venue. Vishy is not playing this year with team India because he is running for election. Amongst other things, we wanted to find out what he thought about Gukesh's uncanny performance.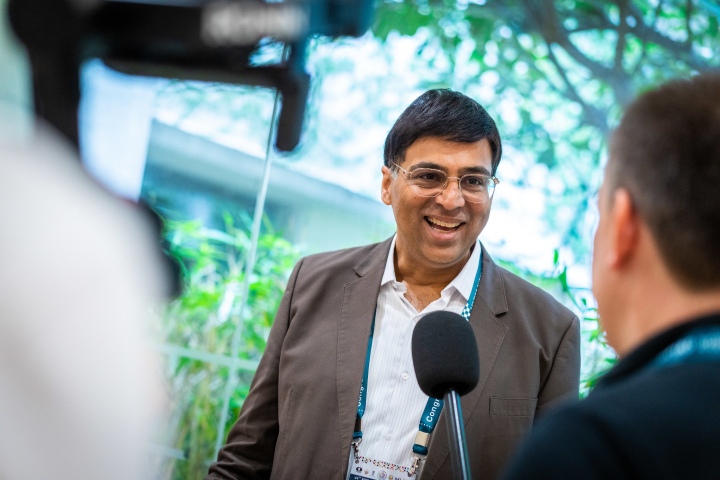 You can watch the interview with Vishy here.
Tomorrow's other two top matches will feature Germany (2.5-1.5 against Serbia today) against Uzbekistan, who whitewashed Peru (4-0). Surprise winners Kazakhstan also have 12 points: they defeated Spain by a marginal 2.5-1.5 score in an up and down match that could have gone either way. Their opponent tomorrow will be Azerbaijan, another tough nut to crack.

Of the other favourites, England, Ukraine and especially Poland are underperforming. However, with four rounds to go, anything can happen if a team can string together three in a row.
Indian Women A notched their seventh successive victory against sixth seed Azerbaijan by a 2.5-1.5 score to maintain their sole lead in the Women's section of the 44th Chess Olympiad with 14 points – two points ahead of second-placed Ukraine and Armenia. Indian eves suffered a few hiccups after Humpy ended up on the losing side in the first game to end. Tania and Vaishali once again rose to the occasion magnificently by scoring hard-fought victories, while Harika also battled hard to split the point.

Tania and Ulviyya battling in a Queen's Gambit Declined game matched pace for the most part till the middle game. A strayed knight on the king-side allowed Tanya to break through in the centre, and even though her opponent's rook had invaded the seventh rank, Tanya managed to exchange most pieces and steered the game to a much better ending. Tanya eventually broke her opponent's resistance and scored a full point on the move 63.

Vaishali played splendidly in a drawish rook endgame, pressurizing her opponent with precise and active moves and finally pulled off so much-needed victory. Vaishali later confessed: "Till the 40th turn, my game was dead equal, and I considered settling for a draw. After Humpy's loss, I had to keep pressing and, interestingly, this was one position which we had worked in the camp with Boris Gelfand, and I followed his suggestions to the 'T'. A hallmark of the Women's A Team has been the ability of every player to score a win when the team needed it most."

Abhijit Kunte said: "The way Harika, Vaishali and Tania continued in this pressure position is very heartening. The players understand the situation perfectly and deliver." Replay the match here
Georgia bounced back after yesterday's loss to beat Romania 2.5-1.5, and Ukraine trounced Netherland 3.5-0.5, while Bulgaria held Poland to a 2-2 draw. Replay all games here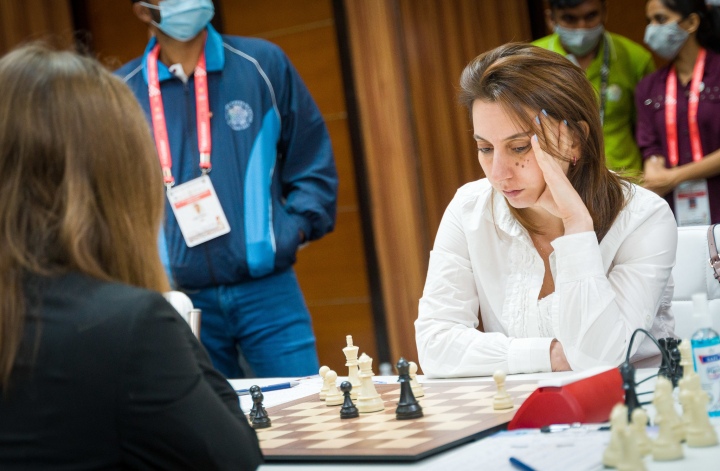 India Women B team, seeded 11th, was shocked by 27th seeded Greece 1.5-2.5. Divya Deshmukh scored the lone victory for India, while Vantika Agrawal and Soumya Swaminathan lost their encounters, and Mary Ann Gomes had to settle for a draw.

India Women C defeated Switzerland by 3-1, with victories by Eesha Karavade and P V Nandhidhaa and draws by Bodda Pratyusha and Vasnawala Vishwa.

Round 8 will be played on Saturday, August 6, at 15:00 (GMT+5:30). Women's section LIVE / Open section LIVE
The R8 brings interesting encounters between the leaders: Armenia meets India in the Open section, while India's women's team faces Ukraine. Round 8 team pairings of both sections